New XRF analyzer designed to speed and simplify metal chemistry analysis
Thermo Scientific Niton XL5 handheld XRF analyzer is smaller and lighter than existing XRF alloy analyzers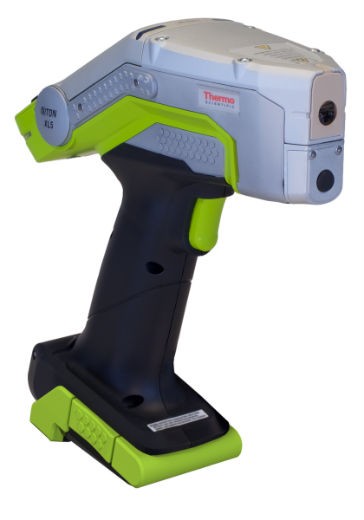 Managers, operators and quality control personnel in the oil and gas, power generation, automotive, aerospace and metal recycling industries can now assess the chemical composition of metals with a new analyzer that is smaller and lighter than any X-ray fluorescence (XRF) alloy analyzer on the market today.
The Thermo Scientific Niton XL5 analyzer, is designed to provide results rapidly and with a high level of accuracy. Weighing only 2.8 pounds (1.3 kilograms), the compact Niton XL5 analyzer enables operators to access difficult-to-reach areas to maximize test coverage, reducing user fatigue and providing exceptionally low limits of detection (LODs). Other features include a new electronics processor that enables real-time results display and a hot-swappable battery and travel charger for improved operator efficiency in the field.
Since the initial launch of the Niton XL5 analyzer in September 2015, Thermo Fisher has added an expanded precious metals element suite. Thermo Fisher designed this feature to allow precious metals foundries and refineries to increase efficiency by determining the quality of incoming raw materials and final end-products with accuracy and precision.
"Precise quality control testing of metal chemistry is becoming increasingly important, especially in the high-growth metals fabrication market," said Mark Lessard, business development manager, portable analytical instruments, Thermo Fisher. "We designed the Niton XL5 analyzer to increase user productivity and confidence while providing a powerful solution designed to help our customers achieve increased levels of quality assurance, quality control and analytical performance."
The Niton XL5 platform provides enhanced communication capabilities through WiFi, Bluetooth and GPS connectivity. The Thermo Scientific NitonConnect companion PC software delivers easy data transfer and remote viewing functionality when the analyzer is mounted on a test stand.
The Thermo Scientific Niton XL5 analyzer also offers:
A new powerful 5W x-ray tube to provide detection of light elements;
Micro and macro cameras for enhanced data collection;
Customizable profiles that can be created for different applications prior to testing;
A new user interface and display that includes a touchscreen with swiping functionality; and
Improved ingress protection for rugged environments.
The Niton XL5 analyzer is part of the family of Thermo Scientific handheld XRF analyzers that includes the existing Niton XL2 and Niton XL3 series.
Company info
168 Third Avenue
Waltham, MA
US, 02451

Read more