Driving the demand for C&D reprocessing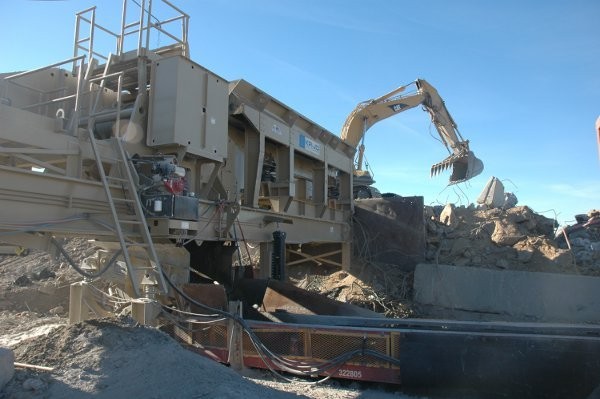 by Paul Smith, Product Development Manager, KPI-JCI & Astec Mobile Screens.
Sustainability is no longer just a catchphrase. Engineering offices, construction projects and project regulations everywhere are incentivizing or legislating the use of recycled materials.
Most understand how reprocessing activities benefit communities when considering employment opportunities created, stimulated local economic activities and reduced environmental costs. However, reprocessing C&D material is no longer just a method to pacify concerned parties.
While some early opportunists modulated their quarrying and mining activities of virgin materials through the promotion of "green" campaigns, today's activities aimed at conservation and minimizing the impact to communities are rapidly emerging as a requirement. Many states and provinces in the U.S. and Canada ─ as well as metropolitan areas around the globe ─ are now banning the disposal of C&D materials, or require a waste reduction permit. Fortunately, C&D reprocessing can present a profitable opportunity.
Astec Industries founder and CEO Dr. J. Don Brock often states that "recycled materials are worth what they replace." When one considers that the costs associated with reprocessing recycled materials are typically much less than virgin materials, it is easy to see how operations can become more lucrative when using recycled materials. Also, when such activities are associated with a building project, companies frequently earn Leadership in Energy and Environmental Design (LEED) points that provide incentives such as tax rebates and zoning allowances.
In these situations, the more recycled materials that are used, the higher the points. By simultaneously utilizing recycled materials while reducing waste streams (for example, using C&D material as a recycled product on the same jobsite), additional points can be earned. For the opportunist, this activity is driving demand for the use of reprocessed materials, which in turn has continued to fuel a rapidly-growing market segment.
Reaping the benefits
One company benefitting greatly from today's increasing environmentally-sound construction practices is Vancouver, B.C.-based Richvan Holdings Ltd.
A company with roots dating back to 1966, when the company's founder (the late Mr. Lino Gagno) started out with a backhoe and a dump truck. As the years went by, he noticed rubble being dumped into landfills and wondered if there was an additional use for this material. After some research, Gagno purchased some equipment and a jobsite, and the company's recycling operation was up and running in 1988.
Richvan Holdings reinvented itself as a producer whose primary objective was the recycling of concrete and asphalt materials. Using various crushing techniques, the company processes unwanted materials previously destined for the landfill into re-usable aggregates for construction and landscaping purposes. Today, Richvan Holdings operates four excavators, two loaders, and two crushing systems, with 12 employees.
Or consider Fucinaro Excavating CO based in Omaha, Nebraska. Operated today by Dave & Ron Fucinaro, they took over the private company after its founder, the late Tony Fucinaro, diversified the company into the region's leading recycling facility. This was after it had originally been categorized under "Excavating Contractors" when it was established back in 1963.
Prior to their recycling operation, the company's services were mostly limited to earthwork and excavation services. However, the Fucinaro's began to see an opportunity to reprocess and sell the material which they were excavating and hauling away. They invested in a mobile crushing plant and started to learn the intricacies of reprocessing demolition.
Today, most of the local earthmoving and excavation contractors are just as happy to haul their material to Fucinaro's tipping facility as Dave and Ron are to receive it. But it's not just the nimble private companies that had the foresight to carve out a niche and reap the benefits of reprocessing C&D.
Corporate giant Waste Management, Inc., based in Houston, Texas, is one of the largest residential recyclers and a leading developer, operator and owner of waste-to-energy and landfill gas-to-energy facilities in North America. In January of this year, WM announced its plan to establish Toronto's most advanced facility for processing construction and demolition waste materials, which company executives stated was aimed to support contractors and developers in measuring their C&D waste diversion performance and in applying for LEED certification. The total investment is expected to be $16 million, and 20 new full-time jobs will be created at the facility. The new C&D facility will process an estimated 87,000 tonnes of C&D material in its first full year, and is intended to allow Waste Management to "mine" recycled materials for valuable recyclable content. This is part of WM's sustainability goals of tripling the volume of recyclable materials being processed by 2020.
The fundamentals of C&D materials reprocessing
It is critical that the recycler understand the unique characteristics of the types of materials which they will be processing. Like all recycle producers, if one is to sell reprocessed materials, they must supply non-contaminated products.
The process of separating dirt, clay, plastics, wood, steel, etc. can be cost-prohibitive, if not managed properly. For example, any pre-cast concrete materials typically must be crushed such that the re-bar matrix, wire or mesh is liberated and separated from the concrete itself to ensure quality and acceptability as a recycled material.
According to Ron Griess, product manager of crushing and screening for Kolberg-Pioneer, Inc. (KPI-JCI), either jaw crushers, horizontal impact crushers – or both – can be effectively used to crush concrete.
"A jaw crusher does a good job compressing slabby material to help liberate rebar matrix's at a relatively low operating cost; however they will typically not provide enough reduction to produce a final end product without the use of a secondary crusher," Griess explains.
"An impact crusher is capable of providing a high enough reduction ratio to produce most recycled products (when used in conjunction with a screen). However, the trade-off is generally a much higher wear and maintenance cost associated with replacing consumables."
According to Griess, often the best solution might entail combining a primary jaw crusher with a secondary impact crusher. "This combination gives you higher capacity, enables better shaping of material, allows more wear-resistant consumables to be used to reduce operating costs, and adds more application flexibility to the system," he said.
Ron Fucinaro agrees: "Before we purchased our primary jaw crusher, we crushed everything in our impact crusher. It did the job but the maintenance was overwhelming. Now, by allowing the feed material to get crushed in the jaw first, we are able to save ripped belts, increase production, and reduce our wear costs."
Consider the material: asphalt, brick and block
According to Griess, "The problem with asphalt is that as the ambient temperature heats up, like in the summer months, the oil in the asphalt makes the material sticky. This can cause build-up and plug discharge openings. Normally we tell customers to use horizontal impact crushers if they want to crush asphalt. The asphalt can behave like chewing gum in a jaw when the hotter temperatures hit."
As for brick and block, which is prevalent in C&D materials, these materials are typically less concerning in terms of ferrous material or plasticity problems as they are in terms of non-ferrous contamination.
"Typically your C&D materials are coming from the demolition of a building or number of structures, and these will often contain glass, plastic, PVC, wood, etc. When reprocessing such material for future use as a recycled product, a picking station with a well-trained staff to efficiently separate these materials is essential," Griess notes.
Tipping yard vs. in-situ
The traditional method of reprocessing C&D, pioneered in the 1980s, consists of loads of recyclable materials being brought in to a tipping yard. Once dumped, material is generally separated according to type, which is critical for enabling recyclers to meet the stringent quality requirements for use as various recycled products.
According to Ron Fucinaro, a careful examination of initial incoming material is the first line of defense with this method.
"Don't accept anything you cannot handle," he says. "For example, if the material is highly dirty and you cannot separate the dirt, you should reject the load. Otherwise you will be selling dirty material, and that can come back to haunt you in multiple ways."
The same can be said for any non-ferrous materials that cannot be picked up by magnets. If there isn't a picking station in place to separate plastics, wood, etc, it is best not to try and process such materials. With the emergence of highly portable wheel and track-mounted crushing and screening technologies, more producers are electing to take the equipment right to the material and process it in-situ. This adds flexibility, reduces either the need to haul the material (if being used on-site) or through volume reduction, it can reduce the number of haul loads, which saves fuel costs and impact to the community.
Griess says track machines are growing in popularity because of the rental aspect of the equipment. "Thanks to the design of track machines, a lot of the 'tribal knowledge' that used to be mandatory to successfully crush has been built into the machine itself. Today, operators don't have to know at what angle a conveyor needs to operate in order to prevent material roll-back, they just need to know how to maintain construction machinery."
Clearly, the use of recycled materials through sustainability programs will only continue to grow. And as long as there is the need and the incentives, there will be those who will continue to emerge to fill that need.