SENNEBOGEN 818 M and orange-peel grapple key to complete scrap handling solution for Palmetto Recycling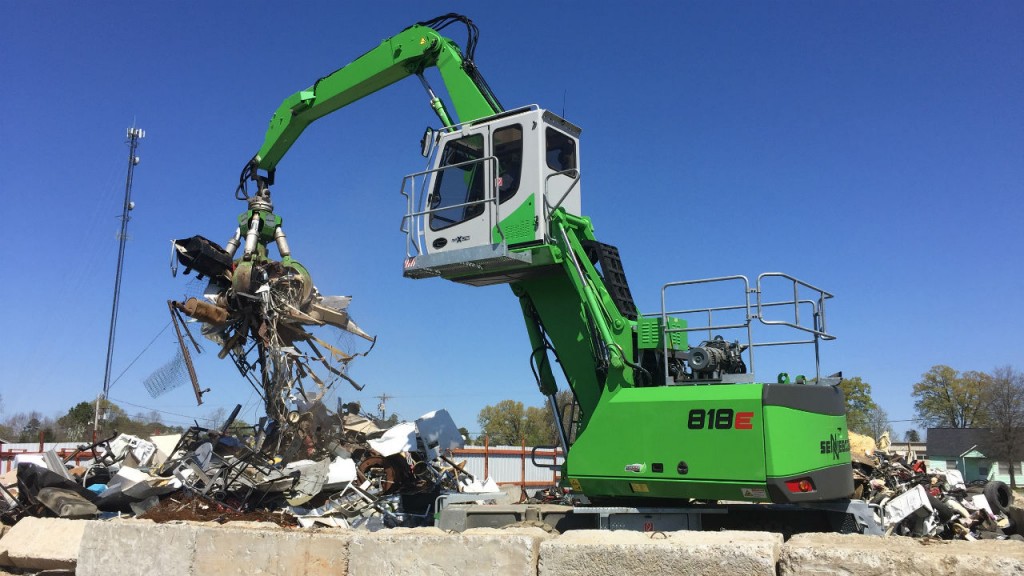 When Palmetto Recycling chose a SENNEBOGEN purpose-built scrap handler, they went for the complete package deal.
John Grant had recently come onboard as General Manager for Carolina Salvage, a full-service automotive recycler near Charlotte, NC. Grant had plenty of experience with heavy equipment and knew that since the firm had been experiencing difficulties with its existing machines, that it was time to consider a new one.
His employer, Neil Morris, is a third-generation recycler. His grandfather first went into the scrap business in 1931, and his family had been operating Carolina Salvage since 2009. The two men got their first look at a SENNEBOGEN scrap handler at a trade show, and agreed to look further into the green machines.
"We checked them out online," says Grant, "and watched a number of videos to see how they run. We could see that these were well-built machines, so we called ASC."
ASC Construction Equipment, SENNEBOGEN's distributor in the Carolinas, had their material-handling specialist, Rob Jordan follow up with Carolina Salvage. In August this year, Neil and John took delivery of a new purpose-built SENNEBOGEN 818 M rubber-tired material handler.
Speed, strength and precision
"We chose the 818 M because it's compact enough to maneuver in tight lanes, but it's big enough and strong enough to do the job," Grant explains. Up to 90% of the material handled at Carolina Salvage is cars and trucks. The scrap handler dedicates most of its time to loading cars onto trucks. For the balance of its shifts, the machine moves mixed materials for sorting, separating aluminum, ferrous material and large components, including transmissions and engine blocks. A forklift is used to load cars onto the crusher.
"We went with the rubber-tired model. I had tracked machines in the past, but our yard is level and packed down," he continues. "We have about 30 acres, and the machine has to travel about 100 yards on each circuit. With wheels, it has the speed to cover the ground pretty quickly. Our operator just loves it moving around the facility. The "creature comforts" and the ergonomics in the cab work for him. It's very stable, even with the cab fully elevated. On top of that, the dual cameras help to give us a much safer environment for our employees and our customers."
One-stop solution
To round out the package, ASC equipped their 818 with SENNEBOGEN's own orange peel grapple. They feel that the attachment reflects the same quality as the 818 machine. "It's well built. The cylinders are nice and protected, and the cut-off valves make it easy to work with from a servicing perspective," they noted. "The handling is very precise, with a good touch on the hydraulics."
After 7 months of operation, Grant is convinced that his SENNEBOGEN solution was the right choice for Palmetto Recycling. "With the 818's automatic shutdown feature and great fuel economy, the fuel savings make the economics very good for us. ASC is a new supplier for us. We're very pleased with what we've seen and we're now considering ASC for some additional equipment we need."
Company info
Related products
Related Articles
Traditionally, waste management companies have operated using a simple "management of waste" approach to operating a MRF. Throughput targets and continuous operation (minimal downtime) were the main driving forces. The industry has changed however, and the focus moving forward is now on optimizing system performance and reliability, in conjunction with increasing recycling rates and a drive for a "greener" and more sustainable tomorrow.
When considering the addition of, or upgrade to, an "intelligent" MRF, for municipalities or private operators, the main factors should always be the client's (operator) current requirements, and evolving market needs, which include throughput, reliability, output quality, and adaptability. Equally important is a full understanding of what is really expected from any proposed system. Having an engaged and focused mindset for the project with the client from the beginning, will impact and drive the entire design process. This then impacts the overall project result, through to the productive, efficient, ongoing operation of the facility itself.