Fairbanks Scales offers driver assist system for seamless acquisition and integration of weight data
Automated vehicle weighing increases efficiency and reduces costs in waste and recycling applications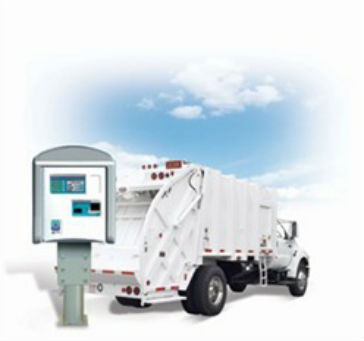 Fairbanks Scales, Inc., has introduced a complete driver-assist system ideal for automating vehicle weighing and identification at landfills, recycling plants, and other waste- and recycling-focused material handling applications. Tailored to meet the unique needs of individual customers, the innovative Fairbanks Access Solutions driver assist system improves weighing operations' efficiency and reduces costs through its simplicity and seamless acquisition and integration of weight data.
In the case of one large American waste handling company, the Fairbanks Access Solutions Entry Station greets vehicles arriving at each integrated site with a visual and audio prompt. Drivers scan a short-range RFID card and respond to corporate standardized prompts, and then the vehicle is weighed. The Entry Station quickly captures essential transaction information and sends it to a centralized server that processes transactions from a number of Access Entry Stations. Additionally, it relays real-time information to the driver and prints a final transaction ticket.
"The partnership between Fairbanks and this particular customer allows the customer to standardize vehicle weighing across a number of sites," said Eeron Bergstrom, Director of Market Development at Fairbanks Scales. "By utilizing Fairbanks Access Solutions Terminal Stations to automate their vehicle weighing transactions, this customer has been able to improve efficiency and reduce costs across their sites, as well as to rely on Fairbanks for trusted support and service."
With the Fairbanks Access Solutions driver assist system, data from multiple stations can be consolidated into customizable reports or exported to billing systems. The system operates while unattended and is easily integrated into existing management systems. The NTEP-certified terminals have a variety of available options, including long-range RFID readers to identify vehicles, security cameras, and much more.