Atlas Copco handheld hydraulic breakers demolish downtime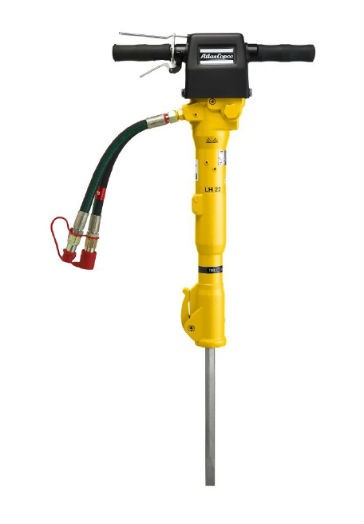 Atlas Copco's LH series of handheld hydraulic breakers benefits contractors by having relatively high power-to-weight ratios and easy operation. This helps crews achieve maximum uptime while taking on a variety of materials, including concrete, asphalt and frozen ground. The breakers' versatility — coupled with a relatively low cost — also contributes to a fast ROI.
The LH 220, the LH 270, and the LH 390 are ideally suited for breaking down tough materials that demand a high power-to-weight ratio. For example, the LH 220 weighs 50 pounds and has an impact rate of up to 1,900 beats per minute. The breakers' small bodies also make them easy to maneuver and fit in the back of a vehicle.
Other attributes of the LH series include: oil flows ranging from 5 to 8 gpm; about 30 inches long; and working pressures from 1,523 psi to 1,813 psi.
Atlas Copco also offers LH breakers with optional ergonomic vibration-reduction handles. These significantly reduce vibration intensity, allowing operators to use the breakers comfortably for more than 8 hours.
"From a contractor's standpoint, they're easy to work with and reliable," said Gus Armbruster, Atlas Copco product manager, handheld construction tools. "They're also an ideal tool for the rental industry, since they're easy to own and relatively inexpensive to maintain."
Contractors can power LH breakers using a range of equipment, such as an Atlas Copco portable power packs or a carrier's hydraulic system if it has an oil flow divider to regulate the oil pressure. The power packs operate efficiently and minimize fuel costs because their small engines require minimal fuel. The power packs' small size also enhances maneuverability and ease of transport.
Company info
Related products