Ridewell introduces RAR-251 Stub Axle Air Ride Suspension for heavy haul applications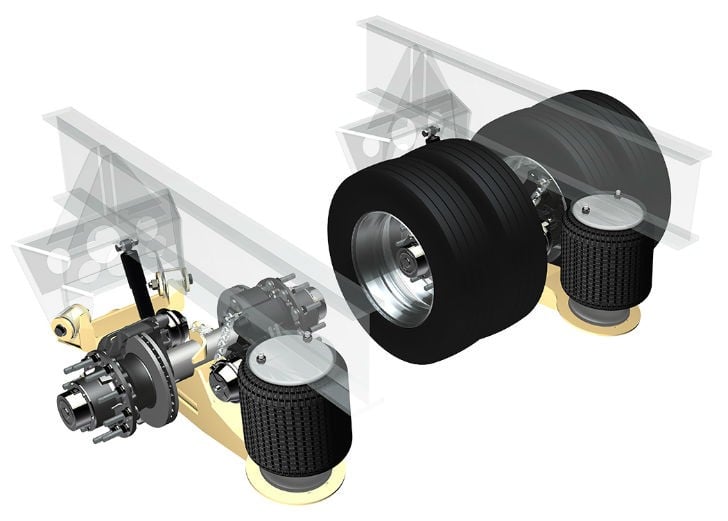 Ridewell Suspensions expands its air ride suspension line with an integrated stub axle suspension system for heavy haul applications. The RAR-251 Stub Axle Air Ride Suspension contains two beam assemblies that can be integrated with a 32" track Ridewell axle configured with Wabco PAN 19 disc brake assemblies.
"The unique pivot design and excellent lateral stiffness of the RAR-251 suspension provides a significant increase in capacity for trailer manufacturers wanting a multi-tire configuration that provides a 40,000 pound capacity per axle line," says Bruce Barton, Director of Engineering at Ridewell Suspensions. "In addition, the air ride suspension offers a better ride quality for trailer owners seeking an alternative to mechanical trunnion suspensions."
The initial release of the RAR-251 system is designed for a minimum 10-foot wide trailer up to a 14-foot or wider trailer installation. The RAR-251 accommodates 225-70R 19.5 and 245-70R 19.5 tire sizes at a 12" ride height. Purchasers can use their own hangers or Ridewell can provide a hanger specifically designed for their application.
Additional configurations include a 12.25" drum brake assembly for 17.5" tires and a Ridewell stub axle with a PAN 19 disc brakes configuration to accommodate a 22.5" wheel.
Related Articles
Traditionally, waste management companies have operated using a simple "management of waste" approach to operating a MRF. Throughput targets and continuous operation (minimal downtime) were the main driving forces. The industry has changed however, and the focus moving forward is now on optimizing system performance and reliability, in conjunction with increasing recycling rates and a drive for a "greener" and more sustainable tomorrow.
When considering the addition of, or upgrade to, an "intelligent" MRF, for municipalities or private operators, the main factors should always be the client's (operator) current requirements, and evolving market needs, which include throughput, reliability, output quality, and adaptability. Equally important is a full understanding of what is really expected from any proposed system. Having an engaged and focused mindset for the project with the client from the beginning, will impact and drive the entire design process. This then impacts the overall project result, through to the productive, efficient, ongoing operation of the facility itself.