Downstream from single-stream
Canada fibers is embracing a strategy of forward integration as a plan for adapting to a recycling industry in the midst of great change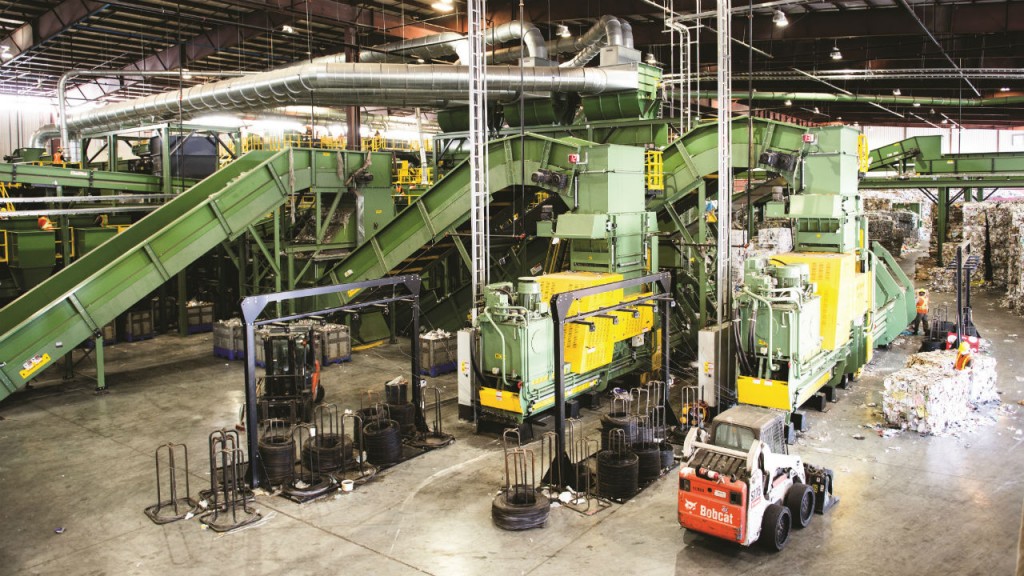 Recycling is changing. More specifically, the way that recyclers manage their businesses is changing. For those who collect, process and "move" recyclables, material streams are not what they once were, supply is not consistent with demand and the costs of doing business are continually increasing.
With the growth of single-stream collection, incoming recyclable materials streams have become increasingly mixed, while demand for purity of end product has increased. Major export markets such as China have shown decreased demand for recycled and recyclable materials, while regulations on imported recyclables have become more strict. Federal and local regulations for recyclers are also constantly changing, requiring recyclers to continuously adapt. And government imposed mandates such as food and organics bans from landfill, which are taking hold in more and more communities every month, have added significantly more organics into the mix.
All this while end markets for many products made from recycled materials remain immature, mature markets continue to change and evolve, and commodities markets for paper, plastics, metals and other recycled materials remain volatile and unpredictable, as well as inherently tied into the fluctuating price of oil.
According to the U.S.-based National Waste & Recycling Association's director of policy, Chaz Miller, "Lower energy costs have driven down the cost of recycled materials such as aluminum and paper, which are also cheaper to manufacture as new."
If manufacturing products from virgin materials is cheaper than using recycled materials, this is a major issue for our industry. Another comment from Miller really sums up the supply and demand challenges faced by the recycling industry. He says that what we are seeing currently is a state of overproduction for some materials. That there is actually too much supply in some cases. "In the past, when demand lagged, it was easy to turn off the supply," comments Miller. "It's hard to turn off the spigot of municipal recycling programs. If you're recycling, it's a good thing, and it's also bad if the end-market demand is not there."
THE THREE T'S AND THE FORWARD INTEGRATION STRATEGY
For recyclers to stay at the top of their game, adaptation to this dynamic, changing landscape is paramount. Toronto-based Canada Fibers Ltd. is a great example of a recycling company that has embraced the evolution of the recycling industry. Currently responsible for processing approximately 60 percent of the blue box materials in the province of Ontario, the company has done this by becoming more flexible with respect to the types of materials that can be processed at their facilities, by continually investing in new processing technology and human resources practices, and by forward integrating their operations "downstream", thereby creating end markets for certain materials where those markets did not formerly exist.
"We have transitioned 'downstream' and are distinguished by our ability to handle things from point of generation of valuable materials. Our 'forward integration' into consumer and industrial products is what really separates us from others, and I would say we're very early out of the gate with this concept." Mark Badger, Canada Fibers
Began in 1990 as a broker of recycled paper, by 1998 Canada Fibers was involved in operating recycling facilities for municipalities around the province. As of 2016, the company's flagship Arrow Road facility located in Toronto is considered to be one of the largest and most technologically advanced single-stream recovery facilities in North America, recycling materials primarily from residential sources with a capacity of 500,000 tonnes per year.
"Today in Ontario, approaching six out of ten pounds that go into blue boxes end up touching our hands as either an operator or an owner/operator of municipal recycling facilities," says Mark Badger, senior executive at Canada Fibers. "So we have facilities throughout the province that we're either operating or we own and operate. Post-1998, we also became involved in IC&I recovery efforts. We have two facilities today that are involved in recovering valuable materials from industrial, commercial and institutional streams."
Badger sums up the recipe for their overall success in terms of what he calls "The three Ts: technology, training and teamwork.
"I can't emphasize enough the importance of employee involvement and engagement," says Badger. "It's a major theme for our leadership throughout the company in 2016. When you take the time to explain to all your staff, and everyone who touches recyclable materials, what's important and why it's important, you get a lot of ideas about how to advance purity and cleanliness.
"In 2014, we entered into a new phase of our growth," continues Badger. "We wanted to do more than just recover materials from municipalities and IC&I sources. Today we have a series of consumer and industrial products made with materials recovered in our facilities and from other recyclers in the area."
"We have transitioned 'downstream', becoming a very integrated provider of services and products, and are distinguished by our ability to handle things from point of generation of valuable materials. We process valuable first generation materials right through to consumer products. Here in North America we're a little bit unique. Our 'forward integration' or movement downstream into consumer and industrial products is what really separates us from others. In Europe, there are some companies that are forward integrated, and it is a trend there. In North America, I would say we're very early out of the gate with this concept."
In 2014, Canada Fibers made the decision to enter into the plastic recycling business, which began with the start of Urban Polymers. Urban Polymers does two things according to Badger. Firstly, PET, including bottles and trays, is turned into flake material, which then goes onto a second life as either a bottle or tray. Secondly, the company has installed world class state-of-the-art compounding technology, which is how materials including high-density polyethylene and polypropylene, are mixed with additives to create high performance plastic materials.
"We put material through an extrusion line, adding additives along the way to construct very high-performance compounds," continues Badger. "And this is really what we're all about."
"At Urban Polymers, we're developing compounds that are prime-like compounds that are distinguished by their purity, their cleanliness and their performance characteristics. And we do that through chemistry. I'm pleased to say that Urban Polymers has some of the leading compounding chemists in the industry and a state-of-the-art laboratory where these high-performance compounds are developed. So we're focusing on getting into new segments of the market. There's lots of places in the market where recycled materials go, and they're downgraded to some respect. We're upgrading, or 'up-cycling'."
In 2015, Canada Fibers acquired two companies. One is a company that makes garden mulch, now called Urban Garden Products, and the other, a company that makes fuel pellets, now called Urban Biofuels. Both companies make product from post-industrial wood sources. Through Urban Garden Products, garden centres buy garden mulch from Canada Fibers, and in turn are provided with a closed loop for their operation. These customers end up with large amounts of pallets that they need to get rid of. Urban Garden Products picks up those pallets, turns them into garden mulch, sells them back to the garden centres, and thereby creates a closed loop.
"By staying flexible and by being innovative and by working closely with our customers, we're helping companies maintain and improve their sustainability."
Badger adds that "Along the way, we said to ourselves, 'We probably need to have a haulage business too.' We needed a haulage business to facilitate getting materials to us from ICI streams, which we need in order to produce products. So we acquired a haulage company that became Urban Waste Recycling."
ADAPTING TO A CHANGING MATERIAL STREAM
In total Canada Fibers "moves" approximately one million metric tons per year of materials. About 600,000 of that million is processed at the company's MRFs or IC&I facilities, with the remaining 40 percent (approximately) being brokered material that is sold to industry buyers.
"Within our MRFs or our ICI facilities, we're touching paper or fibre, we're touching aluminum, metal, all kinds of plastic and glass," says Badger. "Paper or fibre type products are still a very large share of what we process and what we move, but you're increasingly finding containers of various types, and film of various types, entering the recovery stream. As we innovate ways to recover a broader array of materials, the amount of 'traditional paper or fibre' becomes less of what we process in proportion. And with certain decreases in consumption of products made from paper and fibre materials, our supply continues to diminish. Newspaper is a good example.
"I think a lot of people are reading their newspapers electronically, these days, but I believe that there are other sources of paper and fibre that can be recovered with only a little bit of innovation, a little technology and a little teamwork." He also says that by having a more diversified range of capability to handle a wider range of materials, trends such as less inflow of paper from used newspapers can be offset, and "slack" can be made up with other materials.
Investment in advanced technology is also key for Badger, but says "There's no technological silver bullet."
"We work with all the major MRF systems manufacturers. We're agnostic with respect to one type of technology and believe sometimes an operation can be optimized through a mix of different technologies."
"In some plants, we have computerized control systems doing most of the thinking. In other plants, it's appropriate to have human beings doing most of the thinking. It largely depends upon what's coming in and what you want to put out. In the end though, nothing replaces good training and good teamwork."
MAPPING THE WAY FORWARD
"We're real students of what is going on in Europe," says Badger. "Myself and Joe Miranda, our company cofounder and CEO, just returned from an across-Europe trip looking at new technologies. What we found at the successful operations we saw, is that it isn't so much about one complete system – it's how you put the systems together and how you put them together with respect to your labour force.
"We're also students of regulatory issues in Europe. When I take a look at the amount of plastic, for example, that we mechanically recycle in Canada versus what's done in leading countries in Europe, we've got a lot of opportunity for improvement."
Badger points to statistics in hand which tell him that mechanical recycling of plastic in Canada is at about 10 percent and the USA is at about 10 percent. This compares to Belgium where mechanical recycling is about 30 percent and Germany, where mechanical recycling of plastic is at about 40 percent.
"I believe that some of the regulations established in Europe, be they landfill bans on recyclable materials or increased levies on recyclable materials that are going to landfill, do a good job in making it prohibitive to discard good first generation valuable materials. What that does is it 'primes the pump'. It stimulates investment in the kinds of technologies and operations that can really move the needle. And I think we've got some work to do on that in North America. It also comes down to changing public perceptions with respect to waste and sustainability.
"My kids care about purchasing products that have a sustainable element to them," says Badger. "And that existed in Europe some time ago. It's manifesting here in a very big way in North America."
With respect to the challenges of the current global economy and the year ahead in 2016, Badger says "I don't think it's a secret that a number of economies around the world are struggling today. That's fact number one. Fact number two is that many companies around the world are trying figure out how to make their products more sustainable. And those are the two countervailing trends as we see it. We're trying to play a role in building end markets for recovered materials by actually entering into the business of creating industrial products or consumer products from the recyclable materials we collect.
"When you're building a great company, you have to look beyond what's staring you in the face at any given point in time. It would be easy to look at 2016 and cry in your soup because of the potential economic realities. But fortunately, we've had the foresight to stick with our 'Three Ts' and this has enabled us to recover more materials. And because we've had the foresight to forward integrate our business, moving downstream in terms of creating new products, we have new products that are taking us into new markets.
"Frankly, we're sitting here at the end of 2015 and we're tingling with excitement about 2016 and beyond." RPN