Daimler Trucks North America showcases green innovations
Industry leader reinforces Commitment to sustainability and achieves 10.67 miles per gallon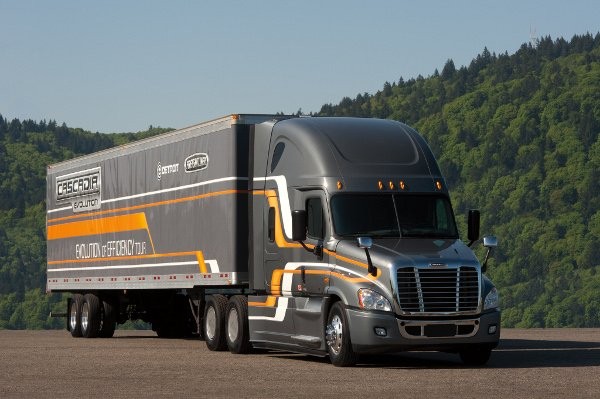 At a press conference held May 30 in National Harbor, Maryland, Daimler Trucks North America (DTNA) highlighted its most recent green achievements, including the launch of the 2014 Freightliner Cascadia Evolution powered by a new fuel-efficient DD15 Detroit engine, an announcement about the company's achievement of 10.6 miles per gallon, and a review of the recently completed "L.A. to D.C. on CNG Cross Country Tour."
DTNA's commitment to green technologies is part of parent company Daimler AG's global "Shaping Future Transportation" initiative. Launched in 2007, the initiative is focused on reducing criteria pollutants, carbon dioxide and fuel consumption through the utilization of clean, efficient drive systems and alternative fuels.
"At DTNA, innovation is directed toward product development that increases fuel efficiency while also improving the reliability of our trucks," said Martin Daum, president and CEO, Daimler Trucks North America. "These innovation-focused efforts have led DTNA to pace the industry in terms of regulatory compliance and fuel efficiency, as well as reduce the overall total cost of ownership for our customers.
With the introduction of the 2014 Cascadia Evolution (for on-highway long-haul applications) featuring the new Detroit DD15 engine platform, DTNA said they have unveiled some of the most advanced aerodynamic and fuel efficient enhancements in the industry.
"We have been very busy at Freightliner working on moving the bar with respect to fuel-efficiency in the North American Market," said David Haines, General Manager, Marketing and Strategy, Daimler Trucks North America.
"Daimler Trucks is the North American leader in fuel-economy performance, with the Freightliner Cascadia and Detroit DD15 engine. Our ability to achieve 10.6 miles per gallon with our optimally spec'd Cascadia Evolution is a clear demonstration of our leadership."
"The key to fuel efficiency these days, is in the driveline," added Daum. "We are very glad that we have the Detroit Diesel brand as a part of our family."
According to Daimler, the Cascadia Evolution delivers up to an additional 7 percent improvement in fuel economy over an EPA 2010-compliant Cascadia equipped with a first generation aerodynamic package, and up to 5 percent compared to a current model year 2013 Cascadia equipped with the latest aerodynamic upgrades.
And, pushing the boundaries of efficiency even further, Freightliner said that an optimally spec'd Cascadia Evolution with additional aerodynamic enhancements achieved 10.67 miles per gallon in controlled testing at an independent test track. This achievement was verified by Automotive Testing and Development Services (ATDS), an independent, third-party auditor using high-accuracy fuel flow meters.
"With the Cascadia Evolution, we achieved substantial fuel savings, which benefits our customers and strategically aligns with our global initiative to reduce fuel consumption through product innovation," said Wilfried Achenbach, senior vice president of engineering for Daimler Trucks North America.
"We continue to reach significant milestones well ahead of the competition."
In February 2012, the EPA certified DTNA's complete portfolio of model year 2013 on-highway, vocational and medium-duty vehicles as fully compliant with the new GHG14 regulations. DTNA is the first and only North American commercial vehicle manufacturer to be certified as GHG14-compliant.
At the May 30 press conference, it was also quite obvious that alternative fuel technologies play a key role in DTNA's overall environmental strategy. The company says to date, they have sold about 1,500 hybrid electric vehicles and about 4,000 natural gas powered vehicles. And as part of its commitment to sustainable product development, DTNA recently completed its first-ever CNG Cross Country Tour.
"We want to be ahead of the game in alternative fuel," stated Daum. "The CNG tour clearly demonstrated the ability to drive significant distances in a heavy-duty CNG-powered truck. We've proven it's possible to run long-haul using natural gas."
The L.A. to D.C. on CNG tour started in Long Beach, California on May 17, 2012 and took a Freightliner Cascadia 113-inch BBC day cab equipped with the new Cummins Westport ISX12 G heavy-duty natural gas engine to Freightliner Trucks dealerships throughout the United States, ending in Washington, D.C. on May 24. The tractor – which hauled a 53-foot trailer loaded with 30,000 lbs. – was filled up with CNG every 250 miles at available public fueling stations (on average), with 450 miles being the longest distance between fill-ups, resulting in an estimated fuel cost savings of $700.
Concluded Haines; "Through innovative technology and advanced engineering, we are pushing ourselves to further improve heavy commercial vehicle efficiencies in ways that ultimately provide customer benefit, while meeting ever-stricter emissions regulations."
For more information, go to www.FreightlinerGreen.com.