Glow-in-the-dark floor signs show employees safe way out during an emergency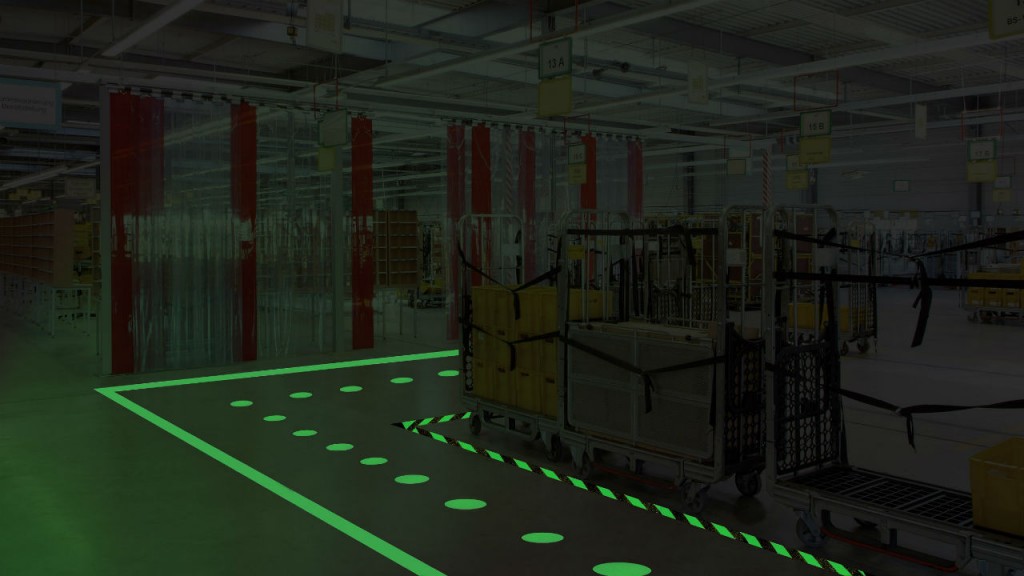 Visual Workplace, Inc. offers durable pre-made and custom glow-in-the-dark signs to ensure that critical information can be seen by building and vehicle personnel in the event of an emergency such as a power failure or building filled with smoke during a fire. Signs glow brightest for the first 60 minutes then fade to remain lightly visible for several hours in total darkness. Applications include evacuation maps, safety signage, instructional labels and emergency path markers. Peel and stick Glow Floor Decals are also available in circles, arrows and strips made of flexible material that conforms to curved surfaces and is slightly textured for an anti-skid surface.
Glow-in-the-dark signs and decals are light green when lights are on, and emit a green/yellow glow when lights are off. Ideal for use near exits, passageways and staircases, Visual Workplace glow-in-the dark signs help to ensure compliance with OSHA Standard 1910.22(b)(2) which states, "Permanent aisles and passageways shall be appropriately marked."
Key features include:
Durable 0.046" PVC with extended glow life
Custom signs at no additional cost
Lead-free and eco friendly
Indoor/outdoor use
5 year life away from direct sunlight
Related Articles
Traditionally, waste management companies have operated using a simple "management of waste" approach to operating a MRF. Throughput targets and continuous operation (minimal downtime) were the main driving forces. The industry has changed however, and the focus moving forward is now on optimizing system performance and reliability, in conjunction with increasing recycling rates and a drive for a "greener" and more sustainable tomorrow.
When considering the addition of, or upgrade to, an "intelligent" MRF, for municipalities or private operators, the main factors should always be the client's (operator) current requirements, and evolving market needs, which include throughput, reliability, output quality, and adaptability. Equally important is a full understanding of what is really expected from any proposed system. Having an engaged and focused mindset for the project with the client from the beginning, will impact and drive the entire design process. This then impacts the overall project result, through to the productive, efficient, ongoing operation of the facility itself.