Casella dBadge2 Dosimeter awarded occupational health & safety new product of the year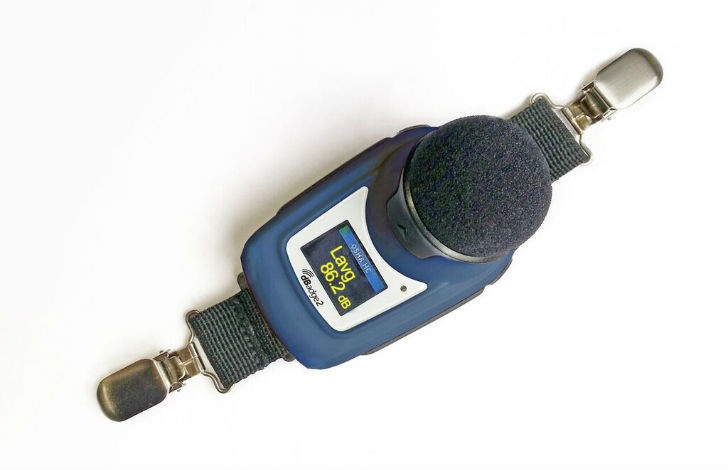 Casella CEL is proud to announce that its groundbreaking dBadge2, the world's first shoulder mounted, cable-free Noise Dosimeter with Bluetooth 4.0 communications to mobile devices, has been awarded New Product of the Year by Occupational Health & Safety magazine in the Noise and Vibration Monitoring Devices category. Casella CEL was recognized for this technological achievement at this year's National Safety Council (NSC) Congress & Expo in Atlanta.
"We're thrilled to have our new dBadge2 acknowledged as the most important and noteworthy new development in noise monitoring this year, and to know that we are positively impacting the way industrial hygiene professionals promote hearing safety for thousands of workers," said Rob Brauch, Business Unit Manager, Casella CEL Inc. "Using the dBadge2, these professionals for the first time are able to monitor multiple workers' noise exposure remotely, without interruption, displaying dose, status, level alerts and more on their mobile devices."
Thanks to Bluetooth connectivity, the dBadge2 lets the hygienist email exposure data from their hand-held device to their desktops, or to colleagues and clients, helping accelerate productivity and cultivate a more collaborative working environment. A brighter, full color OLED screen makes reading sampling results easier in any lighting condition. Optional Octave Band data capture and audio event recording ensures the hygienist has every bit of exposure data needed to fully analyze the environment and prescribe the best possible solution for preservation of hearing health.
Available in three models, the dBadge2 package come with the free Airwave App that captures every metric needed for worldwide noise exposure regulatory requirements, reducing the time and costs typically associated with personal noise monitoring and increasing quality assurance of noise exposure data. It is designed to become a mainstay in a variety of industrial applications to uncover dangerous areas and assure compliance with strict OSHA, ACGIH/NIOSH or ISO (European) regulations.
Related Articles
Traditionally, waste management companies have operated using a simple "management of waste" approach to operating a MRF. Throughput targets and continuous operation (minimal downtime) were the main driving forces. The industry has changed however, and the focus moving forward is now on optimizing system performance and reliability, in conjunction with increasing recycling rates and a drive for a "greener" and more sustainable tomorrow.
When considering the addition of, or upgrade to, an "intelligent" MRF, for municipalities or private operators, the main factors should always be the client's (operator) current requirements, and evolving market needs, which include throughput, reliability, output quality, and adaptability. Equally important is a full understanding of what is really expected from any proposed system. Having an engaged and focused mindset for the project with the client from the beginning, will impact and drive the entire design process. This then impacts the overall project result, through to the productive, efficient, ongoing operation of the facility itself.