Verstaile tank cutter attachment ideal for steel tanks, pipes and vessels
Brokk to show latest innovations at Demolition Expo 2016, including updated 100 demolition robot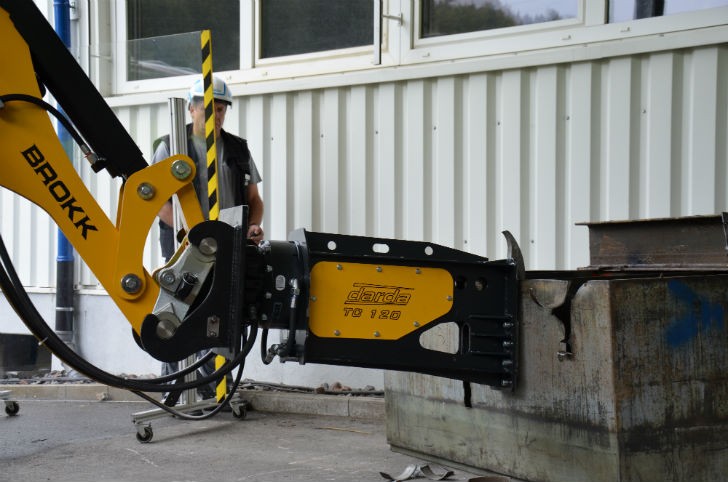 The TC120 Tank Cutter attachment, manufactured by Brokk Inc. sister company, Darda, delivers maximum cutting control and ultimate flexibility for continuous steel cutting abilities. The 47-by-17-inch TC120 Tank Cutter can be used with the Brokk 160, 260 and 400 models to deliver extraordinary precision. The TC120 brings flexibility to the jobsite with its hydraulic rotation capabilities and five-inch-wide jaws. It exerts 75 tons of cutting force at 7,250 psi to easily cut through half-inch thick steel plate. This attachment can be used in a variety of applications, such as in salvage yards and alongside balers, and is ideal for cutting steel tanks, pipes and vessels.
The most common method of cutting steel, an open-flame torch, poses a fire hazard when cutting into flammable tanks and vessels, and it can raise the risk of exposure to harmful emissions. By using the electric Brokk machine with the TC120 instead, operators reduce the risk of exposure to toxic emissions as well as prevent fires.
"This revolutionary product defines versatility. It combines power, efficiency and, above all, safety," said Mike Martin, Brokk Inc.'s vice president of operations. "Safety is vital. When cutting tanks, you never know what you'll run into. You don't have to worry about that with the Brokk machine and TC120 combination. Since it's electric, you reduce the risk that comes with cutting into potentially flammable tanks."
In addition to heightened safety, the TC120 improves productivity by continuously cutting steel.
"For the first time in the industry, there's a safe, easy, high-productivity option for cutting steel," Martin said. "Combining the Brokk machine with the TC120 attachment is like powering a giant scissors – it slices through steel like a scissor to paper."
The TC120 attachment also benefits contractors with its extended reach. Brokk machines' remote capabilities, coupled with arms that extend as far as 27 feet, easily reach places others can't, improving efficiency while minimizing labor costs. Because it's attached to a Brokk machine, it reduces the risk of injury to laborers by eliminating the need to climb scaffolds and ladders with torches to get to hard-to-reach spaces.
The TC120 is one of many Brokk attachments that can be quickly interchanged for greater versatility on a jobsite. Brokk Inc. supplies a wide range of robotic machinery and attachments, maximizing productivity, improving efficiency and promoting safety.
Demolition 2016 Expo
At the upcoming Demolition 2016 Expo in Orlando, Brokk Inc. will showcase the new TC120 along with the latest updated demolition robot, model Brokk 100. The updated Brokk 100 features improved controls for smoother functionality in slewing and arm movements; an innovative, simplified method to integrate attachments, such as hydraulic rock drills; and an updated electrical system for improved reliability.
"Our focus at Brokk is on continuous improvement, based on a belief that we can always do better," said Martin Krupicka, CEO of Brokk AB. "The new Brokk 100 demonstrates that philosophy, and brings tangible benefits to our customers."
In addition to demolition applications, Brokk machines are used for cement and metal processing, heavy civil construction, mining, tunneling, and nuclear power plant decommissioning, as well as numerous specialty applications in demolition and materials recovery.
"The Brokk 100 represents the latest advancements in the company's extensive line of remote controlled demolition machines," said Peter Bigwood, vice-president of sales and marketing for Brokk in North America. "Its updated, reliable electrical system is proof that we are constantly innovating and striving to produce the best and safest demolition equipment on the market."
Since its first demolition robot, which was built almost 40 years ago in Sweden, Brokk has introduced 11 generations of different models — from the tiny, 1,100-pound Brokk 60 to the recently introduced, 12-ton Brokk 800. The Brokk 100 is the second smallest machine in the lineup, weighing 2,183 pounds.
The Brokk 100 can use a wide range of attachments, such as breakers, crushers, grapples, rock drills and shears. And with its 31-inch width, the compact Brokk 100 and its attachment fit easily through standard doors or inside passenger elevators.
The Brokk 100 operates comfortably in tight, confined spaces, and its low floor load allows it to operate in otherwise inaccessible areas, such as in stairwells. Top-down demolition, interior strip-outs, selective concrete removal, hospital or food-service environments — all are perfect applications for the electrically powered machine.
Zero emission, compact size and industry-leading power-to-weight ratio combine to make this model one of the most popular in the company's range, and as with all Brokk demolition machines, the wireless, digital remote control is key to its success across a multitude of industries. With the wireless controls, Brokk operators can position themselves for optimum visibility and safety, avoiding potential falling debris or exposure to harmful environments.
Company info
Related products