Crushing and screening plant offers application versatility, portability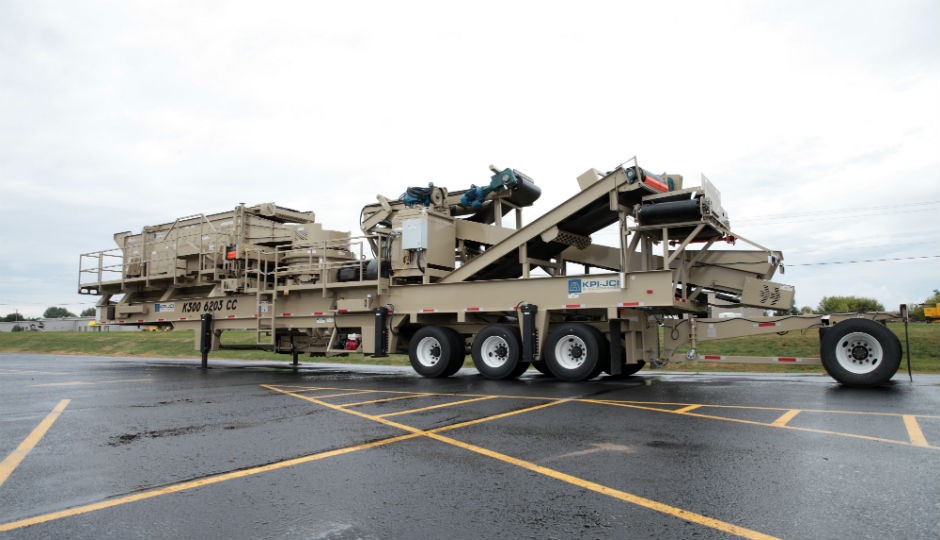 The new portable K300/6203CC from KPI-JCI and Astec Mobile Screens is a highly-mobile crushing and screening plant designed to provide application versatility and serve as the perfect rental tool for producers in sand and gravel, quarry or recycle applications.
The K300/6203CC combines a heavy-duty, roller bearing Kodiak Plus K300+ Cone Crusher with a triple-shaft, low-profile horizontal screen. Its modular design offers flexibility for easily converting the plant to meet producer configuration requirements, resulting in a quick turnaround from order to delivery. Engineered with mobility in mind, the K300/6203CC has the axle configurations to fit all of your transportation requirements.
In its closed-circuit configuration, the K300/6203CC allows producers to utilize a single chassis to produce up to three finished products or supplement existing demand in a small footprint, reducing the number of auxiliary conveyors required to get the job done.
The closed-circuit plant also offers the flexibility to convert to an open-circuit configuration by simply reversing the closed-circuit cross conveyor, according to Ian Pendergrass, product development manager for KPI-JCI and Astec Mobile Screens.
"The new modular design allows customers to easily convert the plant to meet their needs," Pendergrass said. "For our dealers, we offer the ability to mount either a K200+ or K300+ Cone Crusher to the same chassis with minimal cone mount modifications and switchgear considerations, providing added flexibility to their rental fleets."
Multiple axle configurations are available to meet portability needs, making it ideal for producers on the move. Several product discharge chutes or cross conveyor options are also available, as well as feed conveyor and feed conveyor drive options.
Company info
Related products