Kawasaki-KCM introduces 67Z7 wheel loader
Utility class loader features total redesign, provides high power with low fuel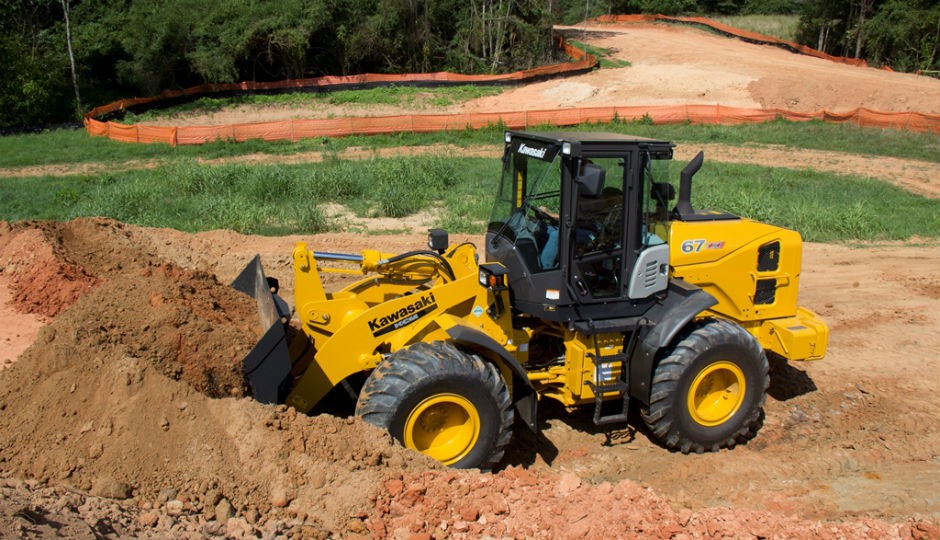 The new model 67Z7 wheel loader is a total redesign and a debut machine in the hydrostatic wheel loader class for Kawasaki-KCM. These compact wheel loaders are ideal for a wide range of applications, including waste and recycling, and can be equipped with a 3.1 cubic yard (2.4 cubic meter) general purpose bucket for material densities between 2,800 and 3,000 lbs/cy. For loose materials between 2600 and 2800 lbs/cy the 67Z7 has a 3.5 cubic yard (2.7 cubic meter) material handling bucket. A wide range of couplers and attachments are also available to maximize the versatility of this utility class loader.
The 67Z7 is powered by a Tier 4i, fuel efficient, Isuzu 4HK1 diesel engine, rated at 152 net horsepower. The hydrostatic transmission (HST) consists of two electrically controlled variable displacement axial piston type hydraulic motors in conjunction with a summation gear box. A variable displacement piston pump drives the motors. Axles are equipped with limited slip differentials as standard and internal planetaries and dual circuit, wet brakes. This powertrain package provides outstanding rimpull power and extremely smooth operation.
Many features of the 67Z7 are aimed at improving fuel efficiency and optimize performance. The fuel efficient engine is aided by the hydrostatic transmission to provide outstanding power at low fuel consumption. Two power modes are available to fit the application requirements. The efficient, proven Z-linkage provides excellent digging performance. The standard Automatic Reversing Cooling Fan keeps the radiator cleaner and the systems running cooler. Patented HN bushings used in the loader linkage provide a lubrication reserve to allow for extended lubrication intervals up to as much as 500 hours. Standard Auto Idle Shutdown prevents extended idling that wastes fuel and can cause exhaust filters to plug faster. The "natural" braking of the HST also saves on brake wear and reduces axle heating due to brake application.
The 67Z7 hydrostatic transmission allows for a Creeper function to allow the operator to control first gear speed precisely even at full engine speed. The inching pedal allows the piston pump of the hydrostatic drive to destroke and slow the machine in any speed range. The KCM patented IntelliDig system balances rimpull and hydraulic power to optimize loading.
The comfortable cab of the Kawasaki-KCM 67Z7 offers all of the comforts of home. Roomy and quiet the cab has great visibility to the front and rear. The standard air suspension seat has multiple adjustments to fit any operator needs. The single, pilot-assisted hydraulic control lever offers precise control and excellent feel. The tilt/telescoping steering column adjusts to fit the operator and has a convenient pop-up pedal to provide quick egress from the cab. The standard AM/FM/CD/WB radio has an AUX outlet and dual speakers. The standard thermostatically controlled HVAC system keeps the operator comfortable year round in any climate. Convenient storage shelf, thermal storage box, and dual cup holders, 12V and 24V outlets, and dual interior lights add to the convenience and comfort of the 67Z7.
Service ability is simple on the 67Z7. Ground level fueling, easy access battery boxes, conveniently located filter, grouped lube points, and a wide access gull wing design engine access keep costs down and insure that routine maintenance is performed.
Company info
Related products