Electric Material Handler with Guaranteed Mobility - A Sennebogen 821 M with an Integrated Powerpack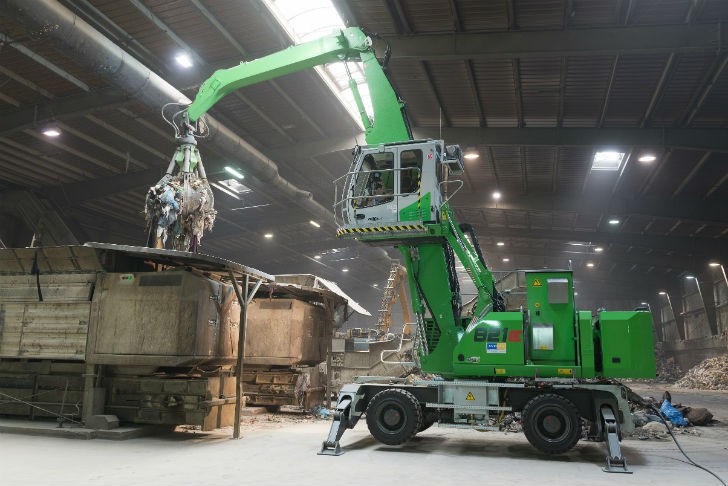 The advantages of an electric material handler combined with the flexibility of a mobile machine is what the new SENNEBOGEN 821 offers with its integrated Powerpack.
At first glance, the new SENNEBOGEN 821 M "E" appears to be an ordinary material handler. However, as soon as the operator turns the key, you hear the difference. Or, rather, you don't - the quiet 90 kW electric motor starts up and goes to work. It's only then you notice the cable plugged into the undercarriage.
Since the new SENNEBOGEN 821 now working at the MEAB waste recycling center is primarily used indoors, the site's decision-makers had quickly opted for electric drive. In addition to low operating and service costs, the electric machine eliminates any need for exhaust treatment and particulate filters in the work zone. The electrical power itself is environmentally friendly, generated just a few meters away using landfill gas.
On-board Powerpack: just unplug and go
The advantages of electric drive are widely known, but the next notable feature of this unit is more of a surprise. MEAB requires the machine to be driven quickly out of the recycling bay and relocated for other duties. When it's time to move, the operator simply removes the large plug, rolls the power cable up on the drum and starts the diesel powerpack that's built into the 821's counterweight. Then he just switches the motor to diesel mode and the waste handler is ready to roll.
A better return on recycling investment
According to the President of SENNEBOGEN LLC, Constantino Lannes, the plug-in 821 can look forward to a warm welcome from American waste-processing facilities. "Electric drive machines are increasingly popular throughout the industry," he explains. "But many centers require the versatility of a mobile machine to support operations in different areas of the facility – loading trucks at one time, sorting piles or feeding grinders at another. With an integrated Powerpack, the 821 Electric increases the utilization of the machine, which increases the ROI."
This unique concept that combines the greatest mobility with the advantages of an electric drive was developed by SENNEBOGEN. Instead of a counterweight, the rear of the material handler contains a powerful diesel Powerpack. This provides the power to the motor. As well, it has been designed to allow all of the hydraulic functions to be operated when on the Powerpack mode. With just a few steps, the electric machine can be driven anywhere without having to worry about being tethered to its power supply.
Thanks to the integration of the Powerpack into the counterweight, the 821 remains exceptionally maneuverable and compact, and fully utilizes its strengths as an expert recycler.