Ontario Tire Stewardship's R&D grant recipient, Tyromer, opens groundbreaking tire recycling facility in Waterloo
Collaborative efforts between the University of Waterloo and the public/private sector has led to global innovation in scrap tire recycling and resource utilization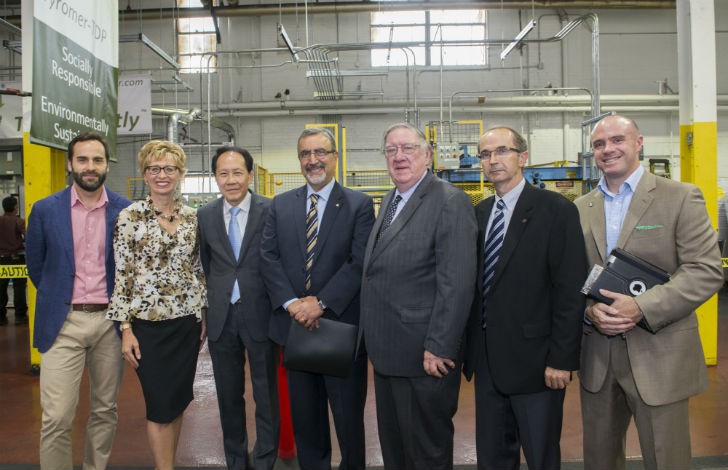 In September, Ontario Tire Stewardship (OTS) congratulated tire waste reduction company Tyromer on the opening of its new facility, Tyromer Waterloo. Tyromer Inc was established by the University of Waterloo, and with the help of Ontario Tire Stewardship and other public/private collaborations, has commercialized an innovative new process to enhance the up-cycling of recycled tire rubber.
"The opening of Tyromer Waterloo exemplifies our ongoing focus of spurring economic development by supporting Ontario-based environmental innovators, leading to commercialization. It also demonstrates the kind of strategic partnerships we're building with Ontario-based companies such as Tyromer and AirBoss Rubber Compounding," said Andrew Horsman, Executive Director, Ontario Tire Stewardship. "We look forward to continuing to develop future partnerships that will help drive Ontario's green economy."
Ontario Tire Stewardship, who calls the new facility "groundbreaking", provided a research grant for Tyromer to strategically focus on the devulcanization of scrap tire rubber crumb, which allows this high-value recycled material to be used in greater quantities as a replacement for virgin rubber, and in more demanding applications.
Airboss, also an OTS R&D Grant recipient, has been focused on the development of alternative rubber feedstocks, and is the leading Canadian supplier of compounded rubber to a range of different customers across North America. Air Boss is an ideal partner for Tyromer.
OTS is an Industry Funded Organization (IFO) established by Waste Diversion Ontario (WDO) to support the development, implementation and operation of the Used Tires Program. The organization successfully diverts about 12 million tires every year from landfill, with almost 80 million recycled since the program launched in 2009. Since the launch of the program, the tire recycling industry has seen significant growth and maturation—approximately $70 million in new investments and over 200 direct new jobs.
"At OTS, we are transforming the relationship Ontarians have with the lifecycle of their tires, through a comprehensive approach that takes into account our environment, our economy and our quality of life," said Horsman. "Through the Used Tires program, 100 percent of Ontario tires get efficiently and responsibly recycled into new products, leading to more livable communities and a growing green economy in this province."
Related Articles
Traditionally, waste management companies have operated using a simple "management of waste" approach to operating a MRF. Throughput targets and continuous operation (minimal downtime) were the main driving forces. The industry has changed however, and the focus moving forward is now on optimizing system performance and reliability, in conjunction with increasing recycling rates and a drive for a "greener" and more sustainable tomorrow.
When considering the addition of, or upgrade to, an "intelligent" MRF, for municipalities or private operators, the main factors should always be the client's (operator) current requirements, and evolving market needs, which include throughput, reliability, output quality, and adaptability. Equally important is a full understanding of what is really expected from any proposed system. Having an engaged and focused mindset for the project with the client from the beginning, will impact and drive the entire design process. This then impacts the overall project result, through to the productive, efficient, ongoing operation of the facility itself.