KPI-JCI and Astec Mobile Screens Launches New Website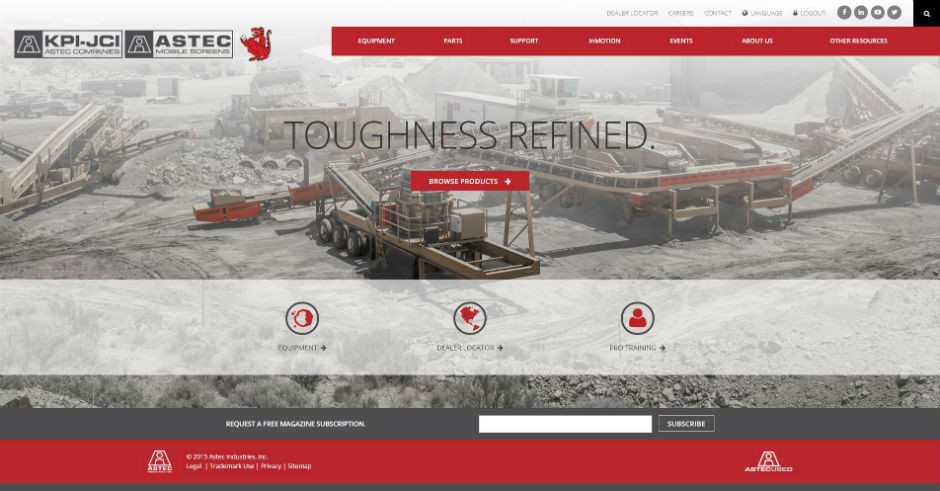 KPI-JCI and Astec Mobile Screens has launched a new, user-friendly website that is completely optimized for any device or screen size, allowing dealers and producers to easily access information, whether in the office or out in the field.
The new site was launched Sept. 22 during the 2015 National Dealer Conference, located this year at KPI-JCI and Astec Mobile Screens' manufacturing facility in Yankton, S.D. The site was designed to match the company's new look, which aligns with Rocky, the company's iconic mascot. The company also created a new section called InMotion, which highlights customer success stories and features video testimonials and operational photos.
"InMotion allows our customers to share how they have increased efficiencies, saved money, reduced downtime and built relationships with local distributors," said Marketing Manager Melinda Schweitzer. "It also allows site visitors to search by market and learn how our comprehensive product offering is transforming operations all around the world."
Schweitzer said creating a mobile-friendly site was crucial to serving tech-friendly producers who require information at their fingertips.
"Optimizing the website for any device or screen size was an important factor in building a new website," she said. "We also wanted to simplify the design and make the site easier to navigate. Our producers and dealers expect us to communicate with them in the simplest, most effective manner possible, and our new website design allows them to easily access all of the information they need to be successful with our equipment."
To visit KPI-JCI and Astec Mobile Screens' new website, please visit www.kpijci.com.