LEGAL-FOR-TRADE ONBOARD WEIGHING The future for collection of waste and recyclables
Vancouver-based 505-Junk has built their business around Rice Lake's TradeRoute onboard weighing system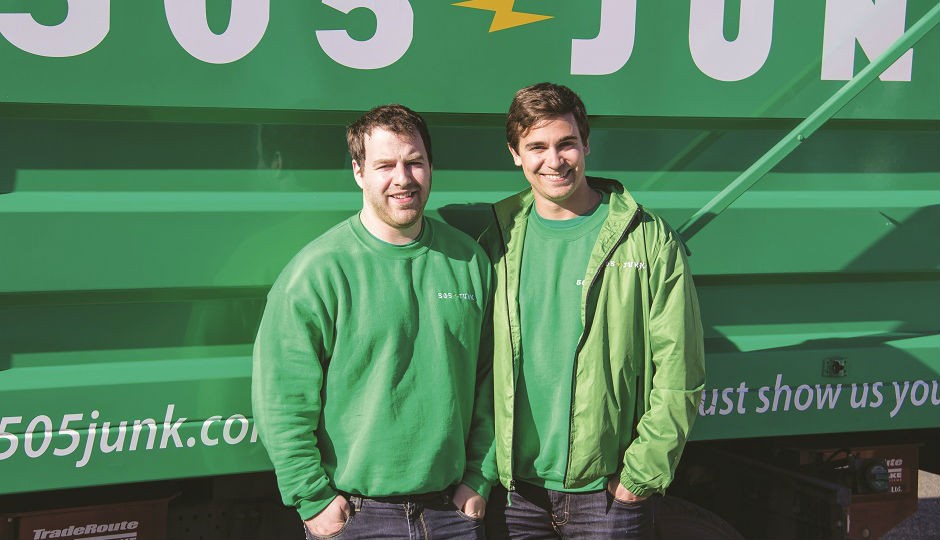 505-Junk is a junk removal and recycling company specializing in commercial, residential and construction site pickup of recyclable material, reusable items and waste. Operating throughout the Greater Vancouver and surrounding region, 505- Junk recycles and donates-for-reuse over 50 percent of material collected. Among the hundreds of material types and items the company encounters, in an average month, for example, 505-Junk collects about 50 to 100 mattresses, four to five tons of metal and upwards of 10 tons of drywall.
The advantage 505-Junk has over their competition, according to founders Barry Hartman and Scott Foran, is that instead of charging by volume for material pickups, they charge by weight. Foran says this makes them unique in the business and it makes their pricing much more accurate, compared to competitors.
"We started the company based on the principle that we wanted to charge customers by the fairest and most transparent way possible, which is by weight, because we pay by weight," says Foran.
According to Foran, many of their competitors charge based on volumetric approximations (such as half of a truckload), an approach prone to subjective assessments, higher-than-estimated charges and customer dissatisfaction.
Alternatively, charging based on weight for waste and recyclables pickup provides a scientific, professional and verifiable method for straightforward and fair transactions.
When 505-Junk started in 2011, they charged by weight, but they did not start out using a legal-for-trade onboard scale for their collection vehicles.
Hartman and Foran met as classmates prior to 2011 at Kwantlen Polytechnic University in Vancouver. When they decided it was time to find the onboard legal-for-trade weighing system they would build their business around, they used their contacts and hired a team at the university to conduct research, calculate operating costs and present the best options. The team returned with Rice Lake Weighing Systems' TradeRoute onboard weighing system, which according to the Wisconsin-based manufacturer, is the only approved legal-for-trade onboard vehicle scale in North America.
"After a couple years being in business, extensive research and talking with Rice Lake, we were finally able to make our dream come true – of charging customers accurately onsite," continues Foran. "We'd been charging customers by weight previously, but it was a time-consuming process because you'd have to go over a stationary scale, get weighed, get a weigh ticket printed, go drop off all the material at the various places where we take our recyclables, donate materials, and of course, if not reusable or recyclable in any way, shape or form, we take it to a waste sorting facility.
"And then once you go through that process, you have to get weighed back out again. So you have this huge time delay between getting the weight and then sending it to the customer and getting the invoice. That's where the Rice Lake system came in. Now we do everything we need to do at the material pickup site."
Building a collection business on TradeRoute
505-Junk purchased their first Rice Lake TradeRoute onboard weighing system in 2014 through Scott Trewella, foreman with Richmond Scale Ltd. in Delta, B.C. They worked with a local truck equipment installer to integrate TradeRoute, then performed the calibration.
"We went through every possible test to try to make it fail and we couldn't," Trewella says. "We put it through frontback twisting and crazy pitches. The truck was almost tipping over and TradeRoute still worked. It returned to zero every time."
505-Junk now runs two trucks in the Richmond area equipped with TradeRoute, enabling them to charge customers by weight at the point of pickup, collect payment if ready and leave their customer with a receipt, while documenting the weight of the goods collected. Integrated into 505-Junk's system are Rice Lake's 920i indicator/controller and a mobile printer, providing for quick and easy transactions. Foran says the paperwork also helps them accurately keep track of each pickup, authenticating operations for their accounting and tracking reports.
The other advantage 505-Junk has seen since installing TradeRoute is with respect to vehicle emissions. Foran says they were recently examined by a local environmental auditing agency which concluded that TradeRoute reduced vehicle operating time by three hours per day and reduced almost one metric ton of emissions per month.
"The way we work is we show up on site and then we lift the scale up, we print the weight ticket, which gives us a zero spot or a tare weight if we've already got material in there," explains Foran. "We load new material in and depending on what type of material it is, it will get different pricing.
"For example, obviously metal is a recyclable, you get a little bit of refund for it, so metal gets a different pricing. Drywall's a bit more expensive to recycle, so we have to charge more for it."
"So we can actually separate not only between customer loads but between different types of material on site which allows us to be much more efficient with our transactions."
505-Junk uses their TradeRoute scale for the most part, in its simplest form. That is to print out a weight ticket with the date and time on it. But there are many ways of using TradeRoute in more sophisticated ways.
"TradeRoute can give you a weight ticket with the date, time, job number, product ID number, as well as customer details and information about the vehicle operator at the time. But if you don't need that information, it doesn't have to be on the ticket. I like how simplistic it is. Literally, we have a button, it lifts the scale up, we turn the scale system on, we put a ticket in, we hit the print button, put the scale down, load the material in, lift the scale back up, print the ticket again and it tells us the exact weight."
Foran describes a recent job they had in West Vancouver, just after they installed their first Rice Lake legal-for-trade onboard scale.
"The customer had very specific requirements and were working to meet a very high recycling percentage. They had to track the numbers and we're the only company that charges by weight. They did not want an estimate of how much of their material was being recycled. They wanted an exact ticket saying: this is how much wood you have, this is what happened to your wood; this is how much metal you have, this is what happened to your metal.
"With our TradeRoute system, all this is very easy to track and very transparent. We work with a lot of construction companies and property managers, because it allows them to keep track of exactly what's happening with their materials."
When it comes to dropping materials off at recycling and waste sorting facilities, Foran says there are also certain minimums and statistical requirements. The data they generate with TradeRoute allows them to use the scale to make decisions and to more efficiently deliver recyclable materials where they need to go.
"Certain recycling companies have thresholds for the purity of material accepted, and if you don't meet their threshold you cannot recycle there. With TradeRoute, we can weigh our load out and know that we have met a given threshold, that we meet the recycler's requirement, and we have proof to back it up."
505-Junk delivers materials to a very wide range of local recyclers, including New West Gypsum and West Coast Plastics Recycling, where they recently dropped off three loads of plastic car bumpers. New West Gypsum Recycling, based out of New Westminster (a suburb of Vancouver) and with locations east of the city, is where 505-Junk takes the bulk of their drywall.
"New West Gypsum is fairly far away from us," says Foran. "There are other facilities that do take drywall, and which may be closer, and so we need to know the mathematics behind whether it's the right decision to make to go to New West Gypsum or to go to a different facility, based on our weight.
"Our TradeRoute system allows us to make those decisions and understand the processes behind them. It makes us more efficient, allows for an increased number of jobs, and it allows us to increase our recycling and to be more transparent with our customers."
The importance of the legal-for-trade model
Tom Kendall is Rice Lake Weighing Systems' director of strategic accounts for onboard weighing, and has been part of the team working with 505-Junk on their installation of the Rice Lake system.
"One of 505-Junk's competitors was caught on camera recently during an investigation, knowingly using a non-legal scale to charge by weight," says Kendall. "Last we heard the Vancouver police were looking for them, and the company appears to no longer be in business."
"This seems to be a more serious case of outright fraud. Still, in Canada, if a company is using a scale that is not approved by Measurement Canada to charge by weight, for any material, then they are breaking the law," continues Kendall.
"If a company is basing their charge on weight they must use a scale approved by Measurement Canada. "If a company is charging for waste and recyclables pickup based on volume, it is legal, but then those customers are basically paying for 'air' and in most cases, they are probably being overcharged when compared to weight-based billing."
According to Kendall, legal-for-trade onboard weighing is very likely the way of the future for a range of applications in the waste/recycling collection industry. He says Rice Lake originally acquired the TradeRoute technology through acquisition from the Canadian company NORAC in 2011. NORAC designed and supplied the technology for mostly agricultural applications, such as for fertilizer, where product was being sold based on legal-for-trade deliveries on site.
"When we originally acquired this product line, we developed it for all kinds of industries. Since then Traderoute has been successfully utilized for delivery of liquid and dry animal feeds and wood pellet for renewable heating in homes and businesses, and into expanded agricultural applications globally. Anywhere operating efficiencies are gained by generating billable, high-accuracy weights from a truck on-site.
"Once payment based on accurate legal-for-trade weighing takes off in the waste and recycling industry – once people see what it can do – it will start becoming more and more accessible and widely used." Scott Foran
"We've also put our system on trucks used for collecting grease trap and cooking oil waste from restaurants. This has to involve legal-for-trade weighing. The greases and oils are recycled into biofuels. Restaurants purchase the biofuels for their operations and can receive a rebate on how much waste they return. Because it is a rebate, it has to be a legal weight.
Kendall says Rice Lake is in the process of developing systems for largescale commercial waste/recycle collection applications as well.
"For large commercial collection trucks, and whether for front or rear loading operations picking up garbage or recyclables, we're working on a system that will automatically provide a legal printout, or digital file to allow for weight-based billing. The scale system's data management will be able to send legal container weights from a truck automatically, electronically and immediately upon completing the weighing process."
Scott Foran agrees that legal-for-trade onboard weighing is the inevitable future of large-scale commercial waste and recycling collection.
"Waste collection companies pay based on weight of materials they dump at landfills or transfer stations," he says. "How is it that customers are charged based on an estimate? It doesn't really make sense, but it's been done this way for so long that its ingrained in the industry. Once payment based on accurate legal-for-trade weighing takes off in the waste and recycling industry – once people see what it can do – it will start becoming more and more accessible and widely used."
Going forward, Barry and Scott have plans to add trucks equipped with TradeRoute for servicing additional areas around Vancouver, outside of Richmond, in outlying Abbotsford, Chilliwack and Langley, as well as B.C.'s capital city of Victoria. They are also working with multiple companies outside of the province of B.C. and towards franchising their business model across Canada. RPN