Kessler Consulting and Hillsborough County, Florida awarded NWRA's Inaugural Sustainability Partnership Game Changer Award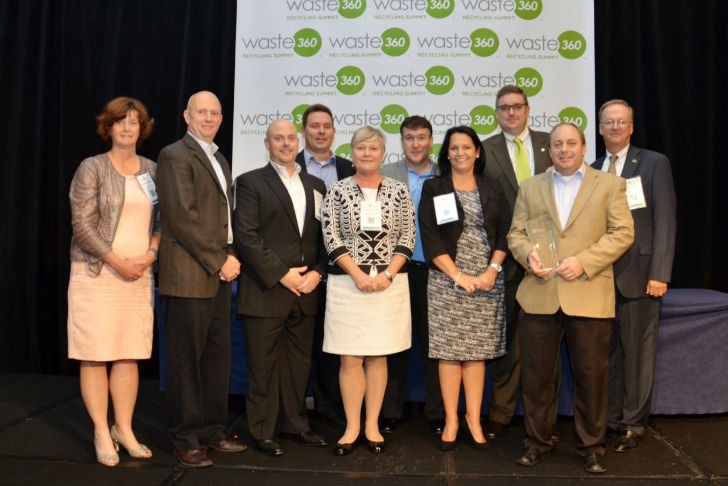 The first "Sustainability Partnership Game Changer Award" was granted to Hillsborough County (County) and Kessler Consulting, Inc. (KCI) by the National Waste & Recycling Association (NW&RA) at the Waste360 Recycling Summit in Chicago.
This prestigious industry award was created to recognize public and private organizations that, according to NWRA have successfully partnered to implement game-changing initiatives, policies or programs that advance sustainability in their community. The County program achieved these objectives.
With a goal to improve service, control costs, and maintain the integrity of the County's integrated solid waste management system, the County and KCI planned and implemented the largest same-day start up, roll cart deployment in North America. With over 260,000 households, more than 520,000 carts, and nearly 20,000 commercial accounts, The County and KCI coordinated a project team that included County representatives from the Solid Waste, Public Works, Utilities, and Communication departments as well the private sector team members from Progressive Waste Solutions, Republic Services, Waste Management, Schaefer Systems, Cascade Engineering, WasteRec, Trio, Environmental Solutions Group/Heil, McNeilus Companies, and Sonrai Systems.
This unprecedented partnership resulted in an estimated $85 million economic impact on the U.S. solid waste industry in 2013, a 100 percent increase in recyclables recovery (30,000 additional tons per year), and more than a $10 million annual savings over the County's previous contract. The "Fill it, Tilt it, That's How We Roll!" program is an example of the success that can be gained from a well-planned, sustainable public/private partnership.
Sandra Murman, Hillsborough County Commissioner, said "The successful start of our new solid waste service was accomplished due to exemplary collaborative efforts and serves as a model for great communication and teamwork."