Winkler Structures Launches Fabric Covered Building Lineup to Meet Growing Demand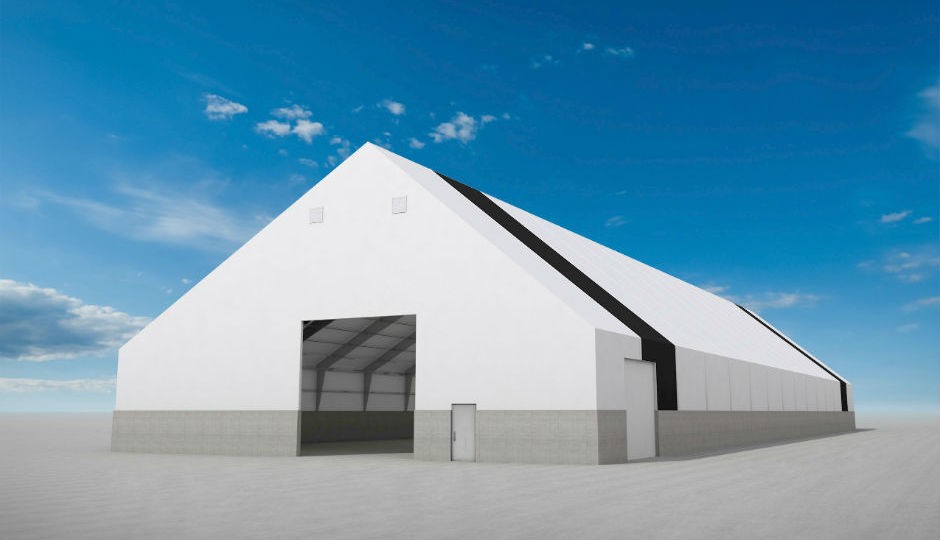 Winkler Structures recently launched a completely new building lineup to meet the growing demand for larger fabric covered buildings in waste/recycling and other applications. One of these new buildings, branded the Trident (rendering shown here) offers an innovative rigid steel frame and solid web beams, providing clear-span widths up to 250 feet, and creating a spacious, obstruction-free area inside the building that can be customized to any length.
Trident's straight-wall design means that doors can be added to any area of the building for easy accessibility, or end walls can be left completely open for quick transfer of large machinery and equipment in and out.
Due to its strength and resistance to corrosion, the Trident's solid steel beams offer durability and high-level protection of assets. Various coatings are available including grey primer, powder coated, or hot-dipped for extreme protection against corrosion. Buildings can also be customized to include a variety of options such as doors, insulation, ventilation, and hanging accessories such as conveyors.
The introduction of the Trident model to its building lineup is one part of Winkler Structures' complete series release. Each new structure profile has been personalized with its own brand and each one offers various widths, among other structural features. Additionally, the company says, any of Winkler Structures' standard options work very well for application in waste and recycling operations, or a building can be completely custom designed to meet specific needs.
Winkler Structures is a division of Winkler Canvas Ltd., and has been providing its customers with the highest quality, innovative products and solutions for over 35 years.
According to the company, its humble roots as a small operation manufacturing agricultural truck tarps has been built up on a foundation of strong work ethic and integrity, and a commitment to quality with no compromises. The values that were at the core of Winkler Structures' beginnings set the company up for rapid growth in both its product offering and company culture; a growth substantial enough for the company to have to expand their production and office facilities three times in less than 10 years. This expansion has also resulted in a growing dealer network across North America, and the ability to service almost any industry requirement with its certified, engineered fabric covered buildings.
Winkler says they continually adapt to changing markets due to its core principles of innovation and quality. In 2014, the company underwent a change of ownership that fuelled a complete overhaul of the brand, a process which caused the company to reflect on its past and set the direction for future growth. The result was a commitment to becoming leaders in the fabric structure industry. "Our tagline expresses our vision; which is to provide our customers with a No Compromise Fabric Structure," says Rick Knelsen, VP of Sales & Marketing. "It's important that people trust that their assets are protected with a structural solution and that at the end of the day, they can focus on their operations with confidence."
The company's custom fabric covered buildings are designed for waste and recycling transfer stations, processing and sorting facilities, vehicle storage and maintenance facilities, equipment storage, site warehousing, and anything else that requires superior protection from the elements. "Our structures are often custom-designed for our customers, which means you don't need to cater your needs to our buildings, but rather we cater our buildings to our customers' requirements," explains Knelsen. "This allows for maximum efficiency in both capacity and our customers' man-hours."
Buildings can be installed in as little as a week and can be deconstructed and moved in the same amount of time, which gives up a significant amount of upfront savings in construction time. The specialty polyethylene material covering Winkler's buildings has amazing strength-to-weight ratios that allow for easier, faster, and money-saving installations. This advanced fabric also provides natural lighting into the building for a safe and efficient work environment, while also producing savings in electricity costs.
The recent launch of the new building lineup is meant to meet the growing demand for larger fabric covered buildings, and to supplement the new ownership and re-branding of the company. Winkler Structures says what enables their company to introduce its new innovative product line while simultaneously keeping up with production and managing its large dealer network, is the company's holistic approach to the manufacturing process. Everything including drafting and design, material handling, welding, packaging, and shipping is done under the same roof in the company's 60,000 square foot plant (shown below). Plus, the facility includes the company's head offices on-site, allowing effective communication between departments of the Winkler Structures family.
Winkler Structures' 60,000+ square foot facility located in Winkler, Manitoba.