Turning scrap into a win-win
Saskatoon recycler sees 150 percent growth in a decade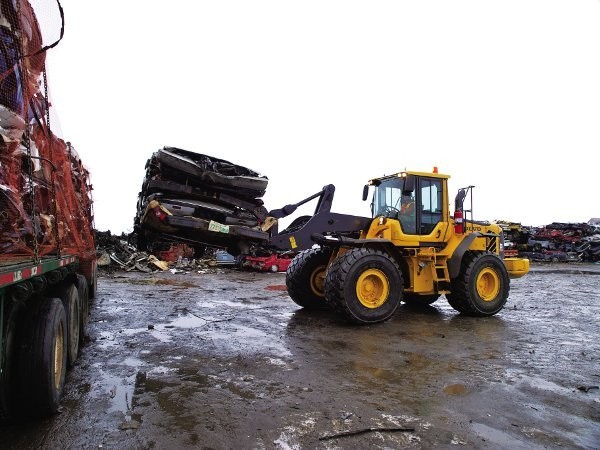 For Mark Riffel and his team at B.N. Steel and Metals (2002) Inc., based in Saskatoon, Saskatchewan, the task at hand is fairly simple: how to most efficiently turn a wide range of materials into dollars.
"Although we like to focus on lighter gauge materials such as sheet metal, white goods (appliances), cars, trucks and farm equipment, we do have the capacity to handle almost all forms of metal recycling," states Riffel.
"Over the years I think we have seen everything that is made of metal come through here. One time somebody even dropped off a used steel coffin that was locked. The boys were pretty nervous when it came time to cut into that item with the cutting torch. But hey, even a coffin deserves a second chance at life...in another form."
What it takes for growth
Riffel took over the family business in 2002. Up to that point his dad had very successfully run a small metal recycling operation, but Mark knew that to survive in the new economy, the company had to grow. And grow it did. In 2007 Riffel purchased an auto recycling company and added that to his ever-growing roster.
"When I took the business over from my dad," Riffel notes, "a big year for him would have been 1,500 tons of assorted material. Now we sort, shred, compact and ship a minimum of 25,000 tons of mixed metal annually and that number is growing. When I started we had a staff of five loyal employees. Today that number has been multiplied by five."
And so what does it take to grow a metal recycling company by over 150 percent in the space of a decade? Solid business management is certainly a key factor, and Riffel has that in spades. An ever-growing supply of used material is also key, as is the ability to access the heavy equipment to get the job done.
B.N. receives daily scrap metal deliveries from within a 200-kilometre (125 mile) radius of Saskatoon. In this area of Canada, one is not always afforded the most pleasant of climatic working conditions. The weather contributes greatly to the stresses put on both man and machine, as the region can experience temperature swings from minus 48 degrees Celsius (-54 degrees F) in the winter months to plus 25 degrees Celsius (77 degrees F) in the summer. Average annual precipitation is 350 mm (18 inches) and there are numerous days when the wind gusts are in excess of 60 kilometres-per-hour (37 mph). Recycling metal, or doing almost any type of outdoor work in this kind of extreme weather, means the reliability and cost-effectiveness of the machinery used is paramount.
The right machines
B.N. Steel and Metals is served by Brian Shevchuk (aka Shevy) and his team from Redhead Equipment. Redhead, with head offices in Regina, Saskatchewan, about 260 kilometres (160 miles) south of Saskatoon, is the exclusive Volvo Construction Equipment and Mack Truck dealer group in the province.
Currently, B.N. Steel and Metals, along with their wholly owned subsidiary Affiliated Auto Wrecking, owns two Volvo EC210C tracked excavators. One is equipped with a giant seven-finger, fully rotating grapple and the other with a regular bucket and a two-finger hydraulic thumb. In addition, they own another EC330B tracked excavator mounted with a giant, metal-destroying, shear, and maintain access to a large L110F wheel loader.
"Over the years we have owned just about every kind of excavator known to man," Riffel went on. "At the end of the day we have proven that Volvo just suits our needs best."
For Riffel and his group, reliability has always been one of the key factors considered when they are looking to purchase any new piece of equipment.
"When any of our machines are down, we're not working and therefore are not making money," says Riffel. "Reliable equipment is the key to keeping our staff on the job. Downtime is an industry killer – if the iron is not moving then we're not making any money. Downtime is simply not an option."
"Shevy and the Redhead team are always there when we need them," continues Riffel. "If we have a breakdown – and that can easily happen when you are working in the kind of environment that we are in – and we need parts or a service technician, Redhead is there for us. They're simply a phone call away."
Another factor in B.N. Steel and Metals' continued success has been Riffel's forward-thinking management style.
"We purchased our first two excavators right at the beginning of the market downturn," states Riffel. "It was an easy decision for us to make. We knew that by reducing our downtime and increasing our productivity with new and reliable equipment we would not only save money on repairs, but at the end of the day we would make more money by eliminating or certainly reducing the potential of downtime."