Equipped for success in scrap
Innovative machines, diversification and respect for both customer and staff central to growth for Allied Salvage and Metals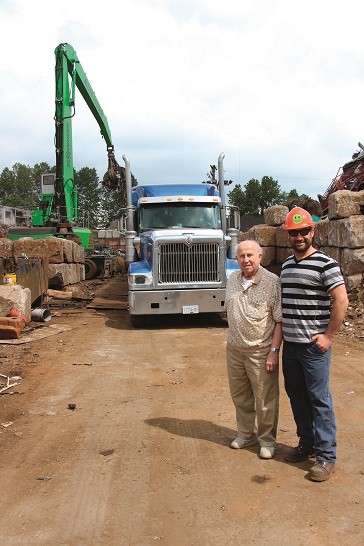 Allied Salvage and Metals, based out of Richmond, B.C. has built their business based on a strong belief in family values and treating both customers and staff with respect. That, and smart equipment choices.
Ian Weinstein, director of operations for Allied Salvage and Metals, is the great-grandson of the company's founder, Izadore Weinstein, and has been working full time in the family business since 2003. Ian spent time in the scrap yard as a boy and was trained as a heavy-duty mechanic. He's seen the equipment used by Allied Salvage evolve from alligator shears to mobile shears and from old cable cranes through large hydraulic cranes (excavators and purpose-built, wheeled scrap handlers). For Ian and three generations of family before him, making the right equipment purchases has been critical for the growth of the company. It has allowed them to diversify their business, take on more projects and material types, and achieve the kinds of volumes that have enabled the company to expand globally and compete in a very competitive climate.
The RB5000 mobile baler
At this year's ISRI 2015 in Vancouver, visitors had the chance to see Allied Salvage and Metals' new Sierra International Machinery RB5000 mobile baler. The machine on the show floor was purchased by Allied Salvage prior to the show, brought to Vancouver for display by Sierra, and then delivered to Richmond following the event.
"We already have one RB5000 mobile baler," says Weinstein. "Our new, second RB5000 arrived at our site right after ISRI. It's now getting a little bit of upgrading done before being put to work baling small- and medium-sized cars, light white goods, tin and number two."
Weinstein says their Sierra RB5000 balers process about 10 to 15 tons per hour, and that their main advantage is in their mobility.
"The RB5000s just enable us to go places where we were not able to go before," says Weinstein. "I had a few customers that were out of town and I started doing business with them. They would have other companies come in and process their material, but the relationship stood that we did good business together, and they would prefer to do business with us. So that's why I bought our first mobile baler – so we could service those customers."
Since purchasing their first RB5000, Allied Salvage has travelled all over the lower mainland [metropolitan region surrounding Vancouver] to process materials, and as far away as Prince Rupert, B.C.
"Our first RB5000 mobile baler lives in our satellite yard in Squamish [50 minutes north of Vancouver] and we do about 500 tons a month," explains Weinstein. "One of the reasons we bought the second baler is because whenever we would take the machine out of Squamish to process materials at a customer site, they would find themselves overcrowded with material, as they have a small yard and we need to keep them clean and organized."
He adds, "Without the right piece of equipment, you just don't have the opportunity to go and find more product at any given time."
Updated equipment makes all the difference
"My dad (Arthur Weinstein, company president) bought our first hydraulic crane, or excavator, in 1998. He bought a Kobelco 220 and put on a dual scrap handling boom." Back then, Weinstein says, they went with Kobelco based on the available local service. It was easy to service if it broke down, and it was a smaller machine, ideal for their smaller, one-acre yard at the time.
"The only excavator I have in the yard right now is a Hitachi 350 with a Genesis 660 mobile shear on it," says Weinstein.
For their handling needs, the company uses five Sennebogen wheeled material handlers, with the original machine, a model 835, purchased in 2007 and still working in their Squamish yard. Weinstein says he expects to get about 20,000 hours out of his Sennebogen machines.
"We have four Sennebogen 835s, and an 821," says Weinstein. "We like the simplicity of the Sennebogen machines, with less computer componentry. We now work on 2.5 acres at our Richmond yard and use the bigger machines to pile materials higher."
In 2008 Allied Salvage traded in a 5200 Mac Press Baler that was processing approximately 20 to 25 tons per day, replacing it with a T550 500-ton shear baler from Sierra International Machinery. "When we bought the 500-ton Sierra, we went from 25 tons per day to 12 to 15 tons per hour,"
Weinstein says. "Then when we bought our Sierra 900-ton shear two years ago, we went from 12 tons per hour to 25 tons per hour." Weinstein says the speed of their Sierra shear balers, and the diversity of the shearing, baling and processing that they allow, has enabled Allied Salvage to attract more business, because they can produce more, and specifically, because they can create a shear product that the mills like, with improved ability to densify material and make good quality bales.
"Using our two Sierra stationary shears, the 550 and the 900, we can cut material smaller, which enables us to load trucks quicker. And mills are picky. Our stationary shears help us make a smaller package for the mill. If you make a good package, and the mill knows that you have a particularly good package, then maybe they'll buy from you when things are tight."
Weinstein says they now have a long-standing great relationship with California-based Sierra International Machinery, and the Sacco family behind the company.
"We have been very lucky with Sierra. We enjoy the family that started the company, the Sacco family," says Weinstein. "I got to meet Ben Sacco (Sierra's founder) when he was alive and spent some time with him. To me, their equipment stands for itself, as well as their customer service. Whenever we've ever needed a part, they always have it. They're always there to answer our questions."
He adds, "Once we find something we like, we're fairly loyal to it."
With their original Sierra stationary shear, bought in 2008, Weinstein says they replaced the engine at 14,000 hours and after seven years, replaced the floor. "If we just keep up with maintenance, our Sierra machines will run forever. They just keep going. You wear something out, you just fix it. On the 550, we wore a hole right through the 3/4-inch thick floor."
In 2011, Allied Salvage also bought an Acculoader container loading system.
"That really enhanced our ferrous exporting," says Weinstein. "Our Acculoader has enabled us to load 10 to 12 (or more) containers a day for export, and has now loaded several thousand containers for us.
"This machine has also improved safety in our loading operations and the well-being of our employees."
For their non-ferrous materials, Allied Salvage uses an Enterprise Company baler, bought around 2006 – with a 10- inch compression cylinder and a 12-inch eject cylinder.
"We like buying material that is big and cutting it down," Weinstein says. "We like buying high volumes of aluminum that we then have to bale. We love using our equipment. The Enterprise Baler, our non-ferrous baler, has increased our business in leaps and bounds."
"Digging in the dirt is one thing, but when you're constantly running into a pile of metal, it takes a different toll on your equipment." Ian Weinstein
"You have to keep your equipment updated," continues Weinstein. "We keep a newer stock of forklifts (four Hyster models and and skid steers (three John Deere models) and we keep them updated for a couple of reasons. One, you hope you have less breakdowns. Two, when your employees are running in newer equipment, they're more comfortable, they're excited to have a new piece of equipment to run. It makes them feel better about their job because we're continuously putting money back into the equipment they are using."
Because the scrap yard environment is so tough, Weinstein says he usually expects to get five years out of forklifts, and about 10,000 hours out of skid steers.
"When you're digging dirt its one thing," he says. "But when you're constantly running into a pile of metal, it takes a different toll on your equipment."
"Old equipment costs money. The more stuff breaks down, the more downtime you have."
Weinstein adds that they also run all their own trucks for hauling materials, using three roll-off trucks and one tractor end-dump. Most recently, Allied Salvage purchased a new tractor to pull their new Sierra RB5000 mobile baler.
Costs down, autos in the mix
For a company with around 20 employees currently, Weinstein says one of the keys to remaining competitive in an environment with many very large companies with massive production capability, is that they maintain good control over cost. Again, he points back to their equipment.
"Everything that we have spent money on in the long run has just increased our ability to perform and process. It has enabled us to cut costs because of efficiency. Therefore, we are able to make more money, pay our staff a little bit better, and pay the customers a little bit better."
"Having a 900-ton shear in our yard gives us one of the largest stationary shears in Vancouver, maybe in the lower mainland," continues Weinstein. "The ability to produce or to be able to process at a high volume gives us the ability to go out and pay for material. At the same time, we are able to really control costs and pay our customers top dollar for their product."
Allied's latest business expansion: auto recycling. Up until 2014, they would turn away wet automobiles (those still containing fluids), but with another recent purchase, a Vortex drainage rack, alongside their RB5000 mobile balers, they can now take on yet another large source of local scrap.
"I got tired of saying no," explains Weinstein. "It's not that we're out trying to buy every car off every tow truck driver. But customers would call up and I got tired of saying, 'No, we can't handle that product. So we went out and acquired a property across the street from us, and decided that a small investment into a proper car draining system would benefit us in the long run. We just jumped on it and now instead of saying 'No, sorry, we don't handle wet cars,' we say 'Yes.'"