ZATO rotating shear type shredders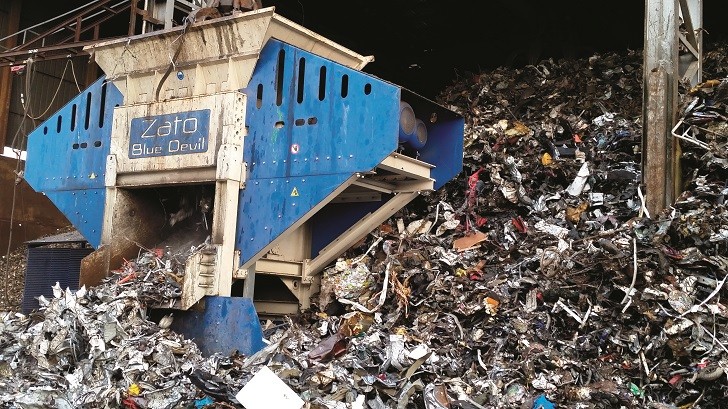 Distributed in North America by Gensco Equipment, the Italian-built ZATO Blue Devil shredder is designed for the volumetric reduction of all types of metal and waste that may be destined for further processing or sold for melting. These shredders are engineered to be extremely powerful, safe and quiet, and are controlled by an integrated PLC system housed in a separate, enclosed, fully weatherproof steel container. The GF/ GFS series Blue Devil has two rotating shafts for processing all types of steel, providing increased density and upgraded material quickly and efficiently. All models operate in automatic mode, with full controls for the operator feeding the shredder by way of a remote pendant.
ZATO Blue Devil shredders are designed to process a wide range of materials including bulk and/or baled mixed scrap, industrial bushling, cars with engines and white goods, sheet metal, reinforcing rebar and car, truck and tractor tires.
Shredded scrap from the Blue Devil can be easily inspected for foreign or dangerous material prior to shipping, and subsequently handled and processed faster. These shredders also provide a high level of control over output size, so material can be shredded to a very small size, increasing mill spec value or throughput if material is destined for further processing. Output can have a high density, allowing increased throughput and decreased melting costs when further processing is not required.
When further shredding is necessary by way of hammermills, operational and electrical costs are controlled overall, as pre-shredded material minimizes voltage spikes and maintains rotor rpm because it allows material to flow steadily through the system. ZATO GF and GFS series shredders are available with diesel or electric drive systems, and in stationary or portable configurations. Downstream separation systems, with or without eddy current systems, are also available.