CB&E Unveils Revolutionary Jam-Release Technology for Two-Ram Balers
New Free Jam Two-Ram baler offers push-button jam release to advance safety and profitability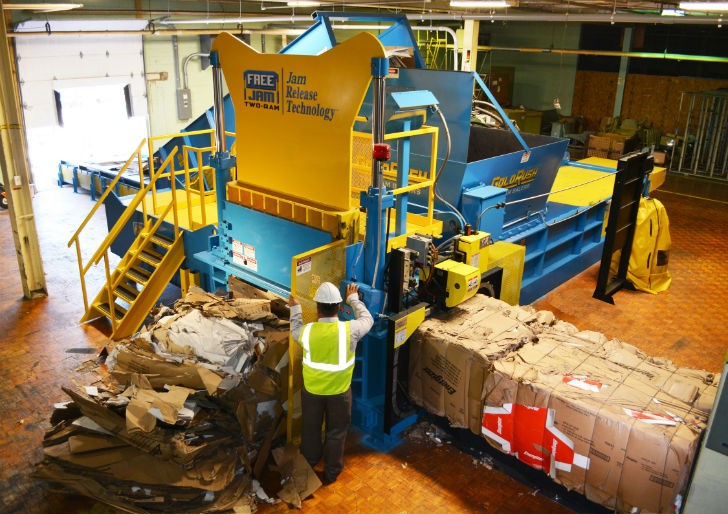 Catawba Baler & Equipment (CB&E) has introduced the market's only two-ram baler that quickly and safely ejects jammed recycle material from the charge chamber without manually digging out the material. Unlike other baler designs that inconsistently attempt to eject an oversized bale at the wire tier, CB&E's new Gold Rush Series 12/9 two-ram baler with optional Free Jam technology replaces the "gathering wall" of a conventional baler with a patent pending jam-release system. This gives operators push-button control from the tower over the Free Jam release door to clear jams in a matter of minutes, not days.
"Recycling facilities operating conventional two-ram balers know all-too-well the time and danger associated with manually clearing a jam in the charge chamber," mentions Mark McDonald, president of CB&E. "Our optional Free Jam system on our Gold Rush Series baler is all about operator safety. It virtually eliminates the need for a person to enter the baler to manually clear a jam. Operating a conventional two-ram baler without push-button jam-release technology is like purchasing a new car today without airbags. "
Beyond advancing safe operation, the optional Free Jam system on CB&E's Gold Rush series baler increases profit potential for any recycling facility operating conventional two-ram balers. McDonald explains that even medium-size operations baling 2,500 tons (2,268 tonnes) of material per month can save more than $300,000 annually in lost labor and production revenue. "An operation of this size will experience about 10 jams per month on average," he explains, pulling from more than 20 years of industry experience. "This results in unproductive man-hours and expense for clearing jams and more than 150 lost bale-tons (136 bale-tonnes) of productivity. Material jams are extremely expensive for a recycling operation.
As an added benefit, the Free Jam system greatly enhances baler accessibility and serviceability. The Free Jam door opens to offer unobstructed access to the charge chamber from ground level for hydraulic cylinder maintenance and wear plate inspection and replacement. Designed to provide long wear life for maximum uptime, the baler's wear plates are constructed of 0.5-in (12.7-mm) Hardox 500 material.