Peterson Awards 2014 Dealer of the Year Award to Barry Equipment, Co.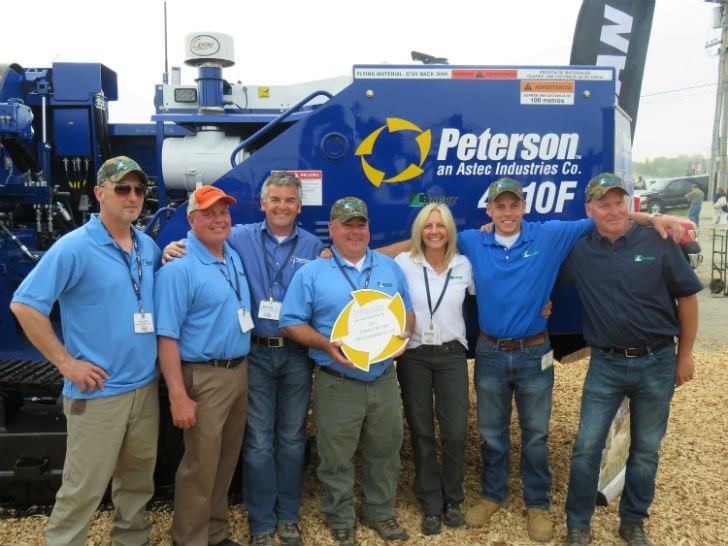 Peterson Pacific, has announced Barry Equipment, Co. of Webster, Massachusetts, as their 2014 Dealer of the Year. This is the third year in a row that Barry Equipment has won the award.
"Barry Equipment, Co. has achieved this award three times in a row due to their assembly of a world class sales and product support team. Their support after the sale is unsurpassed within our industry and Barry's dedication, focus, and vision to the Peterson product line, and the markets we serve, make them a tremendous partner and raises the bar for dealer performance. Peterson is honored to have Barry Equipment, Co. as a dealer and proud to present the Dealer of the Year award again to recognize their superb performance in 2014" said Brian Gray, Eastern Sales Manager of Barry's performance.
Charlie Bagnall, Peterson's Northeastern sales rep echoed Gray's comments about Barry Equipment. "Barry Equipment winning the 2014 Peterson Dealer of the Year award for the third year in a row underlines the unparalleled service they provide. The customers in the New England and New York region expect the highest standards from their Peterson dealer and Barry Equipment delivers that every time. We are proud to be their partner and look forward to many years of success in the future."
Company info
29408 Airport Rd
Eugene, OR
US, 97402

Read more
More from Industry News
Single-Ram and II-Ram High-Capacity Balers
At Machinex, we've been designing sorting systems for over 35 years, so we know how essential it is for MRF operators to have a baler they can trust and not worry about its operational reliability. This is why we design and manufacture reliable single-ram and II-ram high-capacity balers to specifically help optimize their operations.
Watch the video of our expert who presents the main features of Machinex balers delivering these important benefits:
Easy & accessible maintenance
Reduced maintenance & bale handling costs
Energy savings
Optimal bale density
For C&D recyclers, waste haulers, demolition contractors and landfills, there is a growing opportunity to profit from rethinking processes. Although every operation is different, by streamlining the front end of the C&D operation processes with purpose-built technologies, recyclers can tap into new end markets, accommodate higher material volumes, stay ahead of regulatory restrictions, increase recovery rates and add commodity revenue, while decreasing labor and other costs.
Download the new eBook to learn about:
Finding opportunities in the alternative to landfilling C&D
How facilities can increase their profits from C&D
Using the right C&D processing technology in the right locations