LEDR Recycling begins operations at state-of-the-art, customized, indoor C&D recycling centre; CBI system to process over 50 tons per hour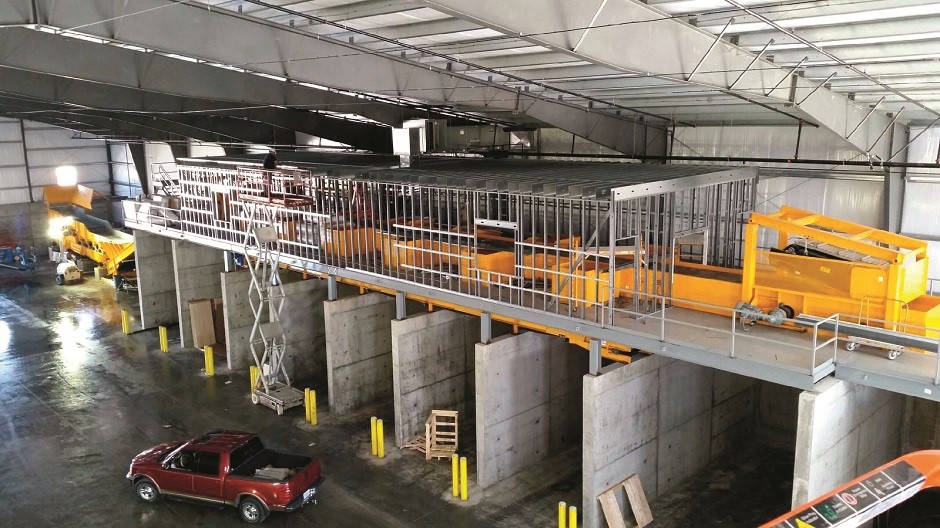 LEDR Recycling (Landfill-Environmental-Diversion-Reclamation) held a ribbon-cutting ceremony at the end of March at a new state-of-the-art indoor material recovery facility that will feature a customized CBI-built construction and demolition (C&D) recycling centre. John Davis, president and managing partner of LEDR Recycling, is opening the 35,000 square foot facility close to St. Louis, Missouri, knowing the city's metropolitan area continues to grow at the same time that the operating windows for regional landfills are closing.
CBI designed, manufactured and shipped the C&D recycling centre out of its Newton, New Hampshire headquarters. Expected to start operating full-time by the end of April 2015, the system is expected to process over 50 tons of throughput per hour and will accept materials such as wood, concrete, drywall, plastic, metal, cardboard and aggregates. The facility will operate for eight to 10 hours per day, five to six days a week. A specialized CBI Magnum Force 5400 downswing grinder will become part of the system by the end of this coming June.
"The durability of this system compared to others across the industry is what caught my eye," Davis said. "It's such a simple system while others look like a giant mousetrap. Its simplicity is going to make everything more efficient, even on the maintenance side of things."
The CBI 5400 horizontal grinder will be installed to allow LEDR Recycling to downsize all of its handpicked wood and produce a premium end product, which the company says, will open up multiple markets. Grinding processed material will also allow the operation to maximize payload for transportation. Bulky materials such as half sheets of plywood and 2x4s can now be consolidated and loaded into a trailer at full capacity, and the horizontal feed of the CBI 5400 will allow longer pieces to be processed quicker.
Davis says trucks dropping off loads of recoverable C&D within the St. Louis area typically wait at least an hour before a recycling facility can accept their materials for processing. LEDR Recycling's strategic location gives trucks an opportunity to drop their C&D loads off at a spacious, three-acre facility that is less than 40 kilometres from downtown St. Louis.
"It's a major time saver for those transporting the C&D that needs to be processed," said CBI's stationary systems manager, Matt Skinner. "Now more recoverable materials can be processed in a shorter amount of time and LEDR Recycling can get the most out of its sorted recyclable items."
Davis has over 35 years of experience in the heavy construction and highway construction fields and has focused on recycling concrete aggregate for the past four years. As members of the Construction & Demolition Recycling Association (CDRA), both CBI and Davis understand why the recycling of recoverable C&D materials is important.
LEDR Recycling's new stationary system is just the latest in a long line of stationary systems CBI has custom-designed during the past 15+ years, according to the company.
"Every system is different but there's always one common goal with each design and that's to figure out how to give our customer the very best and most efficient system possible," said Skinner.
Davis entertained offers from other vendors but ultimately decided that CBI was the top solution because, he says, total cost of ownership was a focal point. CBI also recommended that Davis should not make any purchase before knowing exactly what was needed.
"They were right about that," Davis said. "A lot of recycling facilities make one wrong purchase and a lot of modifications usually have to be made to accommodate different types of material and material sizes. We're going to recycle every possible item we can.
"We'll be sure to sort all of the wood, metal, concrete, stone, dirt, plastics and cardboard we receive," added Davis. "It's a great industry to work in because it's the right thing to do for the environment. Everybody works to recycle more efficiently while making sure their plants are also operating as efficiently as possible."