Compact Rotary Drum Screen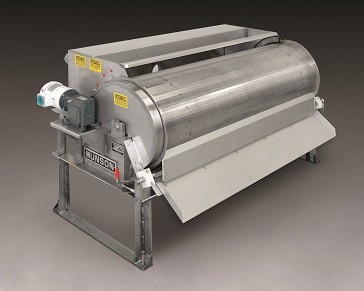 This new, compact rotary drum screen from Munson Machinery is designed to remove solids from industrial and municipal waste streams, and recovers solid product from process streams at rates from 2,270 to 10,560 litres/minute without blinding or clogging the screen, while reducing floor space and headroom requirements compared with non-rotating equipment of equivalent capacity.
The stainless steel model 24-RDS-72 is comprised of a 61 cm diameter by 183 cm long cylinder with durable wedge-wire screening, a variable speed drive, head box, discharge chute and support structure. Typical applications include: separation of various solids and sludges from municipal and industrial wastewater, food processes, pulp and paper production and rendering processes; removal of extruded pellets from cooling baths; and separation of debris from any variety of plant and equipment cleaning processes.
More from Waste Diversion
Single-Ram and II-Ram High-Capacity Balers
At Machinex, we've been designing sorting systems for over 35 years, so we know how essential it is for MRF operators to have a baler they can trust and not worry about its operational reliability. This is why we design and manufacture reliable single-ram and II-ram high-capacity balers to specifically help optimize their operations.
Watch the video of our expert who presents the main features of Machinex balers delivering these important benefits:
Easy & accessible maintenance
Reduced maintenance & bale handling costs
Energy savings
Optimal bale density
For C&D recyclers, waste haulers, demolition contractors and landfills, there is a growing opportunity to profit from rethinking processes. Although every operation is different, by streamlining the front end of the C&D operation processes with purpose-built technologies, recyclers can tap into new end markets, accommodate higher material volumes, stay ahead of regulatory restrictions, increase recovery rates and add commodity revenue, while decreasing labor and other costs.
Download the new eBook to learn about:
Finding opportunities in the alternative to landfilling C&D
How facilities can increase their profits from C&D
Using the right C&D processing technology in the right locations