LCB Manufacturing Introduces Their New Saf-T-Powr Operator Control Module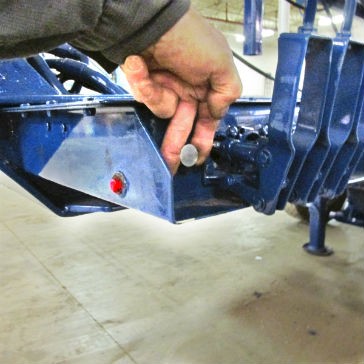 LCB Manufacturing, recently introduced their new Saf-T-Powr Operator Control Module being offered on their complete line of PITBULL Roll-Off Trailers.
The Saf-T-Powr Operator Control Module is an automatic visual and audible alarm system designed to enhance operator & bystander awareness during the trailer loading & unloading operations.
The system features hard line plumbing at the bulkhead of the trailer in close proximity to the operator. The Saf-T-Powr hydraulic flow diversion module controls the flow of the hydraulic fluid to the trailer until the operator diverts the hydraulic fluid via the operator control valves. Engagement of the valve activates a trailer mounted lighting system to notify others that the trailer is being operated and to stand clear of the area. An emergency shut off control is also located operator valve for enhanced trailer operator safety.
Current systems are time consuming by requiring the trailer operators to return back to the tractor to disengage the PTO in order to stop the hydraulic flow. The Saf-T-Powr system provide operators with easy, fast and immediate control over all aspects of the trailer's main hydraulic operating system.
In addition, an audible warning system engages to notify the operator and bystanders the hoist is in the "UP" position when the rails of the trailer hoist raise above a factory pre-determined "safe" level height.
For added trailer operating safety, the Saf-T-Powr system is currently available as an option on all PITBULL Trailers and also on an aftermarket basis for retrofit on a wide variety of other manufacturers existing roll-off trailers.
Company info
7986 North Telegraph Road
Newpor, MI
US, 48166

Read more