Ontario Tire Stewardship to Reduce Passenger, Light Truck and Medium Truck Stewardship Fees Effective May 2015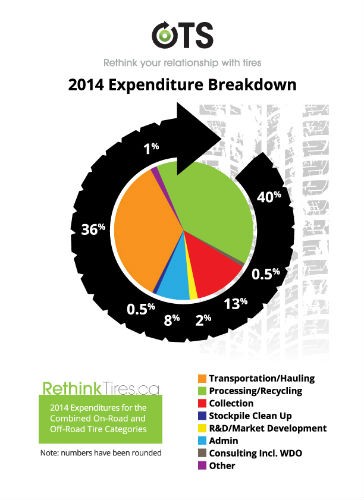 Ontario Tire Stewardship (OTS), the not-for-profit organization that manages the Used Tires Program (UTP) in Ontario, has announced that effective May 1st, 2015, Passenger and Light Truck Tire Stewardship Fees will decrease from $5.43 per tire to $4.75 per tire and Medium Truck Tire Stewardship Fees will decrease from $14.65 to $12.95. Off-the-Road Tire Stewardship Fees will be maintained at their current levels for 2015.
"This is the third year we have been able to reduce the Tire Stewardship Fee for Ontarians who purchase tires for their cars and light trucks," said Andrew Horsman, Executive Director, Ontario Tire Stewardship. "This is a great accomplishment and reflects Ontarians support of the program and our organization's commitment to keeping the Program running efficiently."
Tire Stewardship Fees are used to fund the collection, transportation and processing of scrap tires, and help fund the manufacturing of innovative rubber products that can be sold back into the market in the form of household and commercial goods. OTS envisions a self-sustaining tire recycling industry in Ontario, and these latest fee reductions signal that we are one step closer to that reality.
Under the Ontario's Waste Diversion Act, the 2015 Tire Stewardship Fees (TSF) were calculated using the actual quantities of new tires supplied in 2014 and the actual costs to collect, transport and recycle tires through the UTP during the year. The product of this calculation was then applied to determine the applicable TSF rates to be remitted by Stewards when reporting the supply of tires. Tire Classifications are unchanged from those currently in use.
Through the UTP, OTS has created a new life for old tires in ways that benefit Ontario economically, socially and environmentally, by providing no-charge pick-up of used tires to registered collection sites, and ensuring the responsible management of old tires. OTS has also invested in Ontario's tire recycling infrastructure to develop processing and recycled product manufacturing capacity to turn 100 percent of Ontario's scrap tires into valuable green products for the home as well as for recreational, athletic, agricultural and building industries, standing by its commitment to make the Ontario UTP the most progressive and successful initiative in North America.