NWRA and SWANA Develop Comprehensive New Guidelines Establishing Best Contracting Practices for Local Residential Recycling
Joint Advisory Aims for Enhanced Effectiveness of Municipal Recycling While Reflecting Economic Realities of Marketplace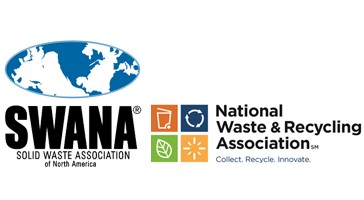 The National Waste & Recycling Association (NWRA) and the Solid Waste Association of North America (SWANA) has announced comprehensive new guidelines designed to improve protocols and standards for contracting practices for municipal recycling programs. The guidelines address challenges facing public agencies and private industry as they seek to improve the effectiveness of local residential recycling programs.
NWRA and SWANA's Joint Advisory on Designing Contracts for Processing of Manual Recyclables is the culmination of a nearly year-long process that brought together subject matter experts from private industry and local government agencies to collectively address the need for consistent standards in contracting for recycling services. Their challenge was to develop joint standards that can help municipalities and private industry cooperatively address the evolving nature of the residential recycling stream and dramatic price fluctuations in global commodities markets.
Specific protocols in the guidelines directly address best practices for improving the quality and the quantity of materials captured in the recycling processing stream with an eye also to ensuring that recycling programs are economically viable for both local agencies and private industry.
"With these guidelines, NWRA and SWANA have addressed head-on the challenges and obstacles faced by public agencies and private sector contractors in designing effective residential recycling programs," commented Sharon H. Kneiss, president and chief executive officer for NWRA. "Adoption of these best practices creates a solid framework to meet the ever-evolving dynamics of the recycling market."
"The potential changes in the quantity and composition of collected wastes combined with variability in prices for recyclable commodities create considerable uncertainties in today's recycling markets," said John H. Skinner, SWANA executive director and chief executive officer. "It is very important for contracts for recycling services to anticipate the changes and reflect an appropriate sharing of risks and rewards between contracting municipalities and service providers."
Related Articles
Traditionally, waste management companies have operated using a simple "management of waste" approach to operating a MRF. Throughput targets and continuous operation (minimal downtime) were the main driving forces. The industry has changed however, and the focus moving forward is now on optimizing system performance and reliability, in conjunction with increasing recycling rates and a drive for a "greener" and more sustainable tomorrow.
When considering the addition of, or upgrade to, an "intelligent" MRF, for municipalities or private operators, the main factors should always be the client's (operator) current requirements, and evolving market needs, which include throughput, reliability, output quality, and adaptability. Equally important is a full understanding of what is really expected from any proposed system. Having an engaged and focused mindset for the project with the client from the beginning, will impact and drive the entire design process. This then impacts the overall project result, through to the productive, efficient, ongoing operation of the facility itself.