Buying machine tires: where rubber meets the bottom line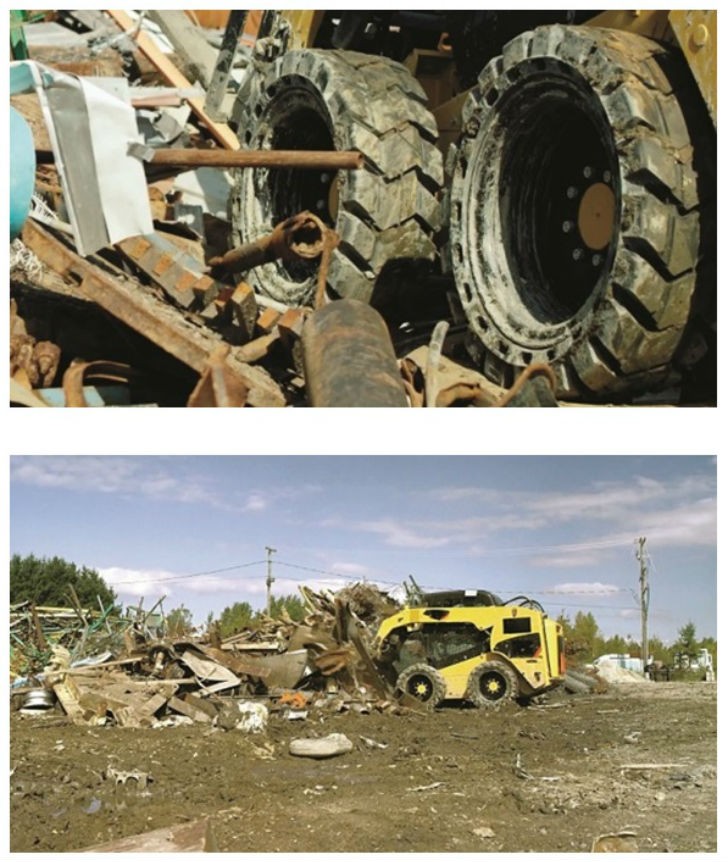 Tire replacement is the largest single operating expense for skid steer fleets, and a significant maintenance cost for most of the mobile equipment in scrap yards, transfer stations and recycling facilities. Putting new rubber on skid steer loaders, telehandlers and forklifts can be expensive – and even more so for larger machines such as wheel loaders and wheeled excavators and material handlers.
It makes sense then, as a recycler, to be sure you're choosing the right tires to get the best return on your investment. Choices include numerous makes and models of pneumatic tires, solid rubber tires and foam-filled tires. Increasingly, for many users a solid rubber tire solution is a popular way to go. But according to David Fleischhauer of Camoplast Solideal, global manufacturers of tires and tracks for off-the road mobility solutions, there are a number of factors to consider before buying.
As product line director for construction tires at Camoplast Solideal, Fleischhauer plays a key role in leading a team of engineers to deliver enhanced tire solutions that address a myriad of off-the-road mobility issues, including those found in waste handling applications.
"Our customers choose solid rubber tires to get flat-free service and to minimize downtime on their mobile equipment," says Fleischhauer. "Because waste handling in a waste transfer or recycling operation is a continuous process, downtime from flat or damaged tires can be extremely costly in terms of material backlogs and service interruption for the primary processing equipment."
While tires may be a recurring maintenance expense, Fleischhauer advises fleet managers to give tires the same consideration they give to major capital purchases. "You're not out there sourcing tires every year, but the decision you make now will affect your total operating costs and productivity every day."
The research and design team at Camoplast Solideal weighs multiple criteria when it develops a new tire model. Fleischhauer suggests that buyers evaluate the same factors when they compare their tire options. Key points include: surface conditions on which the equipment operates, type and severity of debris the tires will encounter, duty cycles and turning patterns that the equipment typically follows. The most desirable tire characteristics can also vary depending on the type of equipment they are mounted on.
Surface conditions
Many transfer stations and recycling centres move their material over a hard surface such as concrete or asphalt, ideal for puncture-proof, long-life solid tires. Tire manufacturers will offer a selection of rubber formulations and tread patterns you can match up to your specific applications.
If you're working on an unimproved surface however, traction and floatation may be more important than durability. Pneumatic tires may be your better choice, especially if you upgrade them with a foam fill. Foam-filled tires are the recommended flat-free solution for machines that get few operating hours or are nearing their end-of-life.
When you evaluate solid tires for a waste facility, according to Fleischhauer, sidewall impact resistance is critical to uptime as well as ride comfort and stability of a machine.
"This is an area we have invested in heavily," Fleischhauer says. "Our resilient sidewall aperture design is all about absorbing and resisting damage from the various sidewall impacts and stresses in severe environments, while still maintaining a comfortable ride for the operator."
Surface hazards
Waste processing facilities offer no shortage of hazards that can shorten the life of your tires. Foremost is scrap metal and debris that will puncture and tear the tread and sidewall, as well as shredded material and abrasive filings that will cause extreme wear.
In sites where any kind of liquid tends to spill on the floor (even water) tires will be subject to more wear than at a dry site. Any dry or wet chemicals on a site surface present a further threat to tire life.
In paper-handling facilities, floors tend to build up a polished sheen, which can compromise traction and handling, possibly requiring a more aggressive tread pattern.
You may not think of uneven surfaces or cracks in the floor as an impact hazard, but these small variations in the pavement can add up to significant and costly tire wear when the impact is repeated frequently in a high traffic corridor.
Duty cycles
The wear and stress on a tire can vary widely from one area of a facility to another, depending entirely on how the machine is driven and the routes it travels.
Machines that work extended hours over long straight distances will show an even tread wear pattern, but the tires may be subject to heat gains at higher speeds. In confined areas that require tight frequent turns, the stress will focus on the sidewall structure and on the edges of the tire. Tire designs from some manufacturers, including Camoplast Solideal, can be optimized to maximize performance and lifecycle under these different duty cycles.
Where you buy matters
The final consideration in selecting machine tires should not only be about the features and benefits of the tire design.
"The vendor you buy from is often just as important as the tires you choose," says Bob Bulger, vice president and general manager – construction at Camoplast Solideal. "With so many factors to weigh for so many different types of equipment, it's helpful to have a vendor with a broad scope of products from their Original Equipment Manufacturer (OEM) to address all of your equipment requirements. It's a good thing to have a dealer who is willing to come onsite to take a complete view of your operation, and see how the equipment works together. Your tire dealer should be in your environment to make the best recommendation for the right tire for the right application."
Along with providing the selection and inventory to support your fleet, your dealer should offer either in-house or through a third party, a service team to handle tire installation and rotation.
"An efficient, well executed service plan across the whole fleet can make a significant difference to your total downtime. It's an aspect of your lowest operating cost solution that can't be overlooked."
So, what is the best tire for your application? According to Bulger, "There is no standard solution," but he emphasizes that "a qualified vendor should come onsite and provide the diagnostic insight that lets you make the right choice for your bottom line."
Michael Dembe is market development manager, North America - construction, Camoplast Solideal.