S+S Changes Name to Sesotec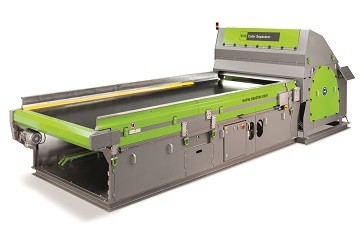 S+S Separation and Sorting Technology GmbH, based out of Schönberg, Bavaria, and one of the world's leading suppliers of machines and systems for the detection/ separation of contaminants, product inspection and for the sorting of material flows, is changing their name. As of the end of March 2015, the company's name will change to Sesotec (Separation and Sorting) which the company says reflects the overall development of the company.
At IFAT 2014, S+S introduced their new WEEE-SORT sorting system designed for use in e-waste recycling. These machines are capable of sorting mixed material flows into uniform fractions, for recycling of plastics, metals and printed circuit boards. WEEE-SORT is specifically designed to meet the needs of e-waste sorting applications, and by using a variety of sensors – near-infrared, colour and metal – offers high flexibility. Units also feature multiple lighting and air-blast capability ensuring high-level separation accuracy, while simultaneously optimizing energy consumption. Also at IFAT 2014, S+S subsidiary KRS Recycling Systems displayed their latest version of the K9 glass sorting system, designed for colour separation of cullet down to a grain size of five millimetres. Units are specifically engineered to improve the recycling of fine, hollow and flat glass with high throughput rates.
Related Articles
Traditionally, waste management companies have operated using a simple "management of waste" approach to operating a MRF. Throughput targets and continuous operation (minimal downtime) were the main driving forces. The industry has changed however, and the focus moving forward is now on optimizing system performance and reliability, in conjunction with increasing recycling rates and a drive for a "greener" and more sustainable tomorrow.
When considering the addition of, or upgrade to, an "intelligent" MRF, for municipalities or private operators, the main factors should always be the client's (operator) current requirements, and evolving market needs, which include throughput, reliability, output quality, and adaptability. Equally important is a full understanding of what is really expected from any proposed system. Having an engaged and focused mindset for the project with the client from the beginning, will impact and drive the entire design process. This then impacts the overall project result, through to the productive, efficient, ongoing operation of the facility itself.