Bunting High Intensity Separation Conveyor on Display at Plastics Industry Event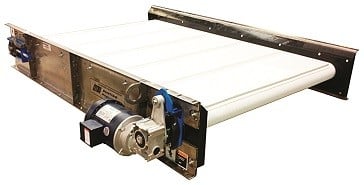 Bunting Magnetics Co., producer of precision magnetic products for the worldwide plastics, recycling, food, printing, automobile and electronics industries, will show a wide variety of metal detection, magnetic separation and material handling products at NPE2015: The International Plastics Showcase, in Orlando, Florida, held March 23 to 27. Among multiple Bunting products featured at the event, the powerful, high intensity separation conveyor is ideal for removing small work-hardened 300 stainless steel and paramagnetic chips from shredded and ground plastic.
Discussing the conveyor, Bunting material handling product manager Donald Suderman said: "For the high intensity separation conveyor to be seen at the show, Bunting engineers used finite element design software to maximize magnetic field strength and create some of the highest magnetic surface intensities available.
"The Bunting design provides an extremely strong magnetic field with a low field height for attracting, holding, and extracting even extremely small items made with weak magnetic materials. Stainless steel razor blades, small computer screws, stainless sheet metal from computer hard drives, tiny screws from plastic chips and green boards with attached chips are among the difficult and unusual items routinely separated using the Bunting conveyor."