Introducing the HydroDyn Plastics Washing Line from Vecoplan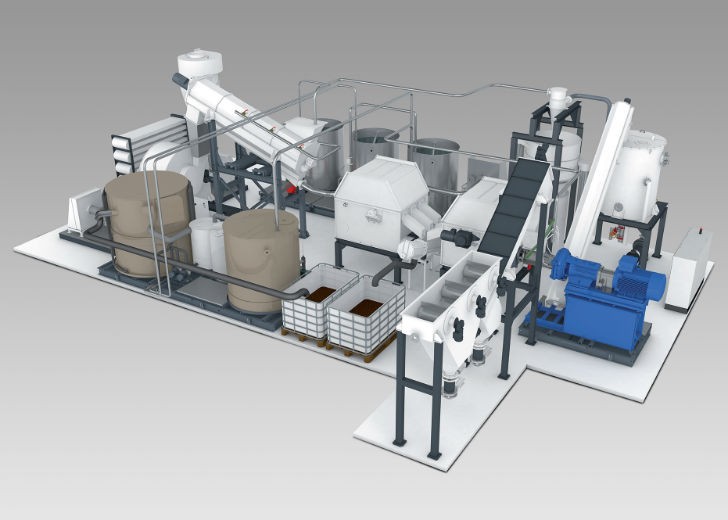 Vecoplan, will introduce their HydroDyn Plastics Washing Line to the North American market at NPE. Proven in European recycling plants and backed by test results, HydroDyn produces cleaner plastic flakes, delivers lower operating costs and is more economical to install and maintain than conventional plastics washing lines.
As the name implies, HydroDyn uses the dynamic properties of water spun in a cyclonic fashion to generate horizontal friction and clean plastic flakes suspended in that water. Innovations in this technology enable the HydroDyn to produce results that are 30% cleaner than conventional washing lines.
In addition to washing the plastic flakes, friction created by centrifugal force in the water also generates heat. Since HydroDyn is a closed loop system, integrating its own water treatment, the reused water process establishes a hot wash system without additional power or gas usage. This combined with Vecoplan's energy efficient drive systems result in a 25% saving in operating costs including energy consumption, water usage and chemicals.
Also innovative in installation design, HydroDyn is a modular system pre-installed on platforms.
These platforms eliminate the need for onsite bases or other foundation work to support individual pieces of equipment. All components are pre-assembled with piping and electrical wiring included in the platform chassis, as well as built-in drainage for spill water.
HydroDyn's modular platform units fit on flatbeds or in containers for shipping and once on site are easy to lift and set in place. Simply connect the platform units, plug them in and you're ready to make money washing plastics. HydroDyn's modular design also make it easy and economical to retrofit into existing plants or scale-up in size when systems need to be expanded.