A century in scrap
ABC Recycling focuses on people, integrity and philanthropy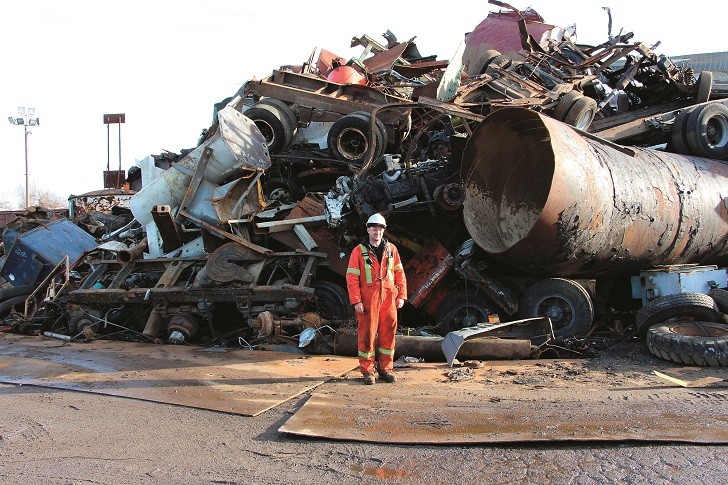 At the age of 103, ABC Recycling is one of the oldest scrap metal processing companies in Canada. Started, as many modern scrap recyclers have, in the salvage/re-sell business, by the mid-1970s ABC developed into a modern scrap recycler, and has continued to grow since. According to Randy Kahlon, the company's manager of business development, procurement and sales, "We are one of the longest standing businesses that have stayed true to our family values for this long."
Kahlon says in the 1970s, the introduction of advanced equipment and technology available to scrap recyclers was key to the modernization of the industry.
"Our name was changed from ABC Salvage to ABC Recycling. We bought our Burnaby property and got a rail spur put in place," says Kahlon. "Between '72 and '76 is when we became a true scrap recycling yard. With new equipment and the larger property, logistics became key for us, and we were able to sell directly to the steel mill."
From a recycling standpoint, ABC's focus is to handle, process and prepare material for further processing at a steel mill or foundry. Their overall focus is on production. "We're almost like a manufacturing facility," explains Kahlon. "Our focus is on pushing as many tons as we can through our facility, based on the amount of equipment we have on hand to do the job. This is our core focus."
ABC processes approximately 25,000 net tonnes monthly across all of their sites. There are over 220 employees at seven operating facilities in British Columbia, including the Burnaby main yard, as well as in Campbell River, Kelowna, Surrey, Prince George, Terrace and Fort St. John. The company also has one location in Grande Prairie, Alberta and a ninth facility is currently starting up in Nanaimo, B.C. Internationally, the company operates a brokerage office in Shanghai, to help with the trading of nonferrous metals.
"Our brokerage division, a separate division within the company, is constantly brokering products for dealers throughout North America as well as some of the largest scrap companies in the world," explains Kahlon. "Due to our connections and trade partners overseas, because we have people who speak the language and due to our logistics set up with container carriers, we can broker product for other dealers. We handle the paperwork and set up the logistics to move product globally."
"In many instances, we'll never physically touch the product," continues Kahlon. "We'll handle the paperwork and we'll handle the risk. We do this for a lot of scrap dealers and brokers throughout North America."
ABC's current CEO, David Yochlowitz, is a fourth-generation owner. He came into the business in the late 1980s, after interest rates were very high and the company was in relative "dire straits".
"At that time, David's father Harold decided to liquidate the assets from our trucking / freight standpoint," explains Kahlon. "He outsourced this part of our business and freed up some assets. It was after this that David steered ABC into non-ferrous metals, which really drove a whole new revenue stream for us. We were ahead of the curve in Canada at the time, as far as getting into non-ferrous, and then from there, we promoted ourselves. David also recognized the talent of people working in the yard. He was able to identify key people in the yard that had some business acumen. He brought them into the office and started the brokerage division in the 1990s."
Moving scrap
ABC Recycling processes approximately 10 times more ferrous material than non-ferrous, if measured purely by weight. If the measure is dollars however, it is a different story. Kahlon says the ratio reverses when factoring in the amount of revenue out of the non-ferrous volume (with copper as the most desirable commodity) in comparison to ferrous revenue.
"Even though 90 percent of our volume may come from ferrous material, when it comes down to actual revenue derived from the mixed volumes, it evens out. There's more physical labour required to process non-ferrous, but processing ferrous metals requires more capital expenditure. For non-ferrous, you don't need the big shears to cut through heavy melt steel, you sort and load with forklifts and skid steers, compared to ferrous which uses material handlers, large shear attachments and magnets feeding railcars. For non-ferrous, we do run a large baler on site, but for ferrous we need a large stationary shear."
In the lower mainland, ABC Recycling uses rail as well as third-party freight companies to haul material from businesses and roll-off customers, and for tractor service, where flatbeds, enddumps or steel-sided trailers are used. Outside of the lower mainland, ABC does run their own truck fleets, including in Campbell River, Kelowna and in Northern B.C.
Hauling material via barge is another mode of transport used by ABC for shipping from Vancouver Island. "We recently opened up in Nanaimo, B.C.," explains Kahlon. (Nanaimo is located on the east coast of central Vancouver Island.) "It helps with our logistics costs on the Island. Our Island Regional Manager over the last two years, has opened up business for us all the way south to Victoria. The freight cost to haul material from Victoria to Campbell River is quite large (approximately a three hour drive).
"We leased property from the Nanaimo Port Authority, where we have deep sea water access, and we plan to barge material out at this location, as well as continue barging material from Campbell River. In the future, we'll have the ability, if we choose to do so, to load deep sea vessels with product into bulk cargo shipments direct to Asia with our new property in Nanaimo.
"We see our operations out of Nanaimo as a key part of our long-term plan, and as a huge advantage from a logistics standpoint," continues Kahlon. "In the scrap metal game, it comes down to how you buy material and how you move it. If you're not buying it correctly and if you're not running your freight and logistics efficiently from a cost standpoint, you're not going to make money."
Overseas business
With respect to the "Green Fence" issue in China, Kahlon says it has affected their business but not dramatically as it is more geared towards plastic. China, he says, has added an extra layer of regulation which has slowed down the process of getting shipments cleared there. For ABC, this means, in part, increasing the education and awareness of their partners.
"We need to make sure on the overseas side that we are dealing with reputable partners. We also need to make sure
we're educating the people that we're handling product for in North America and making sure they are aware of what the regulations are, and that we're mitigating our risk throughout the process. Even one claim puts a tremendous pinch on cash flow.
"It's about making sure material is 'as advertised'. If someone tells us they have #1 copper, it better be #1 copper," continues Kahlon. "It comes down to trust with the partners we're dealing with on both ends. A lot of the product we're brokering with overseas, we're not touching. If it's product we find to be contaminated, we're treating it as a lower-grade material and selling it as lower-grade. We're not sending out a mixed load of good and dirty material. We'll sell the high-grade material with the high-grade material."
Kahlon says in his opinion, the Green Fence is a good thing over the long term because it will cut out those who try to cut corners. "The people who have a low cost of entry into the marketplace, who are just looking to make a quick buck, or who are just looking to uplift the containers and flip the product over – I think eventually it will 'wash those people out.'
"The higher the cost of doing business, the better – for the more refined, leaner organizations. We have efficiencies in our operations, buying power and trade channels established. Increased regulation, from an environmental standpoint or otherwise, helps organizations like ours. It puts pressure on the lower level guys that are floating around out there. So we like it."
Giving back to the community
"I don't think the industry as a whole is very well known to people," says Kahlon. "It's always a challenge finding good, driven people to come to work for us. But we're proactive about it. It comes down to branding, getting our message out into the marketplace about who we are, and making ourselves an attractive employer for someone, by
showing what we do in the community, our family values, and showing the sustainability of our business.
"In my personal experience, prior to coming on board at ABC Recycling, I knew nothing about scrap metal, never thought anything about it. In school, they don't teach you anything about it. When you look at job forums and categories, there is nothing for recycling in general, let alone scrap metal recycling.
"I think the industry as a whole needs to do a better job of creating awareness about
what we do for the environment and what we do for business. It's a huge challenge."
A big part of ABC Recycling's community outreach involves giving back to the communities they operate in.
"Philanthropy is huge for the business. It's huge for the family," says Kahlon. "Our founders were Polish-Jewish immigrants. It is part of their heritage, part of their tradition to give back.
"From my perspective, it's a selling advantage to a certain degree, when we're competing against multi-national
corporations who do not value community involvement. We know that if we give back to communities we operate in, it comes back in dividends, through connections to community and branding. Recently, we launched a program with the B.C. Women's Hospital, called the Donor of Hope program."
David Yochlowitz is a proud member of the B.C. Women's Hospital Foundation Campaign Cabinet, which is focused on raising funds to provide the very best life-saving care, state-of-the-art tools and technologies to support the largest, most advanced and specialized newborn critical care facility in British Columbia. (www.bcwomensfoundation.org.)
"David has been on the B.C. Women's Hospital Foundation Cabinet for the last three years, helping to raise awareness. We recently developed the Donor of Hope program, and as an organization, we have raised over $350,000 for the hospital. We give our customers the opportunity to be a Donor of Hope. They have the option to direct proceeds from recycling metal towards B.C. Women's Hospital. We have also always worked with the United Way, and the Burnaby Hospital Foundation. It's just part of the culture that the family breathes, and it's something we, as employees, take to heart as well."
A significant amount of the material coming into ABC's Burnaby yard is brought in by individual sellers, or peddlers. Still, Kahlon says they do not see stolen material come through their yard.
"People selling stolen material know that we're a reputable organization and that we are not going to accept stolen material. I can confidently say we handle no stolen material. We have had instances in the past when we have had it come across the scale. On more than one occasion, we've persuaded the sellers that everything is good and that we're going to be paying them for the material, and in the back we're phoning the police. Integrity is a huge part of our business."
"We want to continue to expand in North America," says Kahlon. "Northern Alberta is an attractive market, as are other strategic locations in Western Canada. We're looking at expanding our operations and adding to our equipment infrastructure. We are well positioned to take advantage of our economies of scale to grow our market share while providing more support to the communities we operate in.
"We look forward to the next generation of family ownership and to another 100 years of success."