Aluminum Cans Contain More Recycled Content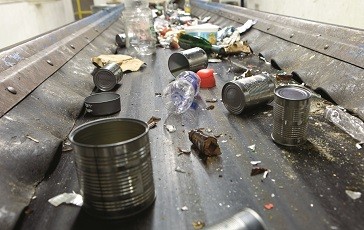 Aluminum cans, already the world's most recycled beverage container, now contain 70-percent recycled content compared with 68 percent in 2010, according to a new report titled the Aluminum Beverage Can Life Cycle Assessment Report (2014 & 2010).
In 2010, the Aluminum Association released a peer-reviewed, cradle-to-grave life cycle assessment report examining the environmental impact of aluminum can production in the United States and Canada.
The report was updated in 2014 using new data which showed an additional 20 percent reduction in carbon footprint and 70 percent recycled content of the average can – far exceeding alternative beverage containers.
The Aluminum Association is a U.S.-based trade association for producers of primary aluminum, recyclers and semi-fabricated aluminum products.
Related Articles
Traditionally, waste management companies have operated using a simple "management of waste" approach to operating a MRF. Throughput targets and continuous operation (minimal downtime) were the main driving forces. The industry has changed however, and the focus moving forward is now on optimizing system performance and reliability, in conjunction with increasing recycling rates and a drive for a "greener" and more sustainable tomorrow.
When considering the addition of, or upgrade to, an "intelligent" MRF, for municipalities or private operators, the main factors should always be the client's (operator) current requirements, and evolving market needs, which include throughput, reliability, output quality, and adaptability. Equally important is a full understanding of what is really expected from any proposed system. Having an engaged and focused mindset for the project with the client from the beginning, will impact and drive the entire design process. This then impacts the overall project result, through to the productive, efficient, ongoing operation of the facility itself.