ECO Green Equipment Announces New Hydraulic Single-Shaft Shredder to Equipment Lineup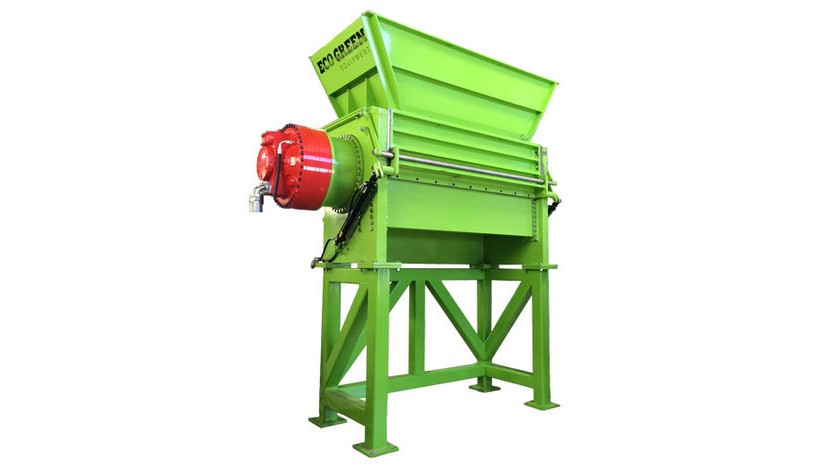 ECO Green Equipment recently announced the latest addition to their recycling equipment lineup—the ECO Monster—a new hydraulic powered single-­-shaft shredder for tires and general waste reduction applications.
This new technology will provide aggressive shredding capabilities to processors who demand the best efficiencies and low maintenance equipment features. Outfitted with a custom hydraulic power unit powering a 180 kW (250 HP) Hagglund motor, the ECO Monster churns through waste materials outputting rough shreds down to 2" inches in size. Reliability, low operational costs, and output consistency will be the key features of this new primary shredder.
With the introduction of the ECO Monster, operators can now enjoy increased volume production of waste shredding plus a high proportion of output—up to 35 tons per hour.
Brad Swenson, Manager with ECO Green Equipment on the ECO Monster said, "This shredder is the latest in shredding technology and one of the lowest in estimated wear costs around $5 -­- $10 per ton. Those who have interest in maximizing their returns and investment in waste and tire shredding production must seriously consider the ECO Monster."
The ECO Monster is designed with an aggressive low RPM, high torque grinding technology. Powered by a hydraulic power unit, the shredder features a rotor length of 77" inches which contains 18 fly knives and 9 bed knives for cutting. An easy access service panel hydraulically shifts away from the cutting chamber to reveal an impressive set of cutting blades, knives, and a 32" inch diameter rotor.