Handheld XRF Analyzer for Scrap Metal Analysis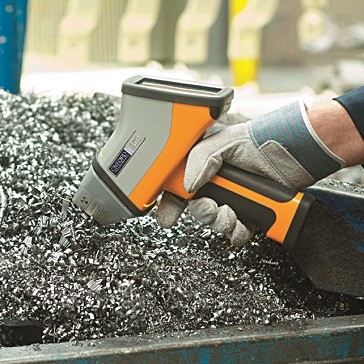 The new X-MET8000 handheld (X-ray fluorescence) XRF analyzer, the latest from Oxford Instruments, is designed to help scrap metal processing and recycling operations boost their throughput and profitability, enabling reliable, fast, uninterrupted alloy identification, all-day long, in all weather.
At the scrap yard, dealers are able to quickly sort mixed scrap, separating materials of low and higher values with alloy grades being qualified through the X-MET's comprehensive grade library – the largest library on the market, according to Oxford. Using the X-MET8000, recycled material can be accurately quantified through elemental analysis, ensuring the correct quality of scrap metal goes forward to the melt. Even miniscule percentages of tramp elements, which may dangerously degrade the final alloy, can be determined prior to further processing, resulting in consistent analysis, and securing the best price for incoming and outgoing scrap material.
Optimized geometry of the unit's large area SDD (silicon drift detector) and its high-performance X-ray tube deliver high speed and excellent sensitivity. Light elements analysis (from Mg to S) can be achieved in only a few seconds, meaning commercial alloys such as aluminium, titanium, bronze and high-temperature alloys can be identified reliably and extremely quickly. For battery life, these analyzers provide an uninterrupted, full working day of 10 to 12 hours and initial start-up taking only seconds, so large volumes of scrap metal can be sorted without user fatigue. Additionally, the X-MET8000 is engineered to be perfectly balanced and is lightweight at only 1.5 kg (3.3 pounds).
Other key features include large functional icons, an optional shield that protects the detector and X-ray tube when testing small or pointed objects, and an integrated, bright, high-contrast 11cm (4.3-inch) LCD touchscreen, ensuring optimal outdoor viewing, even in direct sunlight. Additionally, no tools are required to replace the unit's quick-swap analysis window, and a rugged enclosure and IP54 rating (NEMA 3) will withstand the harshest working environments.