ALLU Screener Crusher Attachments for Organic Recyclers & Composters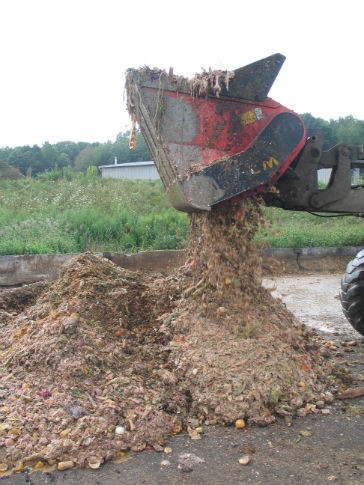 ALLU Group Inc. has introduced its line of Screener Crusher attachments for organic recyclers and composters. This line of attachments processes food waste in a single-step—screening out contaminants and unwanted materials, reducing material to a uniform size, mixing and placing it into windrows for composting, as well as turning and aerating organic material. These versatile attachments are ideal for pre-processing food waste of all sizes and composition, fitting a variety of applications such as preparing organic material to pump through a digester. The attachments couple easily to an existing wheel loader, excavator, skid steer or backhoe, and allow operations to transport and process food waste in one step, without the use of expensive stationary crushers and screens.
With more than 60 models available, organic recyclers can choose between the D-Series Screener Crusher or the DL Screener Crusher. The D-Series Screener Crusher is the larger of the two series, and has the widest variety of choices for product fragment size, ranging from 0.60-inch to 6-inch (15-mm to 150-mm). The DL Screener Crusher incorporates features from the D-Series, but is designed for compact base machines. The core of the DL Screener Crusher is the unique top screen, where the screening hammers spin between the screen comb.This design ensures the attachment remains clog-free, providing good production and throughput, even with wet materials. Additionally, the new DL Screener Crusher does not require a case drain line for operation, allowing the operator to simply attach it and start screening.
Related Articles
Traditionally, waste management companies have operated using a simple "management of waste" approach to operating a MRF. Throughput targets and continuous operation (minimal downtime) were the main driving forces. The industry has changed however, and the focus moving forward is now on optimizing system performance and reliability, in conjunction with increasing recycling rates and a drive for a "greener" and more sustainable tomorrow.
When considering the addition of, or upgrade to, an "intelligent" MRF, for municipalities or private operators, the main factors should always be the client's (operator) current requirements, and evolving market needs, which include throughput, reliability, output quality, and adaptability. Equally important is a full understanding of what is really expected from any proposed system. Having an engaged and focused mindset for the project with the client from the beginning, will impact and drive the entire design process. This then impacts the overall project result, through to the productive, efficient, ongoing operation of the facility itself.