Semi-Underground Containers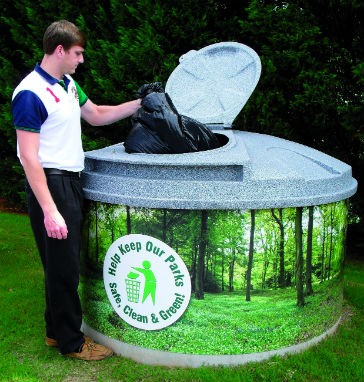 Solid waste disposal poses many problems for municipalities and property owners, not the least of which are unsightly dumpster enclosures, unpleasant odours and unwanted pests. Deep Green Semi-Underground Waste Containers were created to address these issues, and provide an alternative to traditional collection. Now available across North America, Deep Green Semi-Underground has taken the emerging trend of underground waste collection and made it easier to implement.
The Model DG-6 container has the capacity to store approximately six cubic yards of solid waste, or 1.5-times more than the average dumpster. And since 41 percent of this waste is stored underground, it is kept cool and emits less odour. The sealed unit also keeps out unwanted pests and eliminates the need for a dumpster enclosure.
The Deep Green lid comes in a variety of colours for both waste and recycling purposes. Each unit can be clad using decorative wraps (suitable for advertising or skinning the units to match their surroundings) and/or a variety of coatings, textures and finishes. Plus, unlike the majority of semi underground wells, which are produced by rotational plastic molding and incur excessive shipping costs, the pre-cast Deep Green Semi-Underground wells use a standard catch basin, which can be purchased locally – reducing costly shipping, anywhere in North America. These containers can be serviced with modified rear loaders or roll-off trucks.