The Electric Advantage
Electric-powered material handlers offer benefits to recyclers but there are some important considerations for buyers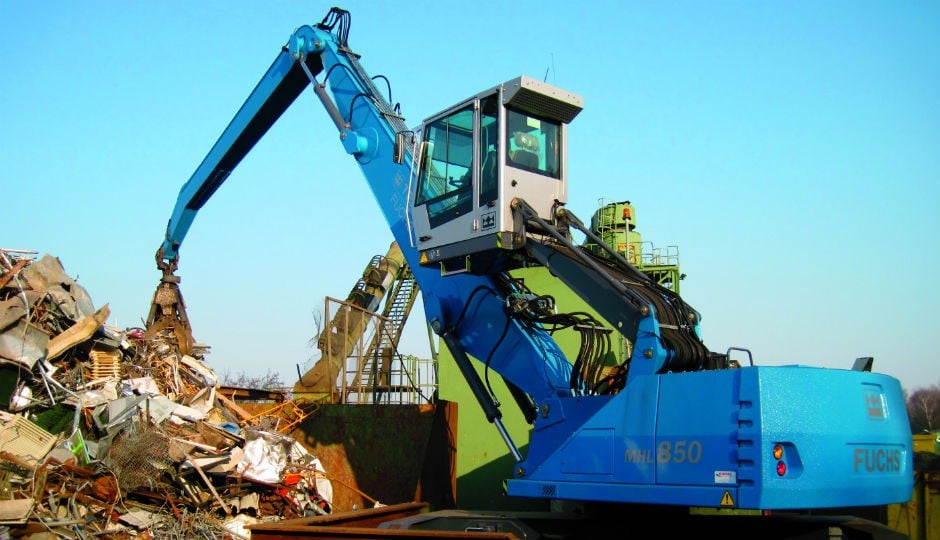 One area of growing interest for lowering costs and increasing efficiencies in scrap and recycling yards is switching from diesel-powered to electric material handlers.
There are some significant long-term financial gains to be had by making the switch to an electric material handler. With diesel prices averaging around $4.00 per gallon in the U.S. (well over $1 per litre in Canada) and a typical charge per kilowatt hour of electricity of below $0.15, costs for powering an electric handler can be less than half that of a traditional diesel machine.
Because electric motors do away with the diesel engine and after-treatment systems, they are also much easier to maintain and will last longer than their diesel counterparts.
"We estimate a 30,000-hour service life for an electric machine," says Steve Brezinski, Terex Fuchs material handler product manager for Terex Construction Americas. "The return on investment for an electric material handler can be as little as 18 months, if the power delivery infrastructure already exists."
Brezinski adds though that there are many factors that must be considered prior to switching to an electric material handler in order to get the most from the machine.
Site considerations
Similar to considerations with any other new material handler purchase for a recycling yard, the site survey is among the first steps that should be undertaken.
"You need to conduct a comprehensive analysis of exactly what size machine and reach is necessary to meet production goals," explains Jay Young, scrap and recycling sales manager for Roadbuilders Machinery and Supply Co., Inc., a Terex Fuchs equipment distributor. "The distributor or equipment manufacturer can help with this."
Popular site locations for electric handlers are indoors, feeding shredders and shears, and at ports, where high mobility isn't required.
"Customers have two basic alternatives for an electric material handler," says Mike Myslicki, regional sales manager for Terex Fuchs equipment. "A stationary, fixed mounted machine or semi-mobile handler tethered to an electric cable, which limits the electric machine's roaming capabilities around the yard or port."
When mobility is limited or nonexistent, reach and capacity become more critical. An operation with a fixed machine needs to consider the reach required to minimize the number of times material is handled.
"Terex Fuchs offers a number of boom/ stick configurations, with the MHL320 model offering a 31-foot (9.5m) reach at the low end and the MHL385 handler offering a 75-foot (22.9m) reach at the upper end," adds Brezinski.
Plus, electric handlers can be ordered with cable length specified to any site's specific needs.
"Power requirements vary by model, but as a rule of thumb, the higher the voltage, the smaller the diameter of cable, so the longer the cable lengths," says Thomas Berners, director of product management for Terex Fuchs. "We have equipped a handler with 787 feet (240 m) of cable for a customer in South Korea."
Finally, as part of the site survey, owners will want to do a cost-benefit analysis of the total investment to get the site ready to power an electric handler.
"If a site has a shredder, then it will already have the power source on site," comments Young. "However, if the power infrastructure does not exist at the yard, then this will be an additional cost to the company."
Power considerations
Once a site survey is complete and the right location is selected for the new material handler, then the significant advantages of an alternate-fuel machine can be realized. First and foremost, the particulate emissions of a diesel engine are eliminated, which is better for the environment, and it makes the operation friendlier to neighbours.
No-emissions operation is also perfect for indoor recycling centres and transfer stations. It creates a healthier work environment for employees, and it can help the operation by meeting workplace health and safety legislation.
Also, once the main electric motor is started, there is no downtime waiting for the machine to be fuelled, so uptime is improved, and available power is used more efficiently than with diesel engines.
"Whereas diesel engines achieve approximately 30 to 40 percent available power utilization, electric motors deliver up to 90 percent efficiency," explains Berners, who adds that there is no regeneration downtime, common to some Tier 4 engine designs.
Additionally, overall maintenance is greatly simplified as there is no need to replace a diesel engine, or cooling system and exhaust after-treatment components, and engine oil changes and filter replacements are no longer necessary.
"For the most part, you just maintain the motor bearings with an electric handler. That's it," says Brezinski.
Low-vibration electric engines are also much easier on machine components, pumps and the clutch, which helps to significantly extend machine service life.
"Customers operating in scrap an recycling will typically run conventional diesel-powered machines for up to 15,000 hours before they replace the handler or rebuild/replace major components," says Young. "However, electric handlers will typically offer twice the service life of diesel machines, which significantly lowers long-term operating costs."
As far as any concerns with working electric machines in the elements, they are designed to work in the same weather conditions – heat, rain, cold and snow – as diesel models. Terex Fuchs electric handlers come standard with a main power switch disconnect to safely service the machine.
Final considerations
While there are several significant advantages associated with electric material handlers, Young cautions operations not to think that they can replace all the diesel machines at the yard.
"Scrap and recycling operations typically run a mix of diesel and electric machines at the yard," he says. "You will always need the mobility of a diesel unit with some of your handlers."
"Consider a handler that dedicates motors to separate functions rather than one larger electric motor," continues Young. "The power torque curve to start a smaller engine is lower, which reduces the chance for blowing fuses at start-up. Additionally, it is more efficient when you have a larger main motor and then smaller separate motors dedicated to pilot steering and the air conditioning unit."
Also, look for an electric machine that shares components and parts with the manufacturer's line of standard diesel units, versus purchasing a specially designed electric handler design. This will help to ensure quick parts availability from your local distributor and allow your operation to stock fewer parts, since many of the same parts will work for both diesel and electric handlers.
"Besides parts commonality, electric handlers can also retain many of the same features as their diesel counterparts and don't require a steep learning curve for the operator," says Brezinski. "Terex Fuchs electric handlers retain a very high degree of series component commonality with their diesel counterparts."
While similar in design to diesel machines, expect to pay a slight premium for a comparable electric handler model. Myslicki estimates about a 10 to 15 percent premium on average.
"Depending on the configuration, it could be as low as 5 to 8 percent, but a pedestal machine will typically run about 10 percent higher and a mobile unit will be closer to 15 percent more," he says.
Electric material handlers are not standard production machines, so expect a longer lead time for delivery – about four to six months, depending on configuration – than with standard-production diesel models. Terex Fuchs custom-builds its electric material handler in its advanced Application Center.
"We can also add components like power packs for mobilizing the machine's off-grid, pedestal options to raise the operator's line of sight and custom-length power cables to the handler," says Berners, who oversees the Application Center.
"It's important that you work closely with your distributor and manufacturer to ensure the machine is equipped exactly the way you want it to boost productivity and efficiency at the yard or port."
Finally, there is a cost associated with the electrical infrastructure needed to power electric handlers, which can have motors with as high as 335 hp (250 kW) ratings. Electricity will be the lifeblood of these machines, so make sure the station delivers consistent, reliable power.
"If there's a power outage, then the electric handler is not moving material," says Young. "As I mentioned, if the operation already has a shredder, the electrical infrastructure already exists, and it makes the decision to go electric much easier."
While sorting through many of the same considerations for purchasing the right diesel material handler for an application, selecting the right size, reach and model of electrical material handler takes some time and special scrutiny. Once an operation works through the cost-benefit analysis and all the necessary considerations with the equipment distributor and manufacturer, the electric material handler model selected can help to control long-term operating costs and increase efficiencies.