Peterson Pacific Delivers 2,000th Machine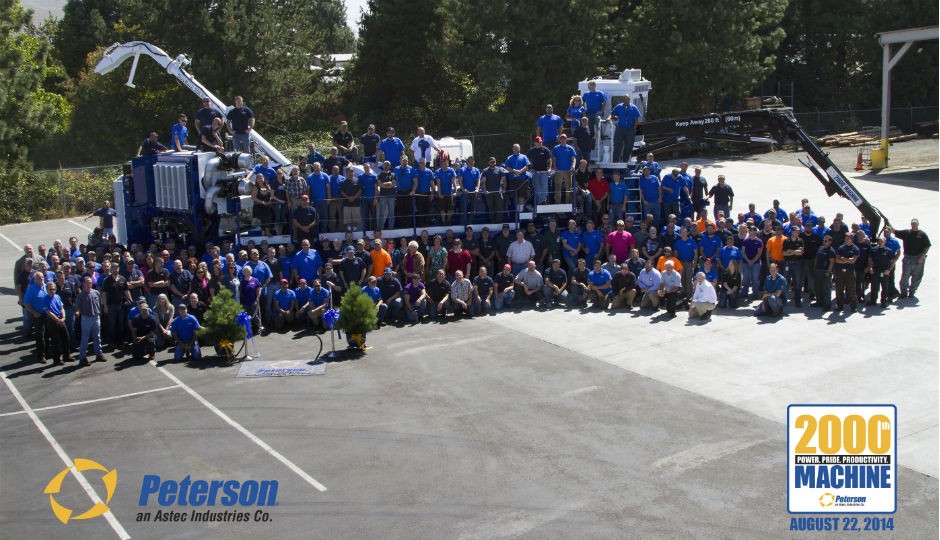 Peterson Pacific Corp., has delivered their 2,000th machine to come off the production line to Tabeel Trading, based in Australia. The milestone machine is a Peterson 5000H, a Delimber/Debarker/Chipper, which produces high quality low bark content chips for wood pulp and pellets, processing whole trees in one continuous operation.
"Reaching this milestone delivery is a testament to the capabilities of the 5000H, and our commitment to continuous innovation," said Larry Cumming, President of Peterson. "The new 5000H is delivering on its promise to our customers, and we continue to look at ways to make it even more efficient in the future."
The 5000H is designed to make engineered wood chips in the field. It delimbs, debarks, and creates the consistent sized wood chips used in the pulp and paper industry.
Peterson hosted a special delivery ceremony on–site for their employees. The 2000th machine was adorned with, a special logo commemorating the 2,000th machine and the US and Australian flags.
"We are excited that our 2,000th machine is a 5000H—this is one of our flagship models, and we trust that it will be a valued addition to Tabeel Trading's operations," said Michael Spreadbury, marketing manager for Peterson. "Tabeel Trading is a valued partner and their feedback from the field helps us develop new forest processing equipment. The exceptional performance of machines such as the 5000H, prove that in-field chipping is the most economical way to produce clean chips for the pulp and paper industry. Peterson has a long-standing relationship with in-field chipping operations in Australia, and we wanted to honor that with the commemorative logo which will be a reminder of our relationship with Tabeel Trading, now and into the future."
Related Articles
Traditionally, waste management companies have operated using a simple "management of waste" approach to operating a MRF. Throughput targets and continuous operation (minimal downtime) were the main driving forces. The industry has changed however, and the focus moving forward is now on optimizing system performance and reliability, in conjunction with increasing recycling rates and a drive for a "greener" and more sustainable tomorrow.
When considering the addition of, or upgrade to, an "intelligent" MRF, for municipalities or private operators, the main factors should always be the client's (operator) current requirements, and evolving market needs, which include throughput, reliability, output quality, and adaptability. Equally important is a full understanding of what is really expected from any proposed system. Having an engaged and focused mindset for the project with the client from the beginning, will impact and drive the entire design process. This then impacts the overall project result, through to the productive, efficient, ongoing operation of the facility itself.