Peterson Pacific Delivers 2,000th Machine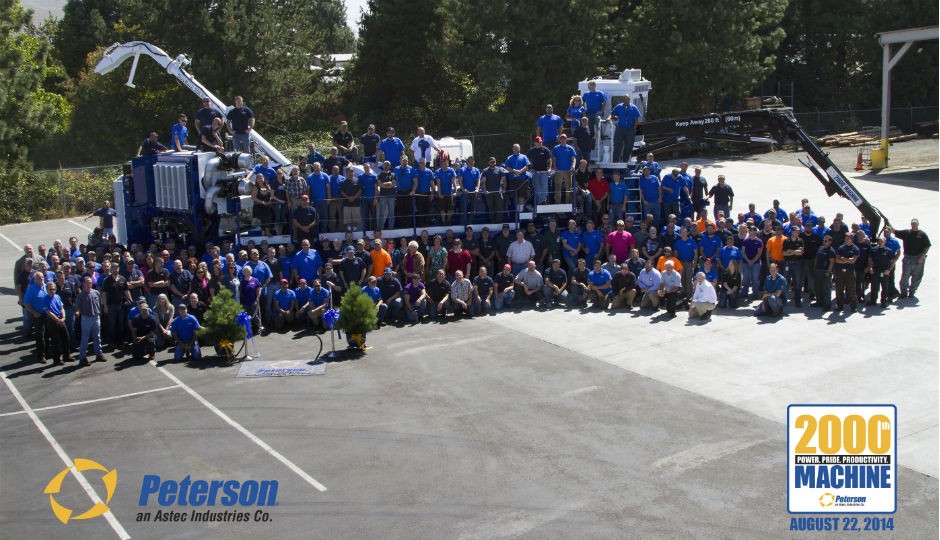 Peterson Pacific Corp., has delivered their 2,000th machine to come off the production line to Tabeel Trading, based in Australia. The milestone machine is a Peterson 5000H, a Delimber/Debarker/Chipper, which produces high quality low bark content chips for wood pulp and pellets, processing whole trees in one continuous operation.
"Reaching this milestone delivery is a testament to the capabilities of the 5000H, and our commitment to continuous innovation," said Larry Cumming, President of Peterson. "The new 5000H is delivering on its promise to our customers, and we continue to look at ways to make it even more efficient in the future."
The 5000H is designed to make engineered wood chips in the field. It delimbs, debarks, and creates the consistent sized wood chips used in the pulp and paper industry.
Peterson hosted a special delivery ceremony on–site for their employees. The 2000th machine was adorned with, a special logo commemorating the 2,000th machine and the US and Australian flags.
"We are excited that our 2,000th machine is a 5000H—this is one of our flagship models, and we trust that it will be a valued addition to Tabeel Trading's operations," said Michael Spreadbury, marketing manager for Peterson. "Tabeel Trading is a valued partner and their feedback from the field helps us develop new forest processing equipment. The exceptional performance of machines such as the 5000H, prove that in-field chipping is the most economical way to produce clean chips for the pulp and paper industry. Peterson has a long-standing relationship with in-field chipping operations in Australia, and we wanted to honor that with the commemorative logo which will be a reminder of our relationship with Tabeel Trading, now and into the future."
Company info
29408 Airport Rd
Eugene, OR
US, 97402

Read more
More from Organics Recycling
Single-Ram and II-Ram High-Capacity Balers
At Machinex, we've been designing sorting systems for over 35 years, so we know how essential it is for MRF operators to have a baler they can trust and not worry about its operational reliability. This is why we design and manufacture reliable single-ram and II-ram high-capacity balers to specifically help optimize their operations.
Watch the video of our expert who presents the main features of Machinex balers delivering these important benefits:
Easy & accessible maintenance
Reduced maintenance & bale handling costs
Energy savings
Optimal bale density
For C&D recyclers, waste haulers, demolition contractors and landfills, there is a growing opportunity to profit from rethinking processes. Although every operation is different, by streamlining the front end of the C&D operation processes with purpose-built technologies, recyclers can tap into new end markets, accommodate higher material volumes, stay ahead of regulatory restrictions, increase recovery rates and add commodity revenue, while decreasing labor and other costs.
Download the new eBook to learn about:
Finding opportunities in the alternative to landfilling C&D
How facilities can increase their profits from C&D
Using the right C&D processing technology in the right locations