Stertil-Koni ST 1085 Mobile Column Lifts with Adjustable Forks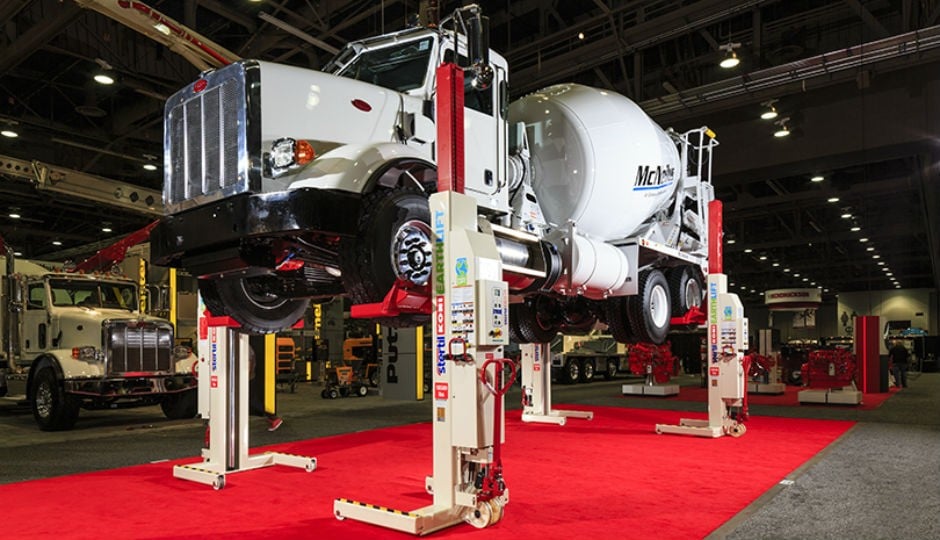 Stertil-Koni has announced that adjustable forks now come standard on the recently introduced ST 1085 Mobile Column Lifts, in both standard and wide fork models. Previously, fixed forks were standard and adjustable was an option.
With this customer-focused enhancement, Stertil-Koni becomes the first lift manufacturer to make adjustable forks standard on wide-fork mobile column lifts, adding one more innovation to the company's industry-leading line of high-performance, low-maintenance and safety-engineered mobile column vehicle lifts.
The ST 1085 features a lifting capacity of 18,500 lbs. per column. It also features the Multi Master System, equipped with a control box on each individual column. In that way, lifting columns can be operated individually, in pairs or a complete set with the touch of a single button. What's more, all columns are interchangeable, so they can be used at multiple locations.
Using reliable hydraulic technology, the ST 1085 only takes 94 seconds to reach its maximum lifting height of 73 inches – making it one of the fastest mobile lifting columns in the world.
Peter Bowers, Technical Sales Support Manager for Stertil-Koni USA, "Many of our customers service diverse fleets, and the ST 1085 enables them to safely and efficiently raise a wide range of vehicles, from large mining vehicles, school buses and motor coaches, all the way down to para-transit buses and pickup trucks."
Adjusting the extra- long, 14-inch pick-up forks is quick and easy, and doesn't require any lifting or heavy pushing. The fork can be readily shifted to accommodate the diameter of virtually any size tire that can raised with this lift.
Company info
Related products
Related Articles
Traditionally, waste management companies have operated using a simple "management of waste" approach to operating a MRF. Throughput targets and continuous operation (minimal downtime) were the main driving forces. The industry has changed however, and the focus moving forward is now on optimizing system performance and reliability, in conjunction with increasing recycling rates and a drive for a "greener" and more sustainable tomorrow.
When considering the addition of, or upgrade to, an "intelligent" MRF, for municipalities or private operators, the main factors should always be the client's (operator) current requirements, and evolving market needs, which include throughput, reliability, output quality, and adaptability. Equally important is a full understanding of what is really expected from any proposed system. Having an engaged and focused mindset for the project with the client from the beginning, will impact and drive the entire design process. This then impacts the overall project result, through to the productive, efficient, ongoing operation of the facility itself.