Compost conference to "Feed the Soil"
24th Annual National Compost Conference September 22-24, 2014 – Halifax, NS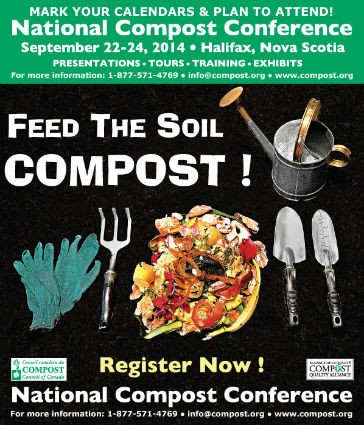 Now in its 24th year, The National Compost Conference is renowned to provide attendees with the perfect forum for the latest in information, networks and contacts in the organics recycling industry in Canada.
Come to Halifax, Nova Scotia and be part of our conference which will be held at the Westin Nova Scotian Hotel from Monday September 22nd to Wednesday September 24th with an extra day of tours on Sunday September 21st.
Your days will be filled with tours, presentations and the opportunity to meet the leading suppliers of our industry. Our evenings will complete this premier event with extensive opportunities for networking and enjoying local fare and flavours.
PROGRAM OVERVIEW
SUNDAY SEPTEMBER 21st
Bonus Tours (extra fees apply)
An extra special day of tours across Nova Scotia where we'll be visiting both an anaerobic digestion facility and compost facilities:
Southwest Eco-Energy anaerobic digestion plant, Digby County
Spec Environmental Solutions Inc., Digby County
Northridge Farms, Annapolis Valley Followed by a Barbeque supper at Northridge Farms.
MONDAY SEPTEMBER 22nd
Conference Tour Day! Plus an option to attend an Odour Management Workshop
Our conference tour day will be a full one. We'll be visiting facilities involved in a wide range of organics residuals recovery and recycling, dealing with residential, IC&I, agriculture and wastewater residuals.
Miller Compost, Dartmouth
N-Viro Systems Canada's Halifax Plant
Halifax C&D Recycling Ltd., Milford
Folkerstma Farms Limited, Milford
Colchester Balefill and Colchester Composting Facility, Kemptown
Or Attend Odour Management 201 presented by Odotech inc. (extra fees apply)
Evening Welcome Reception will be held at the Canadian Museum of Immigration at Pier 21
TUESDAY SEPTEMBER 23rd
CONFERENCE PRESENTATIONS & TRADE SHOW
A series of plenary and concurrent sessions covering organics recycling and facility regulations, diversion initiatives and progress, technical advancements and international comparisons.
Organic Residuals: Too Good to Waste & So Important to Recover
Cross-Canada Program & Regulatory Check-Up
Technology & System Design Advances
Compost Matters Internationally
Annual General Meeting of The Compost Council of Canada
Exhibit Area featuring 25+ leading technology suppliers and experts
EVENING DINNER & GATHERING:
Board our bus and come with us to THE SHORE CLUB, voted Restaurant of the Year 2013, Essence of Nova Scotia
WEDNESDAY SEPTEMBER 24th
CONFERENCE PRESENTATIONS & TRADE SHOW
In-depth presentations and discussions covering:
Anaerobic Digestion, Biogas & Digestate Production
Recovering Organics from Residential and IC&I Sources
Biosolids Composting
Research Findings & Updates
Tackling Food Waste & Making Compost Work Locally
Compost Markets & Standards
Composting to Manage Issues beyond Waste
Register Now or call 1-416-535-0240