Updated fleet shines for City of Cuyahoga Falls
Rear and side loaders, along with automated arm provide right combination for refuse and recyclables collection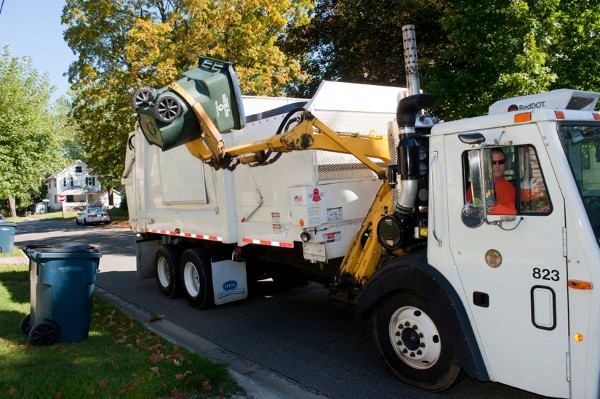 Chuck Novak, who since 2005 has overseen the street and sanitation management for Cuyahoga Falls, a city of 50,000 in eastern Ohio, is a consummate team player when it comes to waste-disposal equipment selection.
"I always solicit input from my drivers and mechanics regarding any trash collectors we consider for our fleet," says Novak. "As much as possible, I want all key players to buy in before we make our proposals to the Mayor and City Council for our purchases."
Today, the city has nearly 25 vehicles in its sanitation garage – ranging from 3/4-ton pickup trucks to massive five-ton haulers. The fleet involved in daily residential routes includes four trucks for refuse and three for recyclable materials, each manned by a single person who makes 800 trips per day.
"We decided several years ago to automate our trash operations over a five-year time period," begins Novak. "Simultaneously, we chose to do the same thing for our recycling activities, but over a three-year span."
Such an aggressive plan called for an intense re-evaluation of existing collection machinery, especially since the city's equipment is subjected to severe abuse in its everyday performance. Novak and staff did their thorough due diligence and invited numerous major brands in to test under typical conditions.
"Our trucks at the time were doing reasonably well as far as general pickups. But we knew there had to be something better out there," states Novak. "For example, durability was becoming more critical, as our current equipment simply was wearing out, and getting too old, far too fast."
Heil Environmental sells its equipment via a national network of experienced dealers. Bell Equipment, the local dealership for Cuyahoga Falls, scheduled comprehensive product demonstrations at the Cuyohoga Falls Sanitation Department.
"There was just something significantly different about the Heil brand from the get-go," claims Novak. "They just stood out on so many levels: engineering, design, quality of materials, craftsmanship, technology, service, innovation...you name it...Heil has just thought of things, and done things, that the others have not. Plus, Heil and Bell Equipment, combined, was a force we just could not ignore."
Specifically, Heil says, their bodies are built with thicker hopper floors, heftier steel throughout, and strategically located cross-brace reinforcements. But there were many smaller features that also made quite an impression on Novak and his staff.
"The Heil components, like the hydraulics and electrical systems, are just easier to access, making repairs faster and easier. We also like the amount of room behind the Heil packer blade that enables easier cleanouts and serviceability. All of these things, big and not so big, made our decision, and conversion, clear-cut.
"Change is never simple, but, in this case, Heil's superior engineering, backed by Bell's outstanding service, completely convinced us that we had finally found the equipment to deliver the performance and longevity we needed," says Novak.
After only a little time with their new trucks, Novak and his team knew they had made a change for the better.
Mr. Versatile
Cuyahoga Falls first bought a Heil Retriever Satellite Side Loader. This multi-purpose unit is specially designed for quick work in tight spaces such as parks, alleys, one-way and dead-end streets, private roads, and areas near ditches. Its outstanding maneuverability makes it the ideal choice when a full-size collection truck just won't fit. Cuyahoga Falls has a six-cubic-yard model.
"We use this performer, in particular, for those times when we miss something on one of our main routes. It's great on gas, making it far more fuel-efficient to double back, when necessary. It then hooks up with our much larger rear loader to transfer its payload before making one combined dump. Our management absolutely loves this truck for its versatility; our mechanics appreciate its dependability and toughness," says Novak.
Before actually purchasing the Retriever though, Cuyahoga Falls put it through a series of rigid tests – even throwing a full-size couch into the hopper.
"We wanted to see just how much packing power it had. We can report it had no issues with anything we threw at it," says Novak.
The Retriever delivers compaction rates up to 700 pounds per cubic yard, with a cycle time of just 14 to 16 seconds. Cuyahoga Falls also equipped its unit with cart tippers on each side, for rapid loading on one-way streets and in non-traffic areas.
"Our Retriever packs extremely well," adds Novak. "Plus, overall, it's safer and more efficient than our rear loader because our crews can work off both sides of the truck. It also has a tailgate that just doesn't leak. We're so pleased with it in fact, we plan to soon buy a second one."
The workhorse
Next, in 2011, the city bought a Heil DuraPack 5000 Rear Loader. It soon became the Sanitation Department's go-to vehicle for heavy-duty work such as the hauling of TVs, desks and yard waste. It handles the odd-shaped items, while taking a beating as it services some 3,400 customers per day.
Cuyahoga Falls has several other Rear Loaders in its arsenal, but says the Heil model provides exceptional performance. Novak explains why: "Our DuraPack 5000 has a hopper that's almost four cubic yards. That means we can pack more, with less cycling required throughout a route. But what we truly like about the Heil machine is its low-maintenance packer blade design and that the body has no slides or slide shoes. So there's never a need to replace them…which is a major issue with our other brand of rear loaders."
In addition, Novak says the city's mechanics have never had to change a cylinder in their DuraPack 5000 truck.
"Bottom line: the Heil body is simply better constructed," says Novak. "From the thickness and quality of the steel on the hopper sides and floor to the strategic placement of the cylinder mounts, to the full welding on the frame, our 5000 is the star of our fleet. It even operates on idle, for a quieter, more efficient performance on its daily routes.
"Believe me, our customers really appreciate the noise reduction – and we love the fact that we save up to 20 percent on fuel costs."
Plus, Novak says his local Heil dealer provides equipment expertise and is
readily available if any issues arise.
"No one beats Bell Equipment for service," continues Novak. "They are always right here whenever we call. As was the case with the Retriever, Bell's lengthy demonstrations helped make our final decision a slam-dunk."
Golden Arm
Eight years ago, the City of Cuyahoga Falls, in its effort to automate trash operations, switched to plastic carts for garbage collection. Three years ago, it began to use carts for hauling recyclables. One year ago, it did the same for picking up yard waste. In addition, all two-unit and smaller buildings are now required to use the city's sanitation haulage services. Such moves caused Novak to once again solicit quotes from all major refuse truck manufacturers – only this time the objective was to find and buy a premiere side loader.
"Bell Equipment brought in a Heil DuraPack Python Side Loader for us to test. As was the case with the Retriever and the 5000, Heil's superior construction and engineering immediately grabbed our attention," says Novak. "In particular, we were sold on the extra arm reach the Python offered: nine feet versus the seven-foot capability of a few competitive models. The automated Heil arm has proven to be better – and faster – than any we have ever tried or purchased. It simply has not broken down, even in our most challenging environments."
According to Heil, the Python's arm lifts in just eight seconds, saving up to four seconds per stop when compared against similar styles. It is capable of lifting up to 1,250 pounds at once, all powered by innovative cushioned cylinders that deliver smooth action to prevent excessive wear and tear to not only the arm, but the chassis as well. And using just two buttons and a joystick, an operator can reach, grab, lift, dump and return the arm to its stowed position.
Like the 5000 rear loader, the Python features Heil's Operate-In-Gear-at-Idle System that not only reduces wear on the body, transmission and engine, but enables the truck to perform at greatly diminished noise levels, while consuming less fuel.
"Overall, we've realized substantial reductions in operating costs and downtime because of this vehicle," says Novak. "It is far easier to maintain than any other side loader we've ever bought or tried. Our mechanics and crew really appreciate everything that comes standard with a Heil truck: the advanced technology, the reliability, the attention to driver safety."
Novak adds that they have had major leakage troubles with the tailgates on some of their past side loaders. But the Python comes standard with a 60-inch seal that keeps liquids securely inside the body. Plus, the Heil model has an ultra-secure tailgate locking mechanism operated from inside the cab.
"We have had zero tailgate issues with our Heil Python collector," concludes Novak.
"Everyone on our sanitation staff – drivers, mechanics, supervisors – all agree that Heil designs and makes the best side loader for our conditions. In fact, that's the way we feel about all of our Heil equipment."
Company info
2030 Hamilton Place Boulevard, Suite 300
Chattanooga, TN
US, 37421

Website:
heil.com
Read more