LH 40 M mobile industrial handler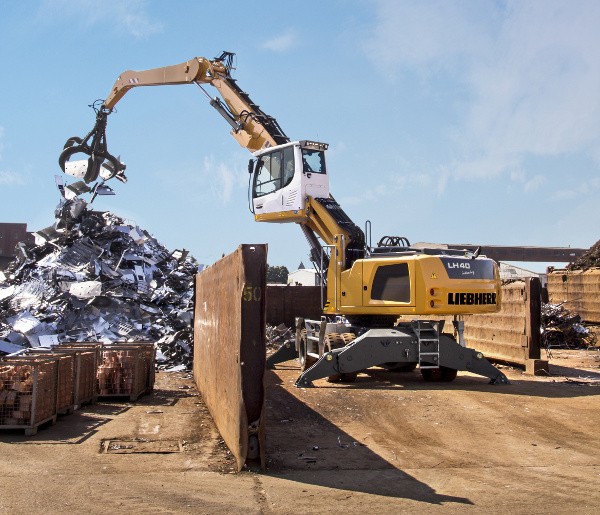 Liebherr's new LH 40 M, introduced earlier this year at ConExpo-Con/Agg 2014, like the LH 60 C tracked industrial handler also introduced this year, combines comfort, performance and reliability to provide customers greater efficiency and low operating costs. These latest handlers are designed to deliver a new level of economy as the result of their high load capacities and superior reach, and comply with the requirements of Tier 4i/stage IIIB emissions regulations.
The LH 40 M (shown here) is equipped with the Liebherr Energy Recovery System (ERC) as standard. An additional hydraulic cylinder helps to increase the handling capacity while reducing fuel consumption, and the machine also features the Liebherr Power Efficiency system (LPE), which optimizes interaction between the drive components and therefore increases efficiency and optimizes the engine's power output.
A newly-developed operator cab provides the space and comfort needed to use the full capacity of these machines, and the LH 40 M's diesel engine, hydraulic components, electronic components, slewing ring, slewing drive and steel structure are developed, tested and produced by Liebherr. The Energy Recovery System on the LH 40 M reduces fuel consumption by up to 25 percent, while promoting faster and consistent operating cycles for increased handling capacity. The engine's particulate filter allows for compliance with Tier 4i/stage IIIB emissions regulations, units provide quick servicing times, and a wide range of attachments are available along with a fully-automatic quick change system. Operating weight of the LH 40 M Mobile Industrial Handler is 38,000 to 38,850 kg (83,800 to 85,650 lbs).