SK350DLC Scrap Handling Machine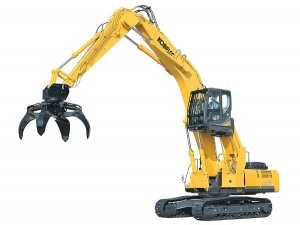 The Kobelco SK350DLC Scrap Handling Machine, introduced at ConExpo 2014, is engineered with practical features that help make the worksite run smoother and safer. A low centre of gravity and dedicated counterweight provides excellent dynamic stability, and its unique "bent boom" design makes dumping more efficient.
The SK350DLC's 26.9-foot angled boom easily negotiates the sides of a trailer flatbed or the hatch on a cargo container, and units feature a two-pin grapple that is more stable than a traditional one-pin design, eliminating shaking and reducing spillage of loads. An elevating cab can be smoothly raised to 8 feet 6 inches in about 20 seconds, giving the operator a maximum eye-point height of 17.9 feet and a clear view of operations.