On-site composting ideal for urban operations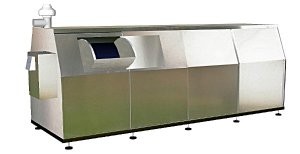 Vertal Inc., a Montreal-based company specializing in the design and manufacturing of urban composters, says they are revolutionizing on-site urban food waste composting with their CITYPOD composter.
Vertal says they have gained valuable on-site composting experience since 2008, providing efficient installations focused on socially acceptable composting projects, and that consumer concerns about total control of compost odour emissions and ease of operation have driven the core of Vertal's continuous improvement process for composting equipment.
CITYPOD composters' technical innovations provide urban composting sites with a complete odour control guarantee and numerous unique technical patented innovations for user friendliness.
Recently, Vertal introduced three new models of CITYPOD, and says that with this new and affordable eco-friendly on-site food waste process technology, they provide a powerful application in line with Québec's Residual Materials Management Policy goal to process 60 percent of organic putrescible waste.
"After several years of focused research and development efforts in order to meet the expectations of our Canadian customers, Vertal now manufactures, in Montreal, composting equipment that is fully adapted to urban conditions," said Julie Deslauriers, president of Vertal and member of the Écotech Québec Cleantech Cluster.
"This is for us an important step to participate – with simple, yet efficient innovations – in the global trend of environmental awareness to value locally our organic residual waste stream."
Related Articles
Traditionally, waste management companies have operated using a simple "management of waste" approach to operating a MRF. Throughput targets and continuous operation (minimal downtime) were the main driving forces. The industry has changed however, and the focus moving forward is now on optimizing system performance and reliability, in conjunction with increasing recycling rates and a drive for a "greener" and more sustainable tomorrow.
When considering the addition of, or upgrade to, an "intelligent" MRF, for municipalities or private operators, the main factors should always be the client's (operator) current requirements, and evolving market needs, which include throughput, reliability, output quality, and adaptability. Equally important is a full understanding of what is really expected from any proposed system. Having an engaged and focused mindset for the project with the client from the beginning, will impact and drive the entire design process. This then impacts the overall project result, through to the productive, efficient, ongoing operation of the facility itself.