On-site composting ideal for urban operations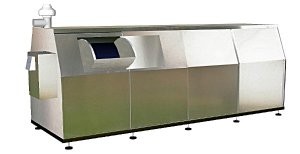 Vertal Inc., a Montreal-based company specializing in the design and manufacturing of urban composters, says they are revolutionizing on-site urban food waste composting with their CITYPOD composter.
Vertal says they have gained valuable on-site composting experience since 2008, providing efficient installations focused on socially acceptable composting projects, and that consumer concerns about total control of compost odour emissions and ease of operation have driven the core of Vertal's continuous improvement process for composting equipment.
CITYPOD composters' technical innovations provide urban composting sites with a complete odour control guarantee and numerous unique technical patented innovations for user friendliness.
Recently, Vertal introduced three new models of CITYPOD, and says that with this new and affordable eco-friendly on-site food waste process technology, they provide a powerful application in line with Québec's Residual Materials Management Policy goal to process 60 percent of organic putrescible waste.
"After several years of focused research and development efforts in order to meet the expectations of our Canadian customers, Vertal now manufactures, in Montreal, composting equipment that is fully adapted to urban conditions," said Julie Deslauriers, president of Vertal and member of the Écotech Québec Cleantech Cluster.
"This is for us an important step to participate – with simple, yet efficient innovations – in the global trend of environmental awareness to value locally our organic residual waste stream."
More from Organics Recycling
Single-Ram and II-Ram High-Capacity Balers
At Machinex, we've been designing sorting systems for over 35 years, so we know how essential it is for MRF operators to have a baler they can trust and not worry about its operational reliability. This is why we design and manufacture reliable single-ram and II-ram high-capacity balers to specifically help optimize their operations.
Watch the video of our expert who presents the main features of Machinex balers delivering these important benefits:
Easy & accessible maintenance
Reduced maintenance & bale handling costs
Energy savings
Optimal bale density
For C&D recyclers, waste haulers, demolition contractors and landfills, there is a growing opportunity to profit from rethinking processes. Although every operation is different, by streamlining the front end of the C&D operation processes with purpose-built technologies, recyclers can tap into new end markets, accommodate higher material volumes, stay ahead of regulatory restrictions, increase recovery rates and add commodity revenue, while decreasing labor and other costs.
Download the new eBook to learn about:
Finding opportunities in the alternative to landfilling C&D
How facilities can increase their profits from C&D
Using the right C&D processing technology in the right locations