R 924 Crawler Excavator configured for waste and recycling applications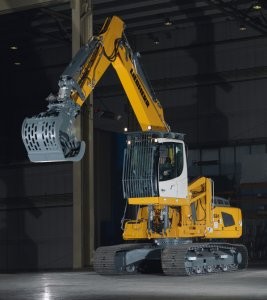 Liebherr's R 924 crawler excavator, unveiled to North America earlier this year at ConExpo-Con/Agg 2014 is configured specifically to work in transfer stations and recycling centres. This machine is equipped with purpose-built guards that protect key impact areas like the undercarriage, hydraulic cylinders and the operator's cab, and comes standard with engine and cab pre-cleaners to reduce contamination of the engine oil and operator's cab. The R 924 is also equipped with a reversible fan to expel debris from the radiator core, to maintain efficient cooling.
The unit exhibited at ConExpo-Con/Agg 2014 was equipped with a hydraulic cab, a 5.9-m (18-foot 17-inch ) gooseneck boom, a 3-m (9-foot 10-inch) stick and an LC undercarriage with 76-cm (30-inch) track pads. This machine has an operating weight of 25,324 kg (55,830 lb), features a Liebherr diesel engine rated at 115 kW (157 hp) and is fitted with a particulate filter with active regeneration for efficient exhaust gas purification, in order to comply with Tier 4i/ stage IIIB exhaust emission limits.
The R 924 features integrated Liebherr excavator system technology for exceptionally smooth and quick operation. This technology is based on "Positive Control" hydraulics and a Liebherr electronic control system, which makes optimal use of the available energy for both individual and combined movements. Liebherr says the high-strength steel structure of these new excavators has been optimized for top performance and a longer operating life, and that the unit's X-shaped design improves stress distribution and promotes a longer service life. Plus, the sloping design of the undercarriage from the centre section provides a reduction in time needed for cleaning out debris.
Additional key features of the new Liebherr R 924 crawler excavator, configured for waste and recycle applications, include: an extremely comfortable and spacious working environment; automatic air conditioning; Roll-Over Protection Structure (ROPS); air-suspended and heated seats; as well as ergonomically-arranged controls and an intuitive touch-screen display.
An extensive range of attachments and features are also available, including a standard LiDAT data transmission system for efficient machine fleet management and a rear-view camera that has been integrated into the counterweight as a standard feature for additional safety.