New Doosan material handlers strengthen company's position in solid waste and recycling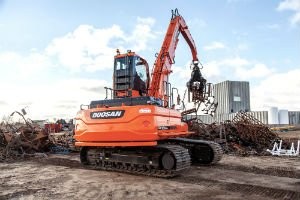 Increasing its presence in the solid waste and recycling industries, Doosan Infracore Construction Equipment America has introduced three new material handlers and four-tine grapples. The first model being launched in North America is the DX225MH-3 material handler. Additional material handlers will include a larger model with steel tracks, the DX300MH-5, and a wheel model, the DX210WMH.
Material handlers are not new to Doosan, but this is the first time Doosan is building machines specifically for material sorting and handling applications. Previously, dealers converted Doosan crawler excavators or wheel excavators into material-handling machines.
Built for material handling
Doosan material handlers were developed to meet the demands of material handling professionals by dedicated, in-house product engineering support. Each model is based on a proven and tested excavator model, factory fitted with cab risers for increased visibility, straight boom and droop nose arm for optimal performance and improved machine guarding for maximum uptime. Straight booms improve reach and lift height for better material placement, while droop nose arms provide good grapple clearance and enhanced access into containers, trucks and railcars. Features such as dual-boom cylinders and under-mount arm cylinder placement provide excellent lifting capabilities for Doosan material handler operators.
Cab risers provide better visibility
Another commonly recognized material handler feature is its cab riser. Operators have better all-around visibility to the attachment and work area from the material handler's cab riser. Standard fixed risers for the DX225MH-3 are 4 feet, and 6 feet for the larger DX300MH-5. Available as an option on the DX225MH-3 is a 6-foot fixed riser.
Fixed risers can easily be lowered for transport with a self-contained, electronically powered hydraulic system. Available as an option for the DX225MH-3 and DX300MH-5 is a 6.5-foot hydraulic cab riser.The 6.5-foot hydraulic cab riser is standard equipment for the DX210WMH.
Grapple attachments
To maximize their versatility and productivity, Doosan material handlers can be paired with a grapple for material handling applications. The 360-degree hydraulic rotating four-tine grapples feature a semi-closed tine design, allowing a firm grasp on most materials. The tines are designed with AR400 high-strength, abrasion-resistant steel for increased durability, and the tine tips are replaceable for easier maintenance.
A 5/8-cubic-yard grapple is approved for use with the DX210WMH and the DX225MH-3, while a 1-cubic-yard grapple is approved for use with the DX300MH-5. Connecting grapples to Doosan material handlers is fast and easy with a hose kit and mount.
Power modes to match the project
Four power modes are available for the Doosan DX225MH-3 and DX300MH-5 material handlers. Power modes help material handler operators manage the balance of fuel consumption and machine power to the working conditions.
The four selectable power modes include:
• Power+ mode: delivers the fastest work group speeds and greater power for those high demanding material moving applications
• Power mode: provides exceptional power and superior performance for tough heavy lifting, quick truck loading and fast travel speed
• Standard power mode: enhances the machine's fuel consumption while delivering high performance in everyday lifting and moving of material
• Economy mode: helps reduce fuel consumption for low-demand applications and slows down machine movement for conditions that require more precise movements
The DX210WMH material handler is available with three selectable power modes.
• Power mode
• Standard power mode
• Economy mode
Lifting work mode
In addition to the power modes, the Doosan DX225MH-3 and DX300MH-5 material handlers have a lifting work mode. The lifting mode is ideal for Doosan material handlers because it provides increased pump torque, low engine RPMs and an automatic power boost.
Options
Factory installed options for Doosan material handlers vary by model. Options include the following:
• Additional work lamps (All models)
• Cab guarding (All models)
• Frame guards (All models)
• Fuel filter pump (All models)
• Rotating beacon (All models)
• Solid tires (DX210WMH only)
• Air compressor (DX225MH-3, DX300MH-5)
• Catwalk (DX225MH-3, DX300MH-5)
• Diesel powered coolant heater (DX225MH-3, DX300MH-5)
• Straight travel (DX225MH-3, DX300MH-5)
Doosan telematics
Telematics is standard for all three Doosan material handlers, and will come with a three-year subscription. Doosan telematics provides location information and a full range of machine operational information to owners, their dealer and Doosan. Information is provided through a simple user interface, accessible online via a Web-enabled computer or smartphone. The goal of telematics is to help owners monitor their Doosan heavy equipment and manage maintenance to reduce operating costs.
QuickLook: Doosan DX210WMH material handler
• Tier 3 emission compliant
• Horsepower (gross): 170 hp
• Operating weight: 58,202 lb.
• Swing torque: 60,786 lbf.-ft.
• Drawbar pull: 26,742 lbf.
• Max. loading reach: 35 ft. 9 in.
• Max. loading height: 39 ft. 8 in.
• Max. auxiliary hydraulic flow: 2 x 61 gpm
• Front steerable axle: standard
• Hydraulic elevating cab: standard
• Front and rear stabilizers: standard
• Solid tires: optional
• V-Shape side guard: optional
QuickLook: Doosan DX225MH-3 material handler
• Interim Tier 4 (iT4) emission compliant
• Horsepower (gross): 166 hp
• Operating weight: 60,848 lb.
• Swing torque: 60,757 lbf.-ft.
• Drawbar pull: 60,715 lbf.
• Max. loading reach: 35 ft. 5 in.
• Max. loading height: 40 ft.
• Max. auxiliary hydraulic flow: 2 x 55 gpm
• Fixed cab riser: 4 ft. standard
• Fixed cab riser: 6 ft. optional
• Hydraulic elevating cab: optional
• V-Shape side guard: optional
• Heavy-duty under guarding: optional
• Catwalk: optional
QuickLook: Doosan DX300MH-5 material handler
• Tier 4 emission compliant
• Horsepower (gross): 271 hp
• Operating weight: 79,366 lb.
• Swing torque: 87,787 lbf.-ft.
• Drawbar pull: 83,258 lbf.
• Max. loading reach: 42 ft. 8 in.
• Max. loading height: 46 ft. 3 in.
• Max. auxiliary hydraulic flow: 2 x 66 gpm
• Fixed cab riser: 6 ft. standard
• Hydraulic elevating cab: optional
• V-Shape side guard: optional
• Heavy-duty under guarding: optional
• Catwalk: optional
Related Articles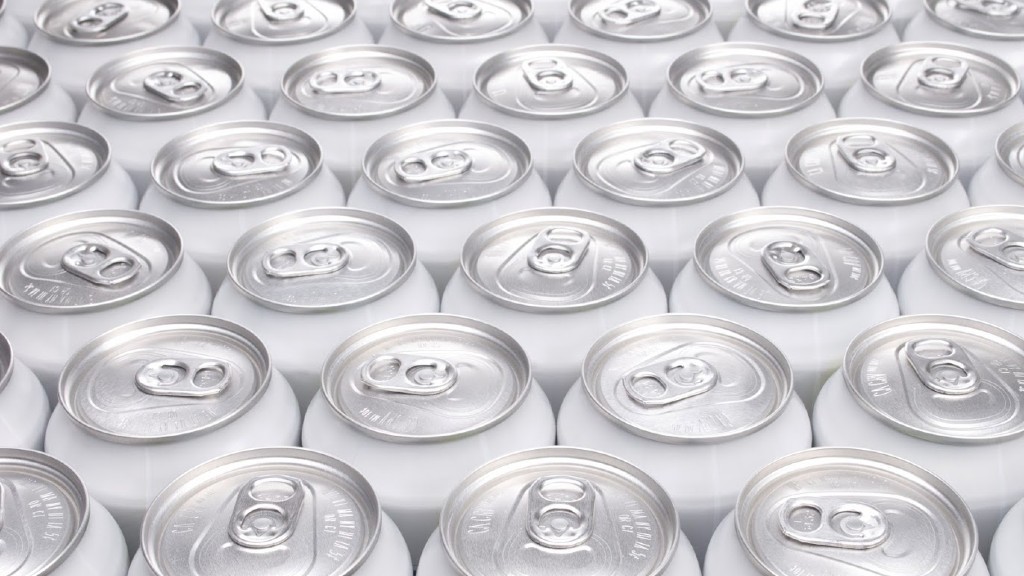 Novelis report highlights recycling capacity increase and reduction of primary aluminum usage