New Above Frame Hoist heaves 75,000 pounds with ease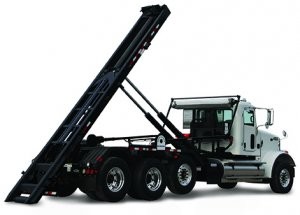 Galbreath, a Wastequip brand, and trusted manufacturer of hoists, container handlers, and trailers, recently announced the launch of a new line of above frame (AF) hoists capable of lifting 75,000 pounds. Designed to accommodate larger truck engines, they work with any truck chassis, suspension, exhaust system, or fuel tank, including CNG and LNG alternative fuel trucks.
This powerful hoist not only has a higher rated capacity; it loads and unloads roll-off containers more than 25 percent faster than anything else in the industry.
Galbreath says their new 75,000 lb. capacity hoist is not your typical hoist – it's built for abuse, and is packed with heavy-hitting features:
• Cushioned lift cylinders prevent hoist from slamming down on truck frame • Single-cylinder reeving system provides better visibility for hoist operations from inside the truck
• Reinforced support in critical wear areas, including powerful outboard-supported rollers and T-1 wear strips, provide additional strength to support heavier payloads
• Rear wing kit guides containers onto hoist
• Increased strength in tail section
• Ratchet strap rear hold-downs accommodate a variety of container sizes and lengths, including non-ANSI containers
• Centered, cab-mounted Power Tower with standard inside controls, plug-and-play wiring system, and pintle-ready rear apron enable simple operation
"For decades, Galbreath has been recognized for quality, durability, and long service life with every product we engineer. With truck manufacturers producing mammoth engines that withstand heavier payloads − especially in the CNG truck class – end-users are demanding hoists capable of handling larger capacities," said John Defenbaugh, president of Wastequip's mobile products division.
"Galbreath's newest 75,000 lb. capacity above frame hoist will not only stand up to the heaviest of payloads – it'll get the job done faster, increasing productivity and efficiency on the job."
Like all Galbreath products, the new AF75 hoist series will stand up to the toughest job, with less maintenance and downtime. Additional standard features include:
• Three-micron filtration system with dual viscosity oil
• Two-part epoxy primer and paint
• Field-tested heavy-duty rear hinge
• Factory-mounted, huck-bolted hoist-to-chassis design
• Shock-absorbing sub-frame
• Filter-cart-ready oil reservoir
• LED lighting
The AF75 hoist is also designed for safety and ease of operation with features that include:
• Automatic front container spring-loaded locking system
• Rear container hold-downs
• Heavy-duty safety props
• Air-assist fold-up ICC bumper
• Backup and hoist-up alarms with in-dash signal light
• Optional transmission programming to limit truck speed when hoist is in the raised position
The first new product in the AF75 series is the outside rail (OR) model. Additional configurations available in the AF75 line-up will soon include inside/outside rail (IO), extendable tail (EX), and deadlift (HH). Like all trusted Galbreath products, these hoists are backed by a lifetime corrosion warranty on the frame, and a two-year warranty on hydraulics.
The AF75 hoist, along with Galbreath's entire line of products, is available through Galbreath's extensive North American dealer network.
Wastequip's mobile products division includes its industry-leading Galbreath, Mountain Tarp, Pioneer, Cusco and Parts Place brands. The mobile division includes eight manufacturing and installation facilities in the U.S. and Canada dedicated to hoists, tarping systems, container handlers, vacuum trucks and parts. For more information, visit www.galbreathproducts.com.
Related products